At age 80, filmmaker Martin Scorsese still shows no signs of slowing down. And like a fine wine, he only gets better with age. His latest film, Killers of the Flower Moon, opened to rapturous applause at the Cannes Film Festival – honoring America's greatest auteur with a 9-minute standing ovation.
The long-awaited and highly anticipated western is a harrowing tale of greed, power, and trust. All at once a sprawling crime epic and a deeply effective love story. Oh, and it's also another masterpiece.
Based on the bestselling novel by David Grann and adapted by Eric Roth and Scorsese, the true story is centered around a series of orchestrated murders of hundreds of indigenous members of the Osage tribe, which took place in Fairfax, Oklahoma, during the '20s. It's these grisly events that transpired in Osage that led J Edgar Hoover to establish the Federal Bureau of Investigation.
It's hard to believe that in the sixty years that Martin Scorsese has been making films, Killers of the Flower Moon is his first-ever western. But it's not difficult to see what attracted Scorsese to the project, given the story's true crime elements, gangster-like sensibilities, and complicated characters torn between different loyalties – all of this was familiar terrain for him to navigate.
Clocking in at 206 minutes (3 minutes shorter than Scorsese's longest film, The Irishman), those concerned about the daunting runtime need not worry. This was one of the breeziest three hours I've ever spent in a theater. Long-time editor of Scorsese, Thelma Schoonmaker, does remarkable work in keeping the viewer engaged with page-turning excitement and intrigue.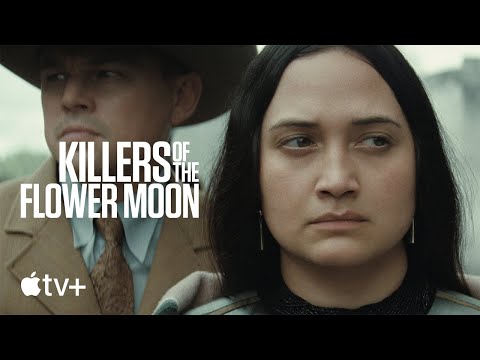 During the earliest days of the 20th century, the First Nation natives became incredibly wealthy by happenstance. Their allotted reservation of land (which was deemed barren) was situated on top of oil pockets, resulting in them becoming some of the wealthiest people in the country.
Their affluence put them at the apex of the sociological pyramid and meant they could hire local White people to be their gardeners, servants, nannies, and in the case of Leonardo DiCaprio's Ernest Buckheart, a chauffeur for the well-to-do Mollie Kyle (Lily Gladstone) who along with her sisters are the heirs to their mother Lizzie's (Tantoo Cardinal) vast fortune.
Much like his portrayal of capitalistic Jordan Belfort in Scorsese's The Wolf of Wall Street, Ernest is also a money-driven fiend – only nowhere near as capable as Belfort. Ernest's intentions with Mollie start off as financially-opportunistic but eventually, a genuine mutual affection blossoms between the two.
It's Ernest's cattle farmer Uncle William "King" Hall (Robert DeNiro), a self-proclaimed friend and pillar of the Osage community, who spies his nephew's budding romance as an advantageous investment.
King is playing a devious long game of Monopoly with the Osage community, finagling his nephews into marrying into the wealthiest native families for his own gain. Oil is thicker than blood, after all – and far more lucrative to King.
So even his own family members are pawns he's happy to sacrifice in order to secure himself the Osage's land and oil rights. It's a masterfully machiavellian performance from DeNiro that is somehow both warm and cold simultaneously. And despite his often disturbing actions, DeNiro often proves to be darkly funny. It's truly captivating work from DeNiro, and his wolf-in-a-sheepskin performance is sure to go down as one of his finest ever.
DiCaprio is also at the top of his game as the multifaceted Ernest, whose performance only gets more riveting the deeper he sinks into his uncle's schemes. As more Osage members are slaughtered around him, DiCaprio expertly conveys through his eyes and facial gestures a wealth of internal conflict swirling around his head and heart.
DiCaprio has no shortage of standout moments, but just as much praise needs to be given to the lesser-known Lily Gladstone as Mollie. Despite being less established than her screen-giant co-stars, Gladstone manages to shine brighter with a performance of subtlety and grace. Gladstone has a magnetic screen presence, one that grabs your attention without even trying all that hard. As a counterpoint to Ernests's motormouth, Mollie chooses her words carefully, and it creates a lovely yin and yang chemistry between the pair.
There's much for Gladstone to work with, as diabetic Mollie's story is one of staggering tragedy, grief, and betrayal. When Scorsese shifts the perspective to Mollie, we feel the magnitude of her loss as more of her loved ones are killed in a calculatingly gruesome fashion and her increasing frustration that the authorities are doing nothing to stop it.
It's only when the death toll of her indigenous brothers and sisters reaches hundreds that FBI agent Tom White (an excellent Jesse Plemmons) steps in to put an end to the killings.
From a technical standpoint, Killers of the Flower Moon is a masterclass in quality filmmaking. Every department impresses. Whether it's the abundance of detailed costume work from Jacqueline West to Jack Fisk's impeccable production design, that boasts world-building exteriors and sinister darker interiors that are expertly lit by cinematographer Rodrigo Prieto which represent the cancer that has spread throughout this indigenous community.
Robbie Robertson's score is also a highlight. His opening rock n roll track starts the story off on a stylish note in which we witness a surreal sequence where the Natives dance in slow motion in a shower of oil. Robertson also incorporates tribal instruments where he can pay tribute to the First Native communities.
Scorsese's direction is effortlessly dynamic, with some spectacular swooping crane and tracking shots that are executed with calm, measured precision. He masterfully tells a distressing story about the erasure of indigenous people with care and sensitivity. Collaborating with indigenous Americans to tell the story as authentically as possible.
The sure-to-be-discussed finale feels like a creative compromise that Scorsese whipped up at the last moment in order to keep the runtime extending over 3.5 hours. Without spoiling, this prologue scene summarises the aftermath of the events in an originally clever way. It also illustrates how near-and-dear the ongoing struggle of the Native Americans is to Scorsese's heart. Some will say it's a little self-congratulatory of him, but others will defend his decision and dub it a dignified mark of respect.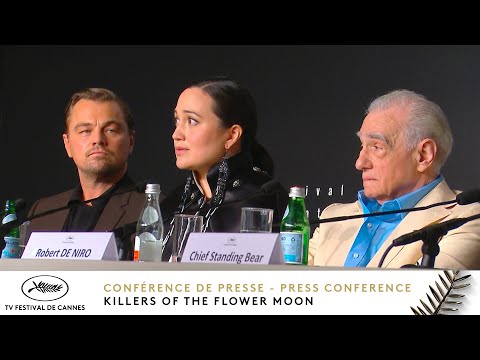 But regardless of whether you like it or not, the message sinks in as you leave the theatre that America has turned a blind eye to one of the most insidious injustices in its history. That so many Native Americans were murdered in cold blood so entitled White Capitalists could reign supreme.
Killers of The Flower Moon is a magnificent and thought-provoking piece of cinema. It's the film that keeps on giving as not only will it make a star out of Lily Gladstone, but it also features three titans of the medium; Scorsese, DeNiro, and DiCaprio, all operating at the peak of their abilities. For that, we must be eternally grateful.
If you love Scorsese's work, check out our list of the best movies ever made. We've also got a guide to all the new movies coming this year and separate deep dives on the Oppenheimer release date, the Barbie release date, and the Dune 2 release date.
Killers of the Flower Moon will be released in cinemas worldwide in October and is scheduled for an unspecified streaming release on Apple TV Plus.
Killers of the Flower Moon review
Martin Scorsese's latest is a harrowing and epic masterpiece.