What age rating is the new Barbie movie? Given that Barbie toys have been a fixture in the lives of millions of children for generations, it's understandable that young audiences will flock to cinemas to watch the new movie, starring Margot Robbie and Ryan Gosling's hilarious Ken.
Barbie, with Greta Gerwig in the director's chair, is a colorful adventure split between Barbie Land and the real world. It's one of the most exciting new movies of the year, and families will want to know what Robbie and Ken actor Ryan Gosling – as well as an ensemble made up of the best actors in Hollywood – have to offer.
With the Barbie movie release date having come and gone, families are busy booking tickets for what's become one of the best movies of the year, and they want to know the Barbie movie age rating to see whether the movie will be suitable for their kids.
What age rating is the new Barbie movie?
The Barbie movie has a PG-13 age rating in the USA and the equivalent 12A certificate in the UK.
Based on that classification information from the MPAA, it sounds like Barbie is aiming to be one of the best family movies of the year as a softer PG-13, rather than pushing at the edge of becoming R-rated.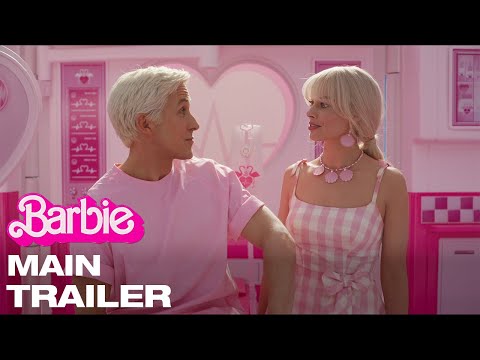 Why is the new Barbie movie rated PG-13?
The Barbie movie is rated PG-13 for "suggestive references and brief language".
That mild certification is also present in the UK, with the BBFC issuing its 12A rating for "moderate innuendo, brief sexual harassment, and implied strong language".
The most extreme instance of this would be several moments during Barbie and Ken's trip to the real world, where she's subject to some suggestive comments by male humans, though they're not extremely graphic. There's also a scene in the movie wherein President Barbie drops the f-bomb, but it's bleeped out.
Certainly, this will be the more family-friendly part of this summer's biggest cinematic double bill. For more, learn 20 things about Barbie you never knew, and find out what we thought of the movie with our Barbie review, and see our opinion on her cinematic nemesis with our Oppenheimer review.
For more on Barbie, find out how it caused a worldwide shortage of the color pink and learn why the Barbie movie is banned in Vietnam. You should also read our article delving into why the Barbie movie's body diversity couldn't have come at a better time. Elsewhere, we've got detailed information on the best 2023 movies coming your way, including the Dune 2 release date, The Marvels release date, and the Wonka release date.