Ever since its release late last year, people can't get enough The Banshees of Inisherin. We might be in 2023 now, but the 2022 movie has been trending on social media platforms like Twitter pretty consistently since its release. Even if you haven't seen the film, I can guarantee that you have probably seen Colin Farrell's mournful gaze as Padraic somewhere on your timelines.
New movies becoming the subject of memes might seem like a relatively recent development, but if you think about it, memes have just become a more modern language for movies to be mediated by us.
Pre-internet, films relied almost solely on marketable one-liners, memorable scenes, and iconic costumes in order to maintain relevancy and have a meaningful impact on pop culture.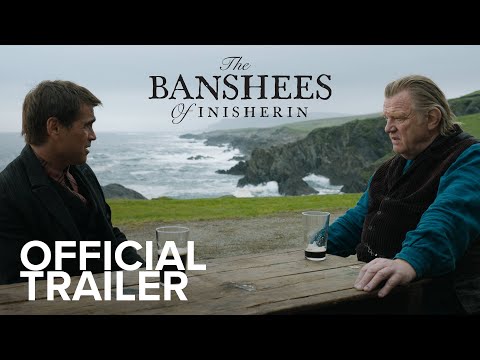 Of course, we still do all that with past and present movies and TV series. People still dress up as Darth Vader for Halloween, and I know too many people who say "lovely jubbly" unironically. But memes have helped us take our love of films and communicate that in a whole new way.
But what makes the Banshees of Inisherin the perfect movie to meme? Sometimes, it's all too obvious when movies and TV series are designed with meme potential in mind. The marketing campaign for horror movie M3GAN, for instance, has been hinged on her being considered 'slay' in more ways than one.
And then we have various Netflix series have their own 'Out of Context' Twitter accounts ran by the streaming service in order to hone in on lines and catchphrases that feel almost engineered to go viral.
The Banshees of Inisherin isn't one of those projects. It's a dark comedy movie based in post-Famine Ireland that explores issues like legacy, loneliness, and arrogance. But it also encapsulates one of the most relatable types of heartbreak in the world: friendship break-ups.
Friendship break-ups aren't represented much in movies and TV series — they're often eschewed in favour of the much more passionate and dramatic break-ups we see between two lovers in romance movies.
But since the pandemic, 'pruning' and otherwise icing out long-term friends has become more common, meaning more and more people can relate to screencaps of a forlorn Padraic and Colm's gruff, "I just don't like you no more." Both in and out of context, lines like this and "But you liked me yesterday" are universal enough to be applied to a range of different contexts — and as always with memes, the more random the better.
We've probably come to a point where these memes have reached their peak, and after the Academy Awards have ended, the drama movie will probably be less at the forefront of our public consciousness. But a meme of Colin Farrell or two is undoubtedly more appealing than someone leaving a finger by your door.
You can watch the Banshees of Inisherin on streaming service Disney Plus now, or if you've already cried/laughed your way through it (no judgement), take a look at our guide to some of the best Disney Plus movies. You can also check out The Digital Fix's Banshees of Inisherin review to check out what our overnight writer Fiona Underhill thought when she caught it Toronto International Film Festival.