How many seasons of Band of Brothers are there? War stories are generally massive in scope and visually spectacular. So it's surprising that this little limited series could have reached the heights it did. But then again, it is Steven Spielberg's creation, after all.
Band of Brothers was released in 2001, and quickly became known as the best TV series to deal with the trauma and horror of war. Reaching the same standard as even the best Steven Spielberg movies, the thriller series boasted an incredible cast that led us through the gripping story of the 'Easy' Company in WWII.
But how many seasons of Band of Brothers are there? Is this a show that'll keep you occupied for many months to come, or is it short and bittersweet? Here's everything you need to know about the so-called limited series.
How many seasons of Band of Brothers are there?
Band of Brothers is a miniseries through and through, consisting of one season and ten narrative episodes. There's also a bonus documentary episode, making for eleven episodes in total.
It's sad to say that there's only one season of the best drama series we've ever seen. That said, all ten episodes make their mark.
Here's the episode list for Band of Brothers:
Episode 1: 'Currahee'
Episode 2: 'Day of Days'
Episode 3: 'Carentan'
Episode 4: 'Replacements'
Episode 5: 'Crossroads'
Episode 6: 'Bastogne'
Episode 7: 'The Breaking Point'
Episode 8: 'The Last Patrol'
Episode 9: 'Why We Fight'
Episode 10: 'Points'
(Bonus) Episode 11: 'We Stand Alone Together'
The eleventh episode is a companion documentary that features interviews with real surviving members of Easy Company. Although it doesn't add anything to the overall narrative, it's an incredible piece of work that's definitely worth the watch once you've finished the show's on-screen story.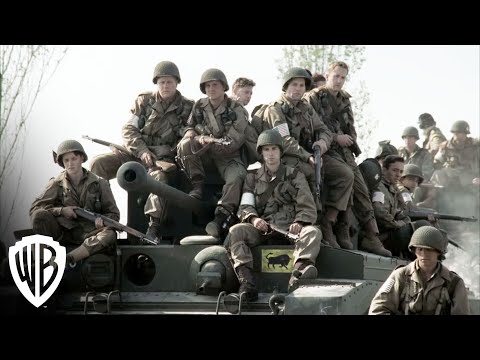 There's also an entire companion series to watch: The Pacific. While Band of Brothers focused on the men of Easy Company, The Pacific hones in three marines in different regiments. This came out in 2010, nine years after Band of Brothers, and also contained ten episodes. (It didn't contain a documentary-style episode like its predecessor, however.)
Band of Brothers has recently been added to one of the best streaming services, so be sure and check out our guide on how to watch Band of Brothers. You can also get to know the best war movies and best movies based on a true story for some drama that hits close to home.
Once you've done that, check out our list of the best movies of all time, and see our story on how Steven Spielberg predicted the future 20 years ago. And, to see what small screen adventures are to come, find out what we know about the Severance 2 release date and House of the Dragon season 2 release date.