Our favourite musical Trolls are back — and this time, they're taking aim at boybands. The first animated movie dropped in 2016 in an explosion of colour and toe-tapping hits, with its leading song, 'Can't Stop The Feeling,' even winning an Academy Award.
Since then, the family movie franchise has continued to go from strength to strength. Along with 2020 sequel Trolls World Tour, several standalone specials and TV series have been produced. For director Walt Dohrn and producer Gina Shay, the Trolls franchise is a labour of love — with the pair sitting down with The Digital Fix to celebrate the trailer launch of new movie, Trolls Band Together.
The Digital Fix: Where do we find Poppy and Branch at the start of this movie? Will the events tie into TrollsTopia/Trolls 2?
Walt Dohrn: Yeah, I mean, definitely from Trolls 2, we really wanted to see Branch and Poppy's relationship evolve. They even have their own couple name now, #Broppy. Check it out! The fans are so great, and they're really into it, a lot of them have grown up with Poppy and Branch over those last 10 years. You know, so it's nice to be able to take this next chapter of the movie and see what's happened with their relationship.
TDF: What can you tell us about Branch's long-lost brother? How will he shake things up?
WD: Yeah, Branch has got four long-lost brothers. They used to even be in a band together! But this was what Branch was a baby. This was 20 years ago, and the band broke up and all the brothers kind of went their separate ways.
Gina Shay: Yeah. And his big brother, played by Eric Andre. It's just bigger than life. And you know, he's kind of bossy big brother, I would say!
WD: He's the leader of the group, so he kind of had to take care of his younger brothers.
GS: And there's a lot of emotion in this for Branch. Because I mean, his brothers left him when he was about four or five years old. And he expected them to come back, and they just never did you know. The Trolls had moved — like, all the story connects with Trolls 1 a lot where they had to leave the Troll tree. And we decided to make a family tree kind of movie to reveal much more about our characters and to understand what's underneath them all and what the sum of their parts are. Yeah, Branch goes through a lot in this film.
WD: I think we all wanted to know, after all these movies, how did Branch become the person he is? You know, what are those times in our life that were in the past that we might not address very easily, that helped kind of define who we are as people today?
TDF: There are a lot of boyband references in this film — what made you want to tackle boybands?
WD: Well, I think you know it's in the DNA of these movies. You know, they're very pop-centric. These movies are about family, the importance of having family, and the idea that we could blend family with these boyband aesthetics, as well as have a little fun with it and poke a little fun at it, a movie like this just seemed the natural next step.
GS: Being a musical Troll, we know that Branch would have come from a musical family. So we decided to explore that. We had it on our list of amazing things to explore for the Trolls, and we felt like this was the time to do it when in telling a family story, especially because we were with our families for so much of the pandemic that you know, a lot of things came up. I think we all had to work through a lot [laughs]. All of us!
WD: We work through our issues with the movie, but in a fun and playful way. Even the boy band stuff is super fun, but also there's this history of family bands that we talked about a lot, everything from The Beegees, to The Beach Boys all the way up to Phineas and Billie Eilish. I just think there's such a rich history of family bands and this idea of blood harmony. And we just thought that was an exciting event as a weapon — like, the power of family harmony.
TDF: With Justin Timberlake having a boyband past of his own, did he bring any of his own experiences from that into the movie?
GS: Absolutely, yeah! He workshops a lot of the dialogue and jokes in the film with us to make it as authentic as possible. You couldn't go for a more authentic version.
WD: Boybands were such a big part of his life at one point, so it was fun to kind of go back and explore that — he just has such a healthy and playful attitude towards it. Like Gina says, we do a lot of improv in the movie, and he pitches us a lot of jokes even outside his own dialogue. You know, not to mention the five new songs that he co-wrote!
GS: Yeah, he's also having a really good time kind of delving into the past, in terms of the music, and he's just having the best time. He was just popping around the studio last week. We had a bunch of studios going just working on all the music at once and just really being immersed in the story.
WD: Justin has always been such a partner on this thing. He's not just somebody who records his voice or just acts like a helper on the music. He's part of what makes these movies as great as they are.
How does it feel to be back to theatrical releases and being back with everyone after Trolls 2 was impacted by the pandemic?
WD: is great. It's such a part of how we design the initial experience for the audience for these movies. I mean, it's such an immersive, transformative world with a particular kind of texture and a particular look. So you really get immersed in that world of the big screen, plus the music. As you were saying, Gina, music is such a big part of this film, and we want to make you feel like you're at a concert. And the theatre really gives you that experience!
GS: I mean, the film has scope of epic proportions. You know, we make them that way. We make them for the theatre experience.
WD: Yeah, it's a party, like we said. I've been at screenings where people get up in the aisles and literally dance in the theatre, and it becomes this community experience.
TDF: What can you tell us about the music in this film, and how it differs from previous entries to the franchise? Is it inspired much by boy bands?
WD: It's definitely more of a blend. There's a nod to boybands and the 90s aesthetic, that's for sure. But like all Trolls movies, it's very eclectic and very diverse with a little bit more pop this time around.
GS: Yeah, in comparison to the last movie where we explored so many different genres that this one is very, very pop-influenced.
WD: But we still explore musical eras, like, all through the decades, which we love. Like I think there's music from the 60s all the way through to the 2000s.
TDF: Back in 2020, Justin Timberlake said there were plans for seven Trolls films — is this still on the cards?
WD: There's a never-ending source of material for these movies. There's so many places that it can go and we've discussed, like this one. You know, we talked about how we wanted to make a family tree movie since Trolls 1. And so, we've got a collection of other things and then there's just the natural way that these characters and the world evolves. Like this movie wouldn't happen if it weren't for the events of Trolls World Tour. You know, like Branch's, big brother saw what happened in Trolls World Tour and that's how he found where Branch was to, you know, to start this next adventure.
TDF: The trailer hints at different animation styles in this film — what made you want to experiment?
WD: Well, again, I think the movie allows itself to have that kind of canvas. We can almost do anything in the Trolls universe, it really is just designed that way. Plus, you know, having my origins from 2D animation and being a big fan of psychedelic animation, we've definitely tried to weave that in there. There are other animation styles too. I mean, the whole of Trolls was really inspired by stop motion and puppetry, and it's just a blend of things, but it celebrates what only animation can bring to cinema, I think.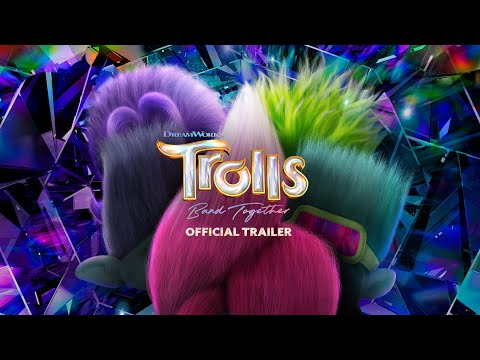 GS: Yeah, I mean, we started working in animation in the 1990s. So we've been through a lot of all these diverse styles, from 2D to 3D.
WD: There's always been this kind of quest to make animation look as real as possible. But as a crew, and as a team, we want to embrace the aesthetics of the history of animation. So hopefully, with this one, you'll see us pay homage to new as well as some traditional animation.
The 2023 movie will be released in theatres on October 20, 2023. For more 2D fun, check our guides to the best animated series, best anime movies, and best anime series of all time.