What is The Little Mermaid 2 release date? The Little Mermaid live-action movie may have only just come out, but fans are already demanding more.
It might be a while until we know for sure whether The Little Mermaid live-action cast will return. Still, the good news is that our Ariel and Eric — Halle Bailey and Jonah Hauer-King — are definitely up for it, so a sequel to this live-action Disney remake isn't completely outside the realm of possibility.
But what would a sequel to the Disney movie actually involve? When would we likely see it in full? Here's everything you need to know about The Little Mermaid 2 release date.
The Little Mermaid 2 release date speculation
A sequel hasn't been announced just yet — and it will probably be a while until we hear either way.
Unless a multi-picture deal has already been decided, new movies and sequels aren't usually announced until some time after the initial film has been released.
This is so execs can get an idea of how financially and critically successful the film in question is and, in turn, can decide whether any subsequent films would be profitable and something viewers want.
It's also worth noting that the nature of this live-action Disney remake means that a sequel would take a long time to make, so even if one happens, we shouldn't expect it earlier than 2026.
The Little Mermaid 2 cast speculation
Halle Bailey and Jonah Hauer-King have both said they'd be up for a sequel. No cast members have been confirmed as of yet, but here's who we can see returning:
Halle Bailey as Ariel
Jonah Hauer-King as Eric
Daveed Diggs as Sebastian
Jacob Tremblay as Flounder
Awkwafina as Scuttle
Javier Bardem as King Triton
Noma Dumezweni as Queen Selina
What will The Little Mermaid 2 be about?
The Little Mermaid 2 would probably focus on Ariel and Eric's daughter, Melody.
This is the case with the sequel to the 1989 animated movie, which is entitled The Little Mermaid II: Return to the Sea. Released in 2000, the Little Mermaid sequel is set sometime after the original film. Ariel and Eric's human daughter, Melody, yearns to be in the ocean and is unaware of her part-mermaid heritage. She ends up making a deal with Ursula's sister, Morgana, to temporarily become a mermaid in exchange for Triton's trident.
This means it's not dissimilar to the plot of the original film — it's just the other way around. But this isn't the only plot for a potential live-action sequel. Disney could decide on a completely new plot — Hauer-King said in an interview that he'd be interested to see Eric as a merman, for example — or adapt the animated prequel, Ariel's Beginning.
In this '2000s movie, Ariel goes on a mission to reverse her father's law on music, which has been completely banned following the death of her mother. Needless to say, there are a lot of places a potential sequel plot can go.
Is there a Little Mermaid 2 trailer?
There's a trailer for the original sequel, but not the live-action one.
You can watch the trailer for The Little Mermaid II: Return to the Sea below.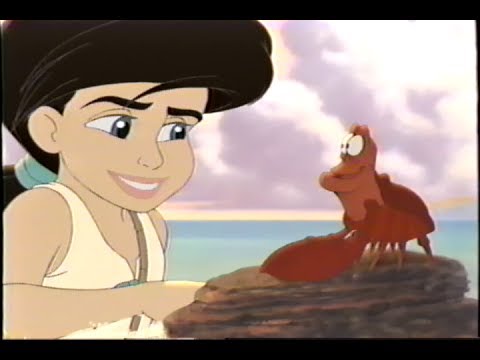 Where could I watch The Little Mermaid 2?
Depending on how well they see a sequel doing, Disney may well release it in theatres.
Or, they might take the safer option as they did with the likes of Hocus Pocus 2 and Disenchanted and release it straight onto Disney Plus.
If you want to stay under the sea, check out our guides on how to watch The Little Mermaid and The Little Mermaid soundtrack. Alternatively, have a look at our The Little Mermaid review and guide to the best movies of all time.