It's now been over 130 days since the writers strike began, and 60 days since the actors strike began – therefore, many people who work for the entertainment industry are struggling. Several Hollywood stars have made substantial donations to the community funds that are giving financial assistance to those out of work due to the strikes, and Steven Spielberg and his wife, the actress Kate Capshaw, are the latest to contribute.
Steven Spielberg and Capshaw have donated $1.5 million, according to Deadline. Despite the perception that everyone who works in Hollywood is rich, the vast majority of writers, actors, as well as the crews who cannot work due to the strikes are living paycheck-to-paycheck. According to SAG-AFTRA, 86% of their members make under $26,470 annually, which is the threshold for their health insurance plan.
So far, some celebrities who have donated to the Entertainment Community Fund, as well as SAG-AFTRA Emergency Financial Assistance Program include George and Amal Clooney, Ben Affleck and Jennifer Lopez, Ryan Reynolds and Blake Lively, Hugh Jackman, Leonardo DiCaprio, Matt Damon, Dwayne Johnson, Arnold Schwarzenegger, Nicole Kidman, Julia Roberts, and Meryl Streep. The two funds have distributed nearly $10 million so far.
The Writers' Guild of America has over 11,000 members and SAG-AFTRA has over 160,000 members. As well as actors, SAG-AFTRA's members include announcers, broadcast journalists, dancers, DJs, program hosts, puppeteers, recording artists, singers, stunt performers, and voiceover artists.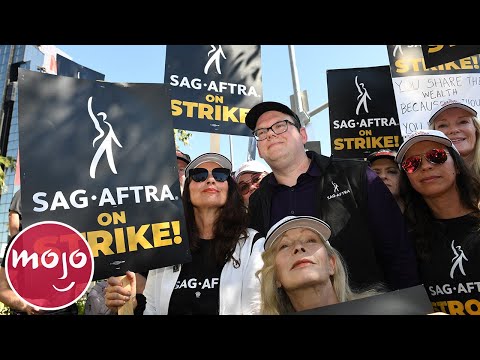 Both the writers and actors unions are in a dispute with the Alliance of Motion Picture and Television Producers over many issues, including paltry or non-existent streaming residuals and the lack of protection over AI. The CEOs of Warner Bros, Netflix, Disney, and more are being called out for giving themselves huge salaries and bonuses, versus what is paid out to the creatives who generate their wealth.
Check out our guide to the best Steven Spielberg movies. You could also check out the best Matt Damon movies, the best Ben Affleck movies, or the best Julia Roberts movies. Or maybe you're in the mood for the best Dwayne Johnson movies and the best Arnold Schwarzenegger movies.