You know what Star Trek needs more of? That's right, great characters like Seven of Nine! Well, you're in luck, because we just found our new favorite Starfleet character, even if their crewmates don't exactly love them (yet).
Star Trek is always producing excellent new characters for us to go on bold adventures with. The Star Trek timeline is full of a diverse range of different humans, aliens, and robots, meaning any list of the best Star Trek characters requires careful consideration. But, Seven of Nine is undoubtedly one of our absolute favorites throughout the various Star Trek series.
So, imagine our glee when, during the latest episode of Star Trek Lower Decks season 4, we noticed a fair few similarities between Seven of Nine and a new character called Goodgey.
Seven of Nine, of course, is a former Borg drone, who first appeared in Star Trek: Voyager, before later joining Star Trek: Picard. Due to her robotic roots, those who come into contact with Seven of Nine have a hard time trusting her, not least of all Commander Chakotay.
Eventually, the crew realized she was not a threat. Quite the opposite, in fact. Seven of Nine becomes one of the most useful and accomplished members of the Voyager crew, and forges a fantastic double act with one of the best Star Trek captains, Kathryn Janeway.
This idea of a new and unusual entity joining a Star Trek starship has cropped up again in Lower Decks, in the form of a hologram. The introduction of Goodgey, who is essentially created by Badgey splitting into different versions of himself, gives us a fascinating and endearing new character.
The concept of good and bad are explored (if you hadn't guessed from the not-so-subtle names) through Goodgey, with this artificial lifeform having to combat the prejudices facing him due to his former indiscretions as Badgey. With Goodgey on board, Lower Deckers like Mariner, Boimler, and Tendi are pretty sceptical and fear he could turn against them. Rutherford, however, has faith in his new accomplice, and it's this acceptance of the unknown that can lead us to our new Seven of Nine.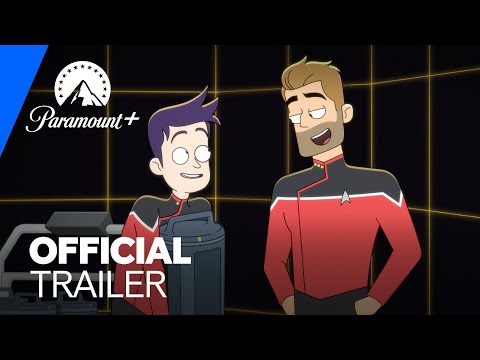 What is most intriguing is that Goodgey could well inspire conversations among the Star Trek characters (and the fanbase) around the rights afforded to holograms. A timely discussion, given the rise of AI in the real world right now, and one tackled before thanks to the doctor in Voyager. If we've learned anything from watching the best sci-fi series, it's that we should consider how we treat everyone (and everything) we meet with fairness and respect, regardless of species.
We will have to wait and see whether Goodgey can change those perceptions of him and win the crew of the Cerritos over. Until then, here's what we know about the Star Trek Legacy release date and the Star Trek Discovery season 5 release date. There's also, hopefully, a new movie on the way, so here's what we know about the Star Trek 4 release date. If you've had enough of Star Trek movies, however, you might want to learn about Avatar 3 instead.