The Raimi era of Spider-Man is widely considered to be the best. We agree, and have always felt that his years of taking on Spider-Man's story produced some of the best superhero movies to date. Even if they did get a little weird towards the end. (Yes, Spider-Man 3 was bad, but is it one of the worst movies ever made? No.)
When Tom Holland was ushered in as the newest of Spider-Man actors in the MCU's Spidey takeover, reactions were mixed. But we've always enjoyed his younger, nerdier portrayal of Peter Parker, and think he makes a pretty good Spider-Man, too. In fact, some of his movies ended up being the best comedy movies of the Marvel collective.
In No Way Home, the final movie of his trilogy, we saw some of the best Marvel villains return in a universe-jumping reality. One of them was Willem Dafoe's Green Goblin, who always seemed to be the best movie villain ever to us as kids. But in bringing him back, we almost revisited one of the most hated elements of those Sam Raimi movies.
The 2002 Spider-Man movie starred Dafoe as Norman I'm-something-of-a-scientist-myself Osborn. It's not a secret that the character design of Goblin went through a few changes, initially starting with a frightening rubber mask (the likes of which can be seen in the below video of some early screen tests).
Thankfully, we ended up with a version that wasn't quite this similar to a Halloween mask, but fans still weren't impressed with what we got. At the time, Goblin was adorned in a rather robotic looking suit and shiny green mask.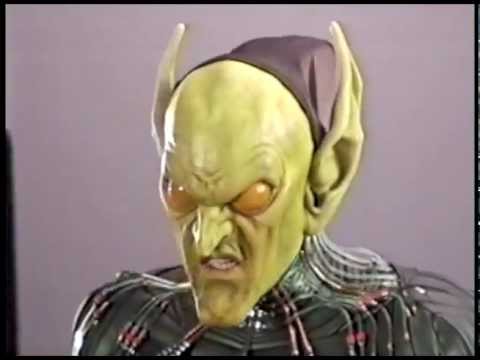 Needless to say, it didn't look anything like the original comic book. If we had to guess, it went this way because they were trying to provide a modern high-tech look for the antagonist.
But it turns out, No Way Home almost made the same mistake. As evidenced by concept art (below) pointed out by Twitter (not X) user @SpiderMan3news, the draft version of Goblin looks to have involved some utilization of the Iron Man technology. As you can see, it looks a lot like the version fans hated in the 2002 iteration. A lot of metal. A lot of gleam.
Thankfully, they didn't go for this. When Defoe returned in No Way Home, he does spent the majority of his time in a purple and green hoodie combination, which looks much closer to the comic book iteration. Thank the MCU lords! Here's hoping their attention to detail stays the course for all the upcoming Marvel movies.
For more on Marvel, take a look at the Marvel movies in order, and find out everything you need to know about Marvel's Phase 5. You can also get to know all the Marvel series and the best MCU characters.
And, to see what new movies are on the way, take a look at our guides to The Marvels release date and Avengers 5 release date. You can also see if any of these end up on our list of the best movies of all time.