Peter Pan and Wendy ending explained. The new movie flew onto Disney Plus on April 28, 2023, and if you're wondering what those third-act turns meant, we're here to sail you through the revelations and character choices.
Disney Plus is hoping that Peter Pan and Wendy will be one of the best family movies of 2023, with the reimagining deploying the talents of Ever Anderson, Alexander Moloney, and Jude Law as Wendy, Peter, and Captain Hook.
The David Lowery Disney movie takes some interesting new paths, noted in our Peter Pan and Wendy review, and attempts to add something new to the classic recipe. Spoilers ahead, so if you've not seen the movie, find out how to watch Peter Pan and Wendy before we discuss what happens in the Peter Pan and Wendy ending.
What happens at the end of Peter Pan and Wendy?
In the Peter Pan and Wendy ending, Wendy and the Lost Boys return home while Peter decides to return to Neverland and continue his rivalry with Captain Hook.
The ending starts with the final confrontation between Hook (now called James) and Peter on the pirate ship. Peter is tired of fighting, saying it isn't fun anymore. Hook doesn't want their rivalry to end because that's all the excitement he's got now as an adult with no "happy thoughts".
James falls from the ship and Peter tries to catch him, but his hook breaks off and he plummets. Peter is sad because he had grown to enjoy their battles and refers to James as a "friend".
Does Peter go back to Neverland?
After this, the Lost Boys decide to leave Neverland with Wendy and her brothers. Wendy decides that growing up is something she can face and that the future isn't worth missing. Peter sails them home but decides he's not ready to leave Neverland. Wendy tries to convince him to stay, but he flies back to the ship, tearfully looking back.
What did Tinkerbell say to Wendy?
Tinkerbell, who bonded with Wendy throughout the movie, tells Wendy "Thank you for hearing me.", significant due to how Wendy hadn't been able to understand her until then. They all then wave goodbye as Tinkerbell chooses to stick with Peter to look after him.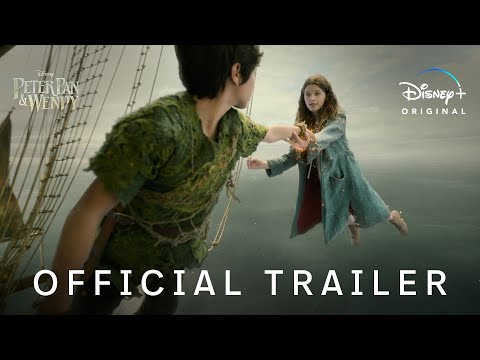 Why does Hook smile at Peter?
The very end of the movie reveals Hook survived his fall, and when he hears a noise it's not the crocodile coming back to chomp on him, it's Peter sailing through the clouds. The two smile at each other, which is the movie's way of letting us know they've made a silent deal to continue playing make-believe in Neverland.
That's the Peter Pan and Wendy ending explained. For more, find out if you missed anything in our guide to if there's Peter Pan and Wendy post credit scene. Or, check out the new movies and best movies of all time.