The magic of the fable it's based on quickly floats away in Peter Pan and Wendy, the latest Disney 'reimagining'. The David Lowery fantasy movie divorces Neverland from intrigue and the ephemeral, rendering its escapism and inhabitants as colourless as their greeny-blue surroundings.
This bedtime story may lull you to sleep, but for all the wrong reasons: it never gives itself the benefit of genuine thrills, eye-widening spectacle, or enough additional meat to the classic tale of the boy who never wants to grow up.
The Disney Plus movie deploys Lowery's talents for patient pacing, sincere performances, and striking style, but the result is a mismatch of these sensibilities with a story that should be more wondrous. While Pete's Dragon perhaps cracked the code, it doesn't fully compute here.
Peter Pan and Wendy, as is the case with most of the stories Disney has been revisiting to the tune of billions of dollars, doesn't stray far from the original movie, instead opting to add modernity and gravitas, largely within the scope of Wendy Darling (Ever Anderson, who's as good here as she was in MCU flick Black Widow).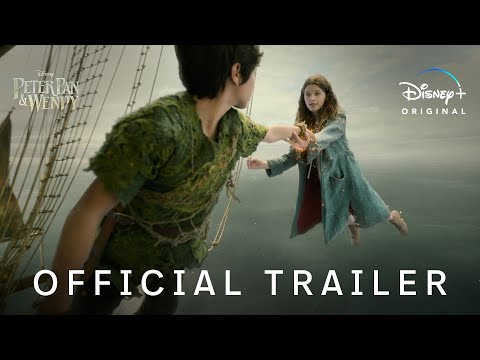 When Wendy and her brothers Michael (Jacobi Jupe) and John (Joshua Pickering) are whisked away to Neverland by the cheeky Peter Pan (Alexander Molony), they meet other kids, the villainous Captain Hook (Jude Law, turned up to 11), and Tinkerbell (Yara Shahidi), who's still serving lots of attitude, even from behind shoddy CGI.
Our band of characters contend with Hook's desire to rid Neverland of children, and the fear of growing up and leaving simple happiness behind.
Except, when we take to the skies here, there's not much giddy excitement or spectacle. Neverland doesn't look like a fantasy location as much as it looks like a holiday destination without attractions, because Peter Pan and Wendy doesn't dress it up in a way that would make a child beg to visit, never mind stay forever.
The movie utilises a colder, truer-to-life colour grade Disney has been criticised for in the likes of the live-action The Lion King, and that realism does nothing for it. It's not that Bojan Bazelli — whose other credits include A Cure For Wellness — phones it in, his cinematography has a beautiful, stark quality to it that particularly lends credit during on-location shots and moments that give the young actors room to breathe. But the visual stylings of the movie don't inform it, and at times detract from what the audience is being told instead of shown.
The elements, in isolation, however, are undeniably solid. The costume design is perfect, making the kids and the pirates chasing them look like they belong in the more grounded version of Neverland, while still lending them a unique look. Tinkerbell delightfully looks a hop, skip, and jump away from reality, and The Lost Boys look appropriately wild yet cute.
Speaking of our young heroes, Peter Pan and Wendy flirts with poignancy by more directly confronting the themes of not wanting to grow up, the sanctity of youth, and feeling adrift as we age. Disney's animated classic had a palpable sadness to it that burned in the back of the frame, and Lowery brings these ideas to the forefront without overcooking them — the bittersweet tonality of some goodbyes, developed relationships, and the movie's ultimate destination is a total success.
Anderson does much of the heavy lifting here. Her cohorts are talented, but the young actress brings a restless feel to Wendy and walks the difficult line of giving life to a brave heroine while still tending to the emotional reality of a character avoiding what life back home is asking of her. Anderson bears the weight fantastically and elevates the sometimes boring script to new soaring heights.
Law also is a net positive, chewing the scenery when that's what is required of him but also settling into a couple of darker scenes where Hook is given more levity. If this adaptation is to be remembered for anything, it will be the original take on this classic villain and the ways adults will relate to him.
Peter can at times feel more of an afterthought, mostly because we're retreading covered ground. He's the narrative's navigator, but Wendy is the audience's vehicle and North Star. Peter's role serves in other ways, and while he may not have exactly the same enigmatic draw that made him the cool, god-like character of our youths, without him many of the threads wouldn't have reached the same depths they did.
The problem at large, then, is how none of the adventure movie's strengths are enough to keep it from feeling slightly lifeless. The action sequences aren't enthralling, it doesn't lean hard enough into any originality to pique curiosity, and doesn't inject fun in a large enough volume to make these weaknesses forgivable.
By the time the third act sails around, the movie has all but ground to a halt due to the slower pacing and lack of scenes that would get kids up out of their seats to play sword fight.
That being said, the target audience of children who have never been exposed to Peter Pan before do not have the original, or expectations, to compare with, and slightly older children may find things to relate to. For its faults, Peter and Wendy treats its young audience with the respect they deserve, giving them authority in their own stories and dreams, and things to think about.
For more, check how to watch Peter Pan and Wendy and find out if there is a Peter Pan and Wendy post-credits scene. Or, visit our Peter Pan and Wendy ending explained and see the new movies coming soon.
Peter Pan and Wendy review
Peter Pan and Wendy is indeed an effective bedtime story because it doesn't pack the punch needed to make it an immersive kids' movie. On the bright side, Ever Anderson is one to watch.