Scarface is one of cinema's most iconic pictures. Why? Well, Scarface has got golden Hollywood talent, quotable dialogue, and striking performances from some of the best actors of all time — including Al Pacino and Michelle Pfeiffer.
One of Brian De Palma's best movies, it has a little bit of a 'dorm room poster' reputation like Pulp Fiction, but classics are classics for a reason! For Pfeiffer, though, the prospect of shooting it was terrifying.
In a 2012 interview in Interview Magazine, Pfeiffer admitted she was intimidated when filming what would go on to be one of the best thriller movies of her career according to critics.
She said, "there's a lot of talk and a lot written about Brian's views on women and all that — you know, in his movies he's always killing women. People tend to think that means he has a warped view of women, but I found the exact opposite to be true. I found him generous and very gentle; I liked working with him very much."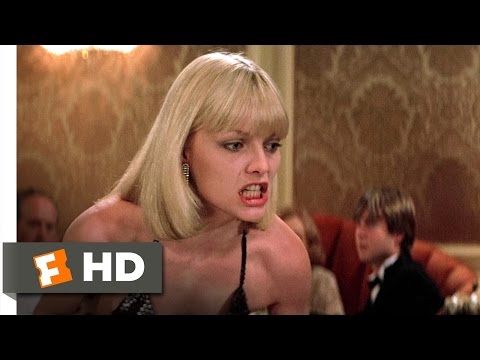 "It was a hard movie for me because Grease 2 had been my last credit, and I was really terrified," she continues. "I was very excited to work with Al Pacino, but I was also intimidated by him. Other than me and Mary Elizabeth Mastrantonio, it was all men. I had to play a very cold and aloof woman – very different from my personality and a difficult character for me to hold onto."
Despite her difficulties, Pfeiffer's career advanced massively after doing the film, and her visage in it remains well-referenced in pop culture. Shoot for the stars, kids.
For more De Palma, revisit the Mission Impossible movies in order, or Carrie in our list of the best horror movies. For more here and now, check out the new movies coming soon.
We've also got thoughts on why Michelle Pfeiffer is still the best Catwoman and a story about how Michelle Pfeiffer made Al Pacino bleed before they shot Scarface.