What is the Daredevil season 4 release date? Now that the Marvel Netflix series are all on Disney Plus, and we've had both Vincent D'Onofrio and Charlie Cox formally join the MCU, the Man Without Fear seems destined to get another headline outing.
Based on the MCU hero of the same name, the Netflix adaptation of Daredevil followed the masked vigilante in his efforts to clean up Hell's Kitchen in New York. By day, he was Matt Murdock, a blind lawyer, but by night he'd don a costume and use his heightened sense to fight organized crime in ways the system failed to.
The show first premiered on the streaming service back in 2015 and was heralded for its dark tone and intense interpretation of the MCU character. It was discontinued in 2018 after Netflix's contract with Marvel expired. Now courtesy of Disney Plus, we know the Devil of Hell's Kitchen is back. When can you expect the Daredevil season 4 release date? We've gathered every clue we can find about the upcoming Marvel series.
Daredevil season 4 release date speculation
In September 2023, it was reported that production had been halted due to the strikes, and the series has now been indefinitely delayed. However, we're still hoping season 4 might release next year, and late-2024 still seems like a realistic release date as long as the strikes reach a resolution in the near-future.
After all, despite all of the current delays in the MCU, Daredevil: Born Again is still part of Marvel Phase 5, meaning it forms part of the plan for the overarching story. At least, it does in theory.
Who's in the Daredevil season 4 cast?
We know Charlie Cox and Vincent D'Onofrio are definitely in the Daredevil season 4 cast, and they've already shown up in other MCU productions.
Two supporting cast members were added in December 2022, with Margarita Levieva and Sandrine Holt taking on roles described as potential love interests for Matt Murdoch.
Unfortunately, it seems that (for now at least) neither Deborah Ann Woll (who played Karen Page) nor Elden Henson (Foggy Nelson) is returning for the show, but it's not all bad news. Jon Bernthal is set to return as the violent vigilante The Punisher.
Who's in the Daredevil Born Again cast?
Charlie Cox as Matt Murdock / Daredevil
Vincent D'Onofrio as Wilson Fisk
Jon Bernthal as the Punisher
Sandrine Holt as Vanessa Fisk
Michael Gandolfini
Margarita Levieva
Nikki M. James
Michael Gaston
Arty Froushan
Clark Johnson
Jeffrey Nachmanoff
Harris Yulin
Arty Froushan
Is there a Daredevil season 4 trailer?
There is no Daredevil season 4 trailer just yet. And don't expect one so soon, either.
Due to the ongoing strikes in Hollywood, the production of Daredevil season 4 was shut down in June 2023. The decision has been made that filming won't resume until negotiations take place and all the issues are resolved either.
Since writers and actors are still fighting for a fair deal, this superhero will have to take a back seat for now.
What will the Daredevil season 4 plot be?
We don't know what the Daredevil season 4 plot will be about, but we expect it'll involve Kingpin as the Marvel villain.
Now firmly embedded in the Marvel Cinematic Universe, there might be more emphasis on the franchise at large, and at the very least, we can probably expect a slight tonal shift so as to not be quite as gritty as the Netflix version.
That all said, expect more of Matt trying to take down Wilson, who's up to some nefarious scheme or other. It'll be the other villains that pop up that will make the difference. Bullseye is due a comeback after we last saw him getting his spine fixed at the end of season 3.
Mr Fear and Jester are other options, both presenting leftfield challenges to Matt and his distinct moral code. Whomever it is, we can be sure all roads will lead back to the Kingpin.
This theory is also supported by some on-set pictures, which show not only some sponsorship from the PymVanDyne foundation but also suggest that Fisk (AKA: Kingpin) is running for Mayor!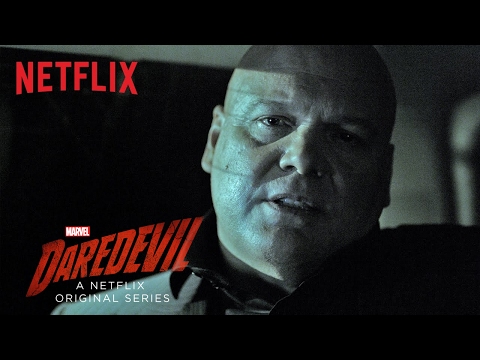 Where can I watch Daredevil season 4?
Once it releases, you will be able to watch Daredevil: Born Again on Disney Plus.
Currently, there are no plans for the new show to head over to Netflix, so it is officially the end of the Marvel series-Netflix era, folks. Click our link below to explore more of what the House of Mouse's online platform has to offer.
How many episodes will be in Daredevil season 4?
There will be eight episodes in the first season of Daredevil: Born Again.
This is on the longer side, considering how Marvel loves a six-episode kind of format (just look at Secret Invasion). Still, considering how Daredevil season 4 is the long-awaited continuation of one of the best TV series ever made, we'll make time to tune in for an extra episode or two! That's everything we know about Daredevil season 4. Have a look at our guides to the upcoming new movies like The Marvels, or check out our guide explaining how to watch all the Marvel movies in order.
If that's not enough, you can see our MCU movies ranked piece if you feel like disagreeing with us. Don't forget to check out all the new movies coming out this year or our (slightly) controversial list of the best movies ever made.