Whether he's causing awkward chaos on the Oscars red carpet, getting caught for some…questionable antics and making famous mugshots, or if he's kicking back with some mythical creatures in the Dungeons and Dragons movie, you can't help but kind of love Hugh Grant.
The star made a name for himself in the '90s with a string of successful romance movies, and continued to crop up over the years, eventually even ending up playing one of our favourite movie villains in the family film Paddington 2.
The actor has also become known over the years for his tongue-in-cheek witticisms and honesty, which often results in some hilarious and brazen truth bombs and confessions.
In an appearance on The Late Show with Stephen Colbert, Grant was very keen to express his thoughts on how phones have ruined the on-set experience…in more ways than one.
"You know, in the old days, by the end of the second week, you were all getting drunk in the evening and having dinner and falling in love with each other and all that," he says. "And all that stopped 'cause of telephones. Really everyone goes home and looks at Twitter. It's so sad."
When asked if less phones would mean more on-set affairs, Grant replies:
"Yeah, I think so," Grant said. "You know, [Quentin] Tarantino bans telephones from sets and quite right too, and the people there, they do all shag each other — or so I'm told."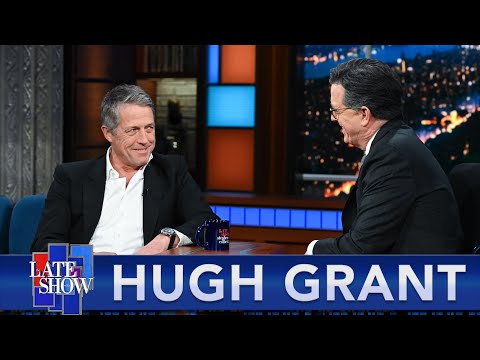 But the cheeky D+D star didn't stop there. When asked about the amount of squatting he had to do for sword fight training in comparison to his co-star Regé-Jean Page, Grant knowingly replies, "There was a lot. I also have an incredible ass, actually."
If you can't wait to see Grant in the upcoming fantasy movie, be sure and check out our Dungeons and Dragons review, how to watch the new movie, and everything we know about the Dungeons and Dragons post-credits scene. Don't forget all the other new movies coming out this year, too.