Harry Potter star Rupert Grint was terrified by his make-up look during the epilogue scene of the final movie, especially when he noticed that he looked a lot like Donald Trump. Ouch Rupert, you have our sympathy.
Grint explained on the Blu-ray commentary track for Harry Potter and the Deathly Hallows Part 2 that it was "quite a weird scene to film" and that the main Harry Potter cast was taken aback when they saw themselves in the special make-up and prosthetics for the "19 years later" flash-forward. After a decade spent filming the Harry Potter movies in order to reflect their gradual ageing, they suddenly jumped way into the future.
"They tried lots of different ways of doing it," said Grint. "The first few days, when I first put the make-up on, it was quite a shock to see yourself kind of old. Particularly for me because they kind of went a bit crazy with Ron and I ended up looking a bit like Donald Trump."
Fortunately for all of us, Ron Weasley's unfortunate Trumpian resemblance changed before the final cut, with director David Yates asking Warner Bros. if he could have another go at saying goodbye to the main Harry Potter characters in style – with some less absurd make-up.
Grint explained: "They toned down the make-up a little bit, so we didn't look too old. I'm wearing a fat suit as well, just so you know. I didn't actually just put on loads of weight. It's a nice scene. It's a nice way to end, I think."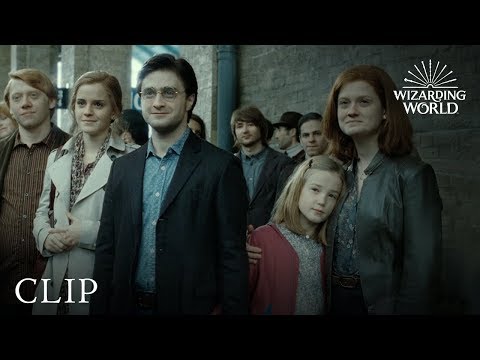 The "19 years later" sequence isn't popular with everyone and, to be honest, we're still not completely sure they got the make-up right. These guys look much older than their mid-thirties. However, we agree with Grint that the scene puts an emotionally powerful button on one of the best movies in the franchise. It's a fitting farewell.
We do, however, think that there's one way they could've made the sequence a lot better. As much as we think Yates gets a lot of unfair criticism, this scene is a prime example of a time in which he should've made everything look a lot less… well, gray and dull.
After the moody darkness of the Wizarding War, this should be a scene of magic and wonder to mark a magical world finally safe from the threat of Voldemort. Instead, it feels just as grim as the battle we've just witnessed. Compare the joyously magical Hogwarts Express of the first Harry Potter movie (right, obviously) with the shot from Deathly Hallows.
It's a fix so easy that one Potter fan has already made the ending better with a simple color change. Hopefully when we eventually get some new movies in the franchise, we'll learn that there's nothing wrong with having a bit of brightness in the Wizarding World.
Speaking of which, we think the Cursed Child movie needs to lean into gay romance, so we'll be counting down the days until the Harry Potter and the Cursed Child movie release date comes along. We're also still holding out hope for a Fantastic Beasts 4 release date, even though Fantastic Beasts is apparently parked for now.
The creator of the Harry Potter series, J.K. Rowling, has made several transphobic remarks on social media in recent years. If you'd like to learn more about transgender equality or lend your support, here are two charities we encourage you to visit: the National Center for Transgender Equality in the US and Mermaids in the UK.