What goes through your head when you think of Gran Turismo? If you're anything like us, you probably think of PlayStation, videogames, and coming second to your little cousin who handles the corners like Lewis Hamilton despite never touching a steering wheel in their life.
After watching Gran Turismo, though, you'll never think about the world's best racing game the same way again. The movie's based on the true story of Jann Mardenborough, a Gran Turismo player who miraculously went from the gaming chair to the grand prix. It's a sensational story and makes for one of the best sports movies of 2023.
So when we were invited to chat with the film's stars, Archie Madekwe and David Harbour, we were off to the races (Or at least the Zoom call where we conducted the interview). We spoke about Mardenborough's unbelievable underdog story, how this isn't really a videogame movie (Even though it is one of the best videogame movies we've seen), and what games they can't wait to get their hands on in the future.
(Note: This interview was completed before the 2023 SAG-AFTRA strike began.)
The Digital Fix: The story of a Gran Turismo player who goes on to become a professional race car driver seems so bonkers, but then you hear it's based on a true story. What did you both think when you first read the script and learned about Jann's story?
David Harbour: [Laughs] Well yeah! I was like, 'Wow, this is either the dumbest Hollywood script I've ever read in my life… or it's a true story .' And it turns out it's a true story.
So it makes it a really crazy, amazing movie. It's just wild! But you know, I also kind of liked the idea that you have this older mechanic who, in our narrative, brings this younger generation into the visceral world of the real.
And yet that young generation also teaches the older generation a little bit about the powers of technology and the powers of a simulator that, like this old mechanic, doesn't believe in. I think that's an interesting approach and fun approach to the technology we're grappling with today.
TDF: How about you, Archie?
Archie Madekwe: I had a bit of an unconventional intro to it. I was sent the project when it was just 'Untitled Jann Mardenborough Project' and not Gran Turismo. So I entered it just through Jann's story, and I just couldn't believe that one, it was true, and that two, I'd never heard of it.
But I was so excited that Sony was making this huge scale film about this young, mixed race, British guy, that was something that I had never seen growing up. It was just such an exciting idea for me to tell this story because I knew how inspired I would have been seeing that growing up as a person of color. So I just was so excited about the idea of being a part of something like that.
TDF: Video game movies have come a very long way in the last few years. If we think back to the Super Mario Bros movie of the '90s, which no one likes to think about and compare it to the Super Mario Bros movie of today…
DH: [Laughs] My friend John Leguizamo might disagree with you! But yes, continue on…
TDF: [Laughs] Were either of you nervous about making a video game movie?
AM: No, because for me, it wasn't a video game movie. It was Jann's story. The video game was a side component, but the title Gran Turismo came to me about a year later. I didn't even realize that it was going to be marketed under that umbrella, necessarily.
So it was all about getting inside Jann's story and less about making a video game adaptation. It is just something that lives within the story as it's a component of it, but the story is so much more than that.
TDF: And you, David? Also, apologies for besmirching John's good name and the Super Mario Bros movie!
DH: [Laughs] No, it's OK. I'll throw some people under the bus! No, but you're absolutely right. I don't think John would take issue with the fact that it wasn't his best work or the best movie.
You know, video game movies throughout the years have been extremely problematic, and only recently, I feel like they've really cracked the code on them. I watched something, The Last of Us, and I was blown away. I'm like, 'Man, this is as good as any great HBO series,' so I think PlayStation is changing the game with how they approach their work.
What I've heard through my own grapevine is that they make enough money with their video games. They don't really need the movies in the same way economically, so they can really just make movies that they love and that they think are great and have a lot of integrity [laughs], although I'm sure it'll be good advertising for their platform as well. It doesn't matter, though. Instead, they get to focus on the product as opposed to the widespread commercial appeal of it.
That was something they did by hiring Neil Blomkamp to direct [Gran Turismo]. They took a risk by hiring a real filmmaker, not some cookie-cutter guy, to make a video game movie. They made those interesting choices, and I think it shows in the work, and it's a real movie. I mean, it's a real cinematic experience. That's a testament to the higher-level video game guys going. We're not going to do things the way we did them in the past.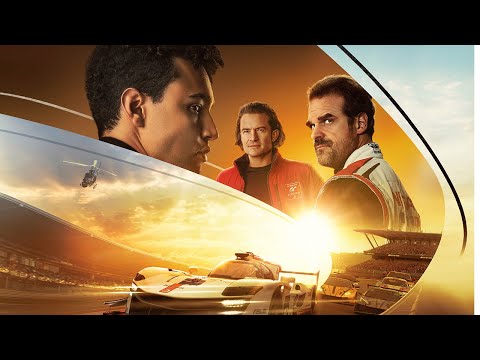 TDF: We don't have a lot of time left, so I'm going to ask you, David, I know you're a recovering World of Warcraft addict, but are there any upcoming video games that either of you are particularly excited about?
DH: Upcoming? Upcoming? I don't know any games that are upcoming. I'm playing Diablo 4 right now, and I'm really enjoying that. I can't think of anyone or like new releases coming up, though.
AM: Whenever they do the next The Last of Us, I guess they'll be doing another one of those? I'll be excited when that happens.
If you want to watch Mardenborough's story for yourself, then check out our guide explaining where to watch Gran Turismo. We've also got a full breakdown of the Gran Turismo cast for your reading pleasure.
Or, perhaps you're looking for another great film to watch? Well, you'll find plenty of great flicks on our list of the 101 best movies of all time. Finally, be sure to read our guide to all the new movies coming in the future, and for all you sports fans, we've got breakout guides on the Creed 4 release date and the Welcome to Wrexham season 2 release date as well.