What is the Cruel Summer season 2 release date? Executive produced by Jessica Biel, the teen series Cruel Summer debuted in 2021 on Freeform and quickly became the biggest debut ever for the cable channel. Unsurprisingly, then, viewers are eager for more, and thankfully there's more to come.
There's a lot to unpack when looking ahead to Cruel Summer season 2, and that's not just down to showrunner Bert V Royal leaving the drama series. While season 1 of the TV series followed two teen girls in the '90s as they navigated their lives while faced with a kidnapping, life-changing deceit, and an explosive finale, season 2 heads off in a new direction to be told in a whole different time period.
It's not just the showrunner that will be changing this time around, but a lot of the season 1 cast will also not be returning. That's because Cruel Summer season 2 has a whole new cast and plot in mind. But one thing's for certain, there is a season 2 on the way, and we've put together everything you need to know about this hot summer thriller as we head to the Pacific Southwest.
Cruel Summer season 2 release date
The Cruel Summer season 2 release date kicks off on June 5, 2023, with a two-episode premiere.
Initially, season 2 was due to arrive in 2022, but that didn't happen. We now know season 2 will arrive, fittingly, for summer 2023.
Freeform president Tara Duncan revealed Cruel Summer had been renewed for season 2 before the first season's finale back in June 2021. Filming commenced for season 2 in April 2022 and was completed on September 7, 2022.
Cruel Summer season 2 plot
The Cruel Summer season 2 plot will follow a teenage love triangle and a new mystery.
Cruel Summer season 2 will return as an anthology series, now set in a sleepy waterfront town in the Pacific Northwest, and will be looking at a timeline comprised of 1999, 2000, and 2001.
Secrets and lies: Best drama movies
This time around, the show will be centred around Y2K, and on the friendship between Megan, Isabella, and Megan's best friend Luke, creating a complicated love triangle as well as a mystery that impacts them all.
That means three brand-new characters for the show, and we'll talk about the casting of those characters below. But, for now, the creators are hinting at tragedy, high expectations from a powerful father, and a hidden secret about Isabella's arrival in town all to come and captivate viewers for Cruel Summer season 2.
Cruel Summer season 2 cast
The Cruel Summer season 2 cast will see a brand new roster of actors taking on new roles in the show.
It's not currently clear whether we'll see any returning roles from the previous season, given the series is now an anthology. Still, given we're in a new town and time with a whole new story, we can speculate that Cruel Summer season 2 will be focusing on the new cast members listed below.
Cruel Summer season 2 cast list:
Sadie Stanley as Megan Landry
Lexi Underwood as Isabella
Griffin Gluck as Luke Chambers
KaDee Strickland as Debbie
Sean Blakemore as Sheriff Myer
Paul Adelstein as Steve Chambers
Lisa Yamada as Parker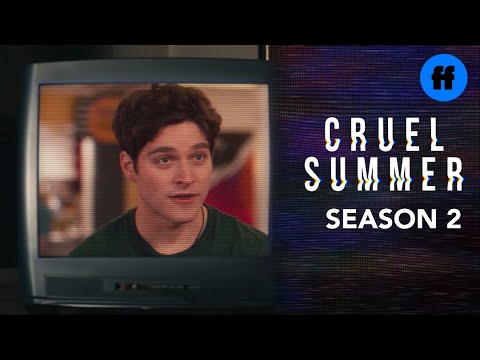 Is there a Cruel Summer season 2 trailer?
There is no Cruel Summer season 2 trailer yet. Season 1's official trailer dropped a couple of months before the show premiered, so we'll speculate that we can expect the same this time around.
We did get a season 2 announcement teaser, which you can watch above.
Where can I watch Cruel Summer season 2?
Cruel Summer will air on Freeform in the US beginning June 5, 2023. Fans in the UK can catch it on Amazon Prime Video.
You can catch up on Cruel Summer season 1 on Amazon Prime Video in the UK and Freeform in the US.
The series will air weekly on Freeform. As for Prime Video, we're not sure how much later the episodes will stream compared to their airing in the US yet. You can sign up for an Amazon Prime trial if you don't have the service.
How many episodes will Cruel Summer season 2 have?
We don't know the number of episodes Cruel Summer season 2 will have yet.
Season 1 had 10 episodes, and was very successful, so we expect 10 or more episodes in season 2.
If you need more teen drama in your life, check out our guide to the Euphoria season 3 release date, or if you fancy watching one of the best sci-fi series, then check out our guide to the Severance season 2 release date. Here are all the new movies headed our way, or you can also dive into our list of the best movies of all time.