Chuck Chuck Baby, the delightful romance movie earning laughs and tears at EIFF 2023, was a labor of love for director Janis Pugh, who grew up in a small Welsh factory town. The influences of her vibrant sense of community, home, and empathy toward the women that kept its wheels turning are heartwarmingly evident in Chuck Chuck Baby, which just had its world premiere at the festival alongside other unique new movies.
Taking place in a chicken factory, recently separated line worker Helen (Louise Brealey) is shaken when her childhood crush Joanne (Annabel Scholey) returns after the death of her father. Living with her ex, Greg (Celyn Jones), his new girlfriend (Emily Fairn), the couple's baby, and Greg's mother, Gwen, (Sorcha Cusack), Helen must come to terms with who and what she wants out of life.
It's probably the first love story you've seen set in a chicken factory, and maybe the only one of any genre you've seen set in a chicken factory. For Pugh, it was the most natural thing in the world to write about a walk of life many working-class families know well. "I don't think we ever see it. I only write what I'm familiar with," she says about the setting of one of EIFF's best romance movies. "It's where I come from."
When you think of films about hard manual labor, women in PPE may not be what comes to mind, but in the community Pugh came of age in, female workers were as commonplace in these roles as men. "Those women are part of my heart, to be honest with you. And as a filmmaker, I just think: 'Where are these films that portray these humorous, brilliant women?'"
"We often see factory films that are quite bleak and everybody's miserable. We've got great hearts, we're funny. And I think if people are bolder and braver, then we should see more work like that."
Indeed, portraying factory workers' lives as potentially serene, full-of-life, and colorful, was a top priority for the director, whose film seems to assert that the assumption that people who work these difficult jobs are inherently unfulfilled is wrong. "I know, it's a hard job. But also, it's a lifeline for some women. It's getting out of the house and going to have a laugh, and friendships that were cemented in school continuing through their lives."
Helen's lot in life is portrayed with refreshing honesty; she feels at a dead end in some ways, as if her life holds untapped potential, but she also feels totally at home with the cornerstones of her life: her friends, her cozy camaraderie at work, and her relationship with Gwen, who is a pillar of support even as her health fails her. Helen seeks new horizons while also desperately holding onto what's safe.
So, when Joanna, a childhood flame whose complex relationship with her hometown is less about homophobic locals and more about her troubled relationship with her father, comes back to town and relights her fire — so to speak — new paths look as enticing as they do treacherous.
But it's not just about romance, in fact, one of Chuck Chuck Baby's endearing traits is that it refuses to be neatly packaged into a McNugget share-box, dipping into genres at its discretion — comedy, musical, romance. The explanation for the non-committal tone is rather simple: "I think love comes in all different forms, doesn't it? I think grief is also love."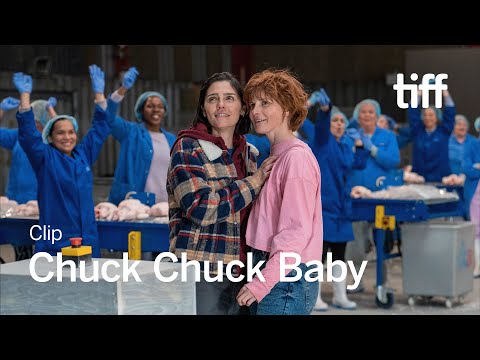 After the simple profundity of "grief is also love" settled in the air a bit, Pugh continued, "You were talking about genres, I just think our lives are just full of them. All different, every single day, something will happen."
Humor, in particular, is a selling point for the film. It's true that many of the best comedy movies are as funny as they are emotionally affecting, and Chuck Chuck Baby doesn't sacrifice much in its effort to keep the laughs coming. To familiarize the cast with the small-town characters and humor Pugh was aiming for, she took them to Flint, Wales, where people are "just naturally funny. We all come from that background," she says, "they know where that humor comes from. It's as natural as frying an egg for them."
The cast of tight-knit characters made up of Helen, Joanna, and friends also working at the factory, are the heart of the movie, and Pugh reveled in getting to make a film about the different shades of intimacy between them, "I wanted a celebration of female love in all its forms. You know, it was hard to get funding. They wanted the women younger," she recalled. "That's your story gone, really."
"I wanted to celebrate love and women of a certain age who have these threads of connections since childhood and who grew up to midlife and still feel like they're 13 years old. I just don't think we see enough of it, to be honest with you, especially women of that age."
The characters are by no means old, but they're not, to keep this theme going, total spring chickens. This is an important element of the character drama, particularly with Helen and Joanne. The latter returns to her hometown after a difficult absence and wrestles with being there, but not for the reasons one may assume, I think for Joanne, it was about her relationship with her father, I don't think was ever about being gay."
Pugh went on, "And I'll be very honest with you. As a gay girl growing up in the '80s in that kind of town, you always battled with your sexuality when you're young because it's very confusing, but I go home now, and nobody bats an eyelid. My father rang me up — I recently lost my dad — a few years ago and said, 'You know, can move back in now because there are loads of lesbians in the town.'"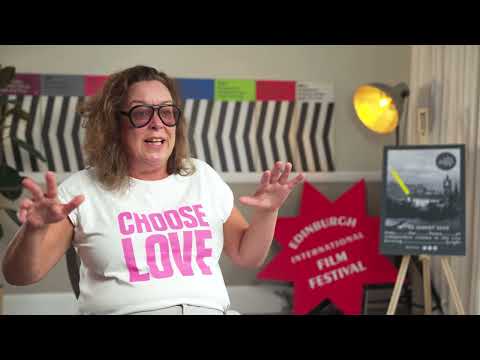 "That was not the box, the sexuality thing. I wanted people to understand that what was causing the pain for Joanne was that relationship and that brutal background [with her father]."
It's a movie where people are taken aback by waves of nostalgia for their youths, often breaking out into song to help express as much. Unsurprisingly, Pugh's favorite romance movie of all time is The Umbrellas of Cherbourg, which we will sign off on, too.
Chuck Chuck Baby will also play at the 48th Toronto International Film Festival this September.
For more love stories and whimsy, we've got lists of the best movies of all time, the new movies coming soon, and a reminder that Timothee Chalamet's cannibal romance movie is now streaming new on Amazon Prime. For classic romance, check out our retrospective Titanic review, or keep up with today's new offerings with 10 unmissable LGBTQ+ movies from Outfest 2023.