Right from the beginning, Shonda Rhimes makes it clear that we shouldn't expect a history lesson. Although Queen Charlotte and George III were both real people in the Regency era, historical accuracy has never been at the forefront of Bridgerton: and this spin-off is no exception. I went into Queen Charlotte: A Bridgerton Story expecting a stark departure from realism, but to my surprise, what I was met with was one of the most grounded portrayals of mental health I've seen in recent years.
By the time we meet him in Bridgerton, it's heavily implied that George is living with dementia along with other unexplained mental health issues. Thanks to garish works of historical fiction playing mental illness off for laughs or shock, 'mad King George' is broadly understood as someone who had intermittent episodes of poor mental health until a breakdown led to him stepping away from the Crown for good.
These are the bare bones established by Bridgerton, pop culture, and history on which Rhimes layers her story. While Queen Charlotte is definitely more fiction than history, it's uncompromising in its candid portrayal of mental illness.
Anxiety and depression are issues that we, as a society, have gotten a lot more comfortable discussing in recent years. But there's a lot more uncertainty when it comes to navigating more complex conditions like psychosis. Mental health conditions which involve some kind of break from reality are usually reduced to a horror movie plot device or the nail-biting plot twist of a thriller series.
In doing so, film and TV portrayals often neglect to handle their characters with care. They never explore who the person is behind these delusions, or what it's like to love someone who's experiencing an episode of psychosis. But Queen Charlotte stands out from the crowd by not only addressing these themes, but handling them with the utmost empathy, sensitivity, and realism.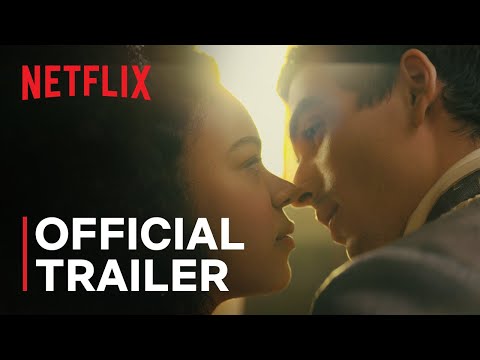 As with Regency-era George, the ailments that haunt the young King are never exactly labelled. Still, Corey Mylchreest brings a layered vulnerability to the character: portraying his infamous, medically-unexplained "madness" not as a caricature that swallows up his personhood, but as something which is simply part of him.
A deeply challenging part, yes. But not all of him. The importance of that distinction may well be why Rhimes takes her time in introducing this aspect of George's life. It's something the viewer knows is coming, but we don't see it until we are able to get to know George as a person first.
This is helped, undoubtedly, by Mylchreest's easy chemistry with India Amarteifio, who plays a young Charlotte. From the first episode, the pair's rapport makes you want to root for the couple, and is not unlike the other love stories that drove Bridgerton seasons 1 and 2.
But as their relationship and other circumstances intensify, Queen Charlotte treads a new, more mature ground that hasn't been done in Bridgerton before. The series' writing and themes are darker than its parent show, but the compassionate performances of Amarteifio and Mylchreest mean that the TV series manages to pull it off.
It's a difficult feat to make an established character your own, but India Amarteifio and Arsema Thomas both thrive at this. They consistently pay homage to the versions of Queen Charlotte and Lady Danbury we know and love with their mannerisms and body language, but blend their established personalities with the youthful spirits of women who are a lot less jaded by life, do not have the benefit of hindsight, and in turn, are much more governed by their emotions than they are by propriety. They're deliciously unpolished, fearless in their desires, and are the beating hearts of the show.
As important as the love story between Charlotte and George is, this Netflix series is also attentive in its handling of gender, race, class, and LGBTQ+ issues. The intersectional nature of these themes and how they feed into one another are the lifeblood of this spin-off. Because it's a series not bound to historical accuracy, there's more freedom for the writers to weave in this vital cultural commentary that feeds both into the main plot of Queen Charlotte and our understanding of the wider world of Bridgerton.
But not all the risks Queen Charlotte takes as a series pay off. For example, while Golda Rosheuvel especially delivers a great performance for the contemporary subplot, not all the flash-forward scenes feel necessary. And by this, I mean that I just can't bring myself to care about Violet Bridgerton.
This is not because Bridgerton cast member Ruth Gemmell does a bad job — far from it, in fact — but because her character's inclusion felt somewhat inorganic. Her inclusion shouldn't feel this way, as her story is loosely intertwined with the present-day Lady Danbury (played expertly, as always, by Adjoa Andoh). But her appearance nonetheless feels a little bit shoehorned, and seems to serve the sole purpose of reminding viewers that the Bridgerton family exists.
Another miscalculated risk in the show involves Charlotte and George's relationship. Their connection is far from one-dimensional, and for the most part, the complexity of their relationship is portrayed fantastically. Yet, I can't help but feel as if their love story shows glimmers of a problematic undercurrent; specifically, the idea that women can and should act as rehab centres for troubled men.
It's commonplace, even in the best romance movies, for the relationship to hinge on a female lead's ability to 'fix' her lover. Perhaps only she can get through to him when he loses control; only she can shoulder the weight of all his trauma, or only she can truly understand him. This trope, of course, posits the woman as a caregiver to her usually-male partner — romanticising servitude, co-dependence, and substituting therapists with women.
For the most part, Queen Charlotte is able to rise above this trope. Still, it dances a little too regularly with the idea of it for my liking, which feels confusing and self-defeating given it's a series that, for the most part, is unapologetically feminist.
But those are really the series' only flaws. In all honesty, I didn't expect to like Queen Charlotte as much as I did. I thought it would be a pretty sanitised, superficial spin-off that complemented the main show in its goal to be a bit of lightweight entertainment. What we got instead was an unexpectedly profound, intelligent, and touching tale of love and perseverance. Does the spin-off complement Bridgerton? Absolutely, yes. Does it surpass Bridgerton? I think it just might.
The Queen Charlotte A Bridgerton Story release date is May 4, 2023. You can catch the drama series exclusively on Netflix, but if you feel deprived of Lady Whistledown's gossip in the meantime, check out our guide to the Bridgerton season 3 release date. Alternatively, if you're after that perfect love match, check out our guide to some of the best rom-coms of all time.
Queen Charlotte A Bridgerton Story review
Like the titular Queen, this spin-off stands on its own two feet – distinct in how it reckons with darker themes than its parent show with a surprising amount of depth and care.