Sword Art Online is one of the most beloved anime series of all time. Since premiering in 2012, fans have fallen in love with the anime characters Asuna and Kirito as they fight to escape the dangerous virtual world. And now, with the release of the new movie Sword Art Online Progressive: Scherzo of Deep Night, fans can enjoy a retelling that showcases our favourite characters like never before.
Based on the light novels of the same name, The Sword Art Online Progressive movies retell events from Reki Kawahara's original Sword Art Online story. Progressive gives fans a deeper look into Asuna's character and the world of Sword Art Online as a whole, capturing the essence of the IP, while building upon existing dynamics and exploring a condensed time frame.
Scherzo of Deep Night is the second anime movie in the Progressive timeline, after the 2021 animated movie Sword Art Online Progressive: Aria of a Starless Night. The new film, like its predecessor, is packed with character-building, colourful dungeon-crawling fights, and striking vocal performances. In short, Scherzo of Deep Night gives us exactly what we've come to expect from the series – but does it ever push expectations?
The new anime movie is set two months after we saw Asuna and Kirito clear floor one. The team has made progress to the fifth floor, and to celebrate their collective success, SAO players are busy preparing for a New Year's celebration.
However, danger and a potential guild civil war threaten to disrupt the festivities. Kirito and Asuna soon find themselves having to foil the plans of a secret murderous society and must venture into the fifth floor's boss battle before some premium loot can cause the world of SAO to fall into chaos.
It is a simple and straightforward plot which works to flesh out the game's world as opposed to pushing Asuna and Kirito towards their ultimate goal – defeating the game.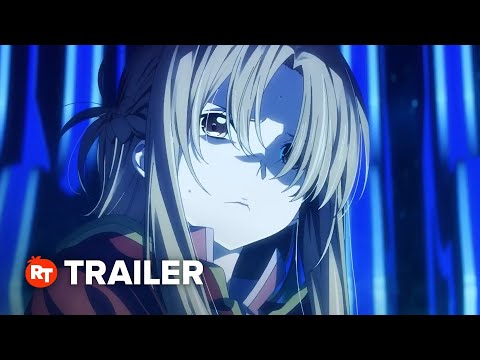 Scherzo of Deep Night is more concerned with keeping the peace than proactive story progression, but with its clean animation, new exploration of Guild dynamics, and a juicy potential set up for a future confrontation with the Murder Guild – the film offers enough to keep longtime Sword Art Online fans hooked and excited.
However, if you are a new Sword Art Online follower, you may be left out the loop when it comes to this fantasy movie. Let's get this point out of the way first and foremost: to fully appreciate Scherzo of Deep Night, you will have had to watch its predecessor, Aria of a Starless Night. The new animated film doesn't give a recap of the premise of Sword Art Online's core story. There is no reminder of how the players got stuck in the Virtual World or what their plans are to escape it.
Instead of a quick refresher on NerveGear or the anime villain, the game's creator Akihiko Kayaba, the film throws you back into the action with its opening scene showing Asuna and Kirito clearing a fight on floor five. So if you didn't watch the first film, where the world of Sword Art Online was explained, and Mito's and Asuna's backstories laid out in full – well, you may be confused.
Aria of a Starless Night felt undeniably more stand-alone and whole, as it gave plenty of exposition and context to push the series forward. Scherzo of Deep Night, on the other hand, is more action-centred, expanding on the politics of the virtual world and how Asuna and Kirito fit into the plot as the mediators between feuding guilds.
Similar to follow-up adventure movies from major franchises such as Indiana Jones, the new Sword Art Online Progressive film leans into its sequel status and expects its audience to be familiar with its characters and setting before they strap into the new adventure.
Scherzo of Deep Night doesn't hold viewers' hands when it comes to recaps or overall IP context. And while that may seem intimidating to some first-time anime fans, this narrative decision actually works out for the flick's benefit. Ultimately, forgoing exposition set up from the first movie lets Scherzo of Deep Night's plot dig deeper into exciting developments such as Guild tension, secret conspiracies and even Mito and Asuna's relationship.
With the space to develop new interpersonal relationships, Sword Art Online Progressive's emotional beats hit harder, and all of its exciting developments, such as the potential introduction of the Murder guild, feel more intriguing. So, yes, while you can argue that Scherzo of Deep Night suffers from sequel syndrome, as it sets up future plot points and doesn't end with a roaring climax, the film is still entertaining and is crafted to keep you invested for new chapters in the story.
Sword Art Online Progressive promised fans an expanded retelling of Sword Art Online's Aincrad storyline from the anime series. And just like Aria of a Starless Night, Scherzo of Deep Night keeps that promise. This is truly a film for the fans, and if you are up to date with Asuna and Kirito's story, you won't just be satisfied with this new entry, Scherzo of Deep Night will also make you incredibly excited for whatever will be coming next.
Sword Art Online Progressive: Scherzo of Deep Night hits UK theatres on February 1, and US cinemas on February 3. For more fun, here is our list of the best romance anime of all time. Or you can find out how to watch Sword Art Online Progressive: Scherzo of Deep Night with our guide.
Sword Art Online Progressive 2 review
Sword Art Online Progressive: Scherzo of Deep Night gives long-time Sword Art Online fans what they'd want from an anime sequel