The comforting lightsaber glow of Star Wars: Ahsoka is drawing ever nearer, and after some disappointing previous Star Wars shows on Disney Plus, we're all crossing our fingers Rosario Dawson's turn at the wheel will bring a different flavor and some excitement back into this universe.
But the path to fans' hearts, in any IP as colossal as this, is like an obstacle course. From petered-out viewers let down by the middling recent run of Disney's Star Wars series to people that are just plain mean and loud online, it can be a lot to handle.
This was the case for the original Ahsoka Tano actor, Ashley Eckstein, back in the days of one of the best animated series set in a galaxy far, far, away: Clone Wars. Despite becoming a clear fan-favorite voicing a Jedi lots of viewers felt was the best cartoon character introduced in Clone Wars, the initial response was not great.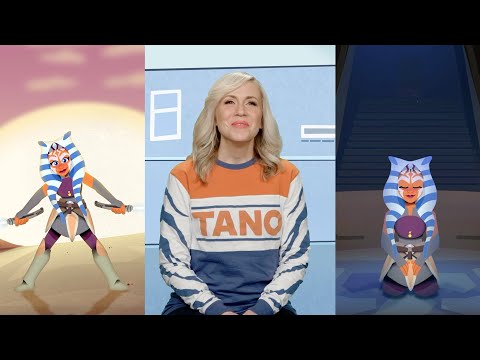 At the 2023 Chicago Comic & Entertainment Expo (via CBR), Eckstein said, "It's been quite the journey. It really has. From the very beginning where [Ahsoka] was hated. And one thing to note, we were always a season ahead of what you all saw."
"We were well into season 2 by the time you all saw the [Clone Wars movie], so I knew how far she had come," she says. "When it came out, so many people hated Ahsoka. First, I sobbed into my cheesecake. But then I took a day to have a pity party. Then, I was like, 'No — this character is amazing. And everyone else is going to see what I see if they just give her time.'"
"And so, I asked fans for their patience," Eckstein went on. "I said 'Look, no character is perfect in the beginning, and if they were, then they'd be really boring. So please go on this journey with her.'"
It's a shame many actors across the Star Wars cast in its many iterations have dealt with vitriol, most of the time towards characters that offend fans for not-so-reasonable reasons — particularly adults watching a show primarily aimed at a younger audience who can benefit from character arcs involving growth. Here's hoping that the Disney Plus show gets a fairer shake, regardless of whether people think it's good or bad.
Eckstein has been encouraging people to watch Clone Wars ahead of the Ahsoka release date, and there's also Star Wars: Rebels if you're looking to expand your knowledge. A lot of the Star Wars characters featured heavily in what we hope will be the best TV series in the franchise are from those. Otherwise, you can always revisit the Star Wars movies in order.