We'd expect Darth Vader, AKA: the world's most famous movie villain, to be running amok in the galaxy and leading the dark side instead of starring in tongue-in-cheek short films while writing love letters to Exxon.
But that's exactly what the science fiction movie character has been up to. In a short film that stars the fictional Star Wars dictator produced by Adam McKay, Darth is praising the "mad evil" of ExxonMobil and penning a "message of love and admiration" for the oil conglomerate.
But wait, you say: didn't Darth Vader die? You'd have thought so, but it turns out he's actually been hard at work creating videos that show his appreciation for mega oil companies. The short film came seemingly out of nowhere, parodying what is arguably the most famous bad-guy in film history in order to raise awareness of their campaign against ExxonMobile.
The short film, released yesterday, was accompanied by a description on the Exxon Knew website that mimics the famous scroll of the Star Wars movies.
"A long time ago, in our own galaxy, ExxonMobil knew that their product would destroy our planet. But instead of warning the public, they lied about the climate crisis so they could make trillions in profits," the site reads. "That's mad evil. The type of evil that someone like Darth Vader respects."
The spoof film was a collaboration between the Stop The Oil Profiteering campaign by Fossil Free Media and film director Adam McKay, and opens on the Star Wars character in a living room set up akin to those of famous YouTubers, complete with a professional microphone set-up and perfected camera angles.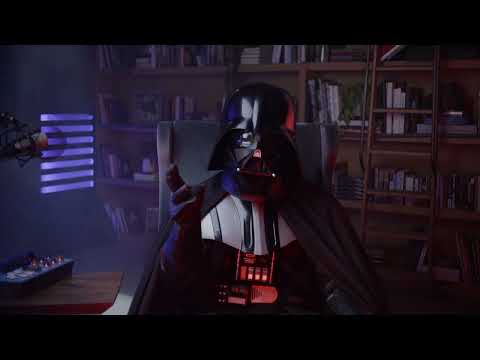 It's not the first time McKay has utilised his filmmaking abilities to make a pointed statement against oil companies, as he produced a similarly biting fake Chevron ad released last year.
In the newest iteration of satire-based political statements, the aim for McKay and Exxon Knew is to draw attention to a petition addressed to the US Department of Justice and State Attorneys General, asking them to investigate Big Oil's operations.
A fascinatinguse of one of the fan-favourite Star Wars villain, indeed. If you're looking for some more Star Wars content (minus the political spoofs), then check out our guides on the Andor cast, the Death Troopers explained, as well as the Star Wars series ranked and our The Mandalorian season 3 episode 2 recap. Don't forget to check out all the new movies coming out this year and the best streaming services to watch them on, too.