How does Scream 6 end? Scream 6 is the latest movie from Wes Craven's iconic franchise and sees Ghostface take on the Big Apple in full slasher style. With the iconic killer back on the loose, the new movie is packed with action and suspense. There are unmaskings, surprise murders, and a few Easter eggs, too. In fact, Scream 6 is so jam-packed with thrills that it can be tricky to keep up. Warning spoilers ahead!
Following on from the events of the last horror movie in the Scream movie franchise, Scream (2022), Scream 6 sees Sam Carpenter and her sister Tara trying to enjoy a fresh start in college away from Woodsboro. The two are joined by fellow Ghostface survivors Mindy and Chad as they try to live a normal life. However, once a new killer pops up and starts framing Sam for his crimes, things get messy.
With the help of FBI agent Kirby Reed (of Scream 4 fame) and detective Bailey, a new mystery unravels. But with plot twists and red herrings – let's be honest, this slasher can get confusing. So, to make life easier here is the Scream 6 ending explained in detail, what the post-credit scene is, and if we can expect a Scream 7 anytime soon.
How does Scream 6 end?
Scream 6 ends with a three-killer reveal and plenty of death and carnage. It all starts off with the final confrontation between the gang and Ghostface. Sam, Tara, and Chad are led by Kirby into the abandoned theatre room full of Scream and Stab memorabilia.
The idea is to turn the murder shrine into a 'kill box'. With there being just one way out, the killer would have been supposedly trapped and at the mercy of the crew. However, the proposed trap soon proves to be a red herring. Sam gets a call from Detective Bailey and learns that Kirby isn't actually with the FBI anymore – she was fired for being too unstable following the news of the last Woodsboro killings.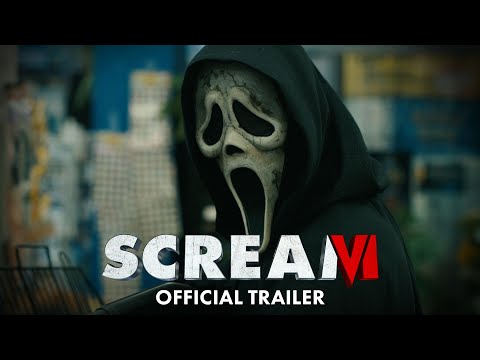 Sam is panicked that Kirby is actually Ghostface, and her worries increase after Tara and Chad are attacked by the masked killer. Chad gets stabbed once another Ghostface pops up – bringing the killer count to two. So, needless to say, Sam is convinced that Kirby is the real mastermind behind all the recent killings and plans to murder them all.
Sam and Tara make their way to the exit of the theatre they see that they have been locked in. Much to their chagrin, Kirby appears and claims that she has been attacked by one of the two Ghostfaces running about. Sam isn't buying Kirby's story, and then Detective Bailey turns up, too.
Kirby claims that it is Bailey who is the real movie villain, but before she can convince Sam and Tara, Bailey shoots her. And lo and behold, a surprise plot twist happens. It turns out that Bailey is also one of the Ghostface killers, with the other two being his children Quinn (yes, she is alive) and Ethan.
Bailey is the father of Sam's ex-boyfriend Richie, who tried to kill her in Scream 5. The whole family are out for revenge and wants Sam to embrace her hidden murderous instincts and then die by their hands. Bailey reveals that he staged Quinn's death at the beginning of the movie by switching her body during the investigation of the Ghostface attack on Sam and Tara's apartment.
Along with his James Bond movie villain explanation of events, Ethan and Quinn point out how easy it was to pose as the crew's roommates. So, yeah, the Carpenters aren't the most security conscious, but at least they know how to fight back. Sam and Tara face off against the Ghostfaces with the help of Kirby – who has survived once again. Eventually, both Ethan and Quinn are knocked off, leaving only Bailey around to try and avenge his kids.
Sam puts on her father's mask and, using his knife, ends up trapping Bailey, fulfilling his wishes and turning into Ghostface as she stabs him multiple times. However, Sam doesn't flat-out kill him then and there. She pretty much lets his wounds do that, making sure that she isn't a fully-fledged killer…I guess?
After defeating all the movie villains, Sam and Tara learn that Chad, Gale, and Mindy are all fine and survived. They also have a sentimental heart-to-heart where they agree to stick together and get some much-needed therapy. And it seems like Sam may need it, as her time as Ghostface got to her.
Sam contemplates taking her father's mask with her at the end of the film. And although she chooses to leave it on the street, it is pretty clear that the ways of the kitchen knife and Billy's ghost will pop up again in her future.
This there a post-credit scene in Scream 6?
Yes! You will want to stick around the cinema because there is a small post-credit scene at the end of Scream 6. And by post-credits, we mean post-credits. So don't be fooled by the mid-credits wrapping up and walking away from your seat.
The post-credit scene in Scream is Mindy telling fans that not every movie needs a post-credit scene. And considering how the flick is making a meta-commentary on franchises, the moment makes sense.
It may not be a stinger, but the fun joke is worth staying around for.
Will there be a Scream 7?
Currently, there is no confirmation of a Scream 7 release date. However, the flick's directors are keen to continue the franchise.
Speaking with Deadline, Matt Bettinelli-Olpin and Tyler Gillett shared how they would love to continue the franchise if they get the green light. "Absolutely [we plan to continue the franchise if we can]. We're so happy it's back," Gillett said.
The ending of Scream 6 also hinted that Sam has more of a story to tell. Who knows? Maybe we will see her become the first final girl turned Ghostface. It is all up in the air, but we expect that Scream 7's fate will depend on the box-office performance of Scream 6. Stay tuned for updates.
While we wait on more information, here is our Scream 6 review. You can also learn more about the hit franchise with our Scream cast guide. Or, if fresh films are your thing, here are all the new movies heading our way in 2023.