When does Scream 5 come out? Ghostface returns for another instalment in the horror movie series, once again stalking Woodsboro for Sidney Prescott and anyone unlucky enough to be around her. Thankfully, some of Sidney's old friends, and a few new ones, are around to help ward off yet another copycat killer who's watched too many scary movies.
As the first Scream without the involvement of Wes Craven, Matt Bettinelli-Olpin and Tyler Gillett are the co-directors with the unenviable task of following the terror master and continuing his legacy. They're joined by screenwriters James Vanderbilt and Guy Busick in piecing together the next bloody chapter in Woodboro's history, with Sidney and recurring allies Gale Weathers and Dewey Riley right at the centre.
Once again, nobody is safe until the murderer is caught, and the longer that takes, the higher the body count. Staying alive requires knowing how stories like these play out. We know a thing or three about the rules of a good slasher movie, and we've sniffed out all the clues on Scream 5 to keep you one step ahead of any masked vigilantes. This is everything we know about the upcoming sequel.
Scream 5 release date: When is Scream 5 out?
The movie is coming right at the start of 2022, with Scream 5 arriving to theatres on January 14, 2022. This date was announced in August 2020, with an ominous tweet featuring an animated video of the Ghostface mask from the official Scream Twitter account.
Reader beware: The best Netflix horror movies
Despite that news coming smack dab in the middle of the prolonged lockdowns due to Covid-19, the date has held firm, with no sign of any complications or delays. Filming and post-production appear to have occurred without a hitch, giving everyone a new year's thrill to look forward to.
Scream 5 trailer: is there a trailer for Scream 5?
Yes, there is, and it's a good one. In the first Scream 5 trailer, we get the return of Campbell, Cox, and Arquette, the remaining three of the original cast whose characters are still alive. Naturally, right alongside them is the new Ghostface, another try-hard with a blade who seems to worship at the altar of Sidney's prolonged suffering over the years.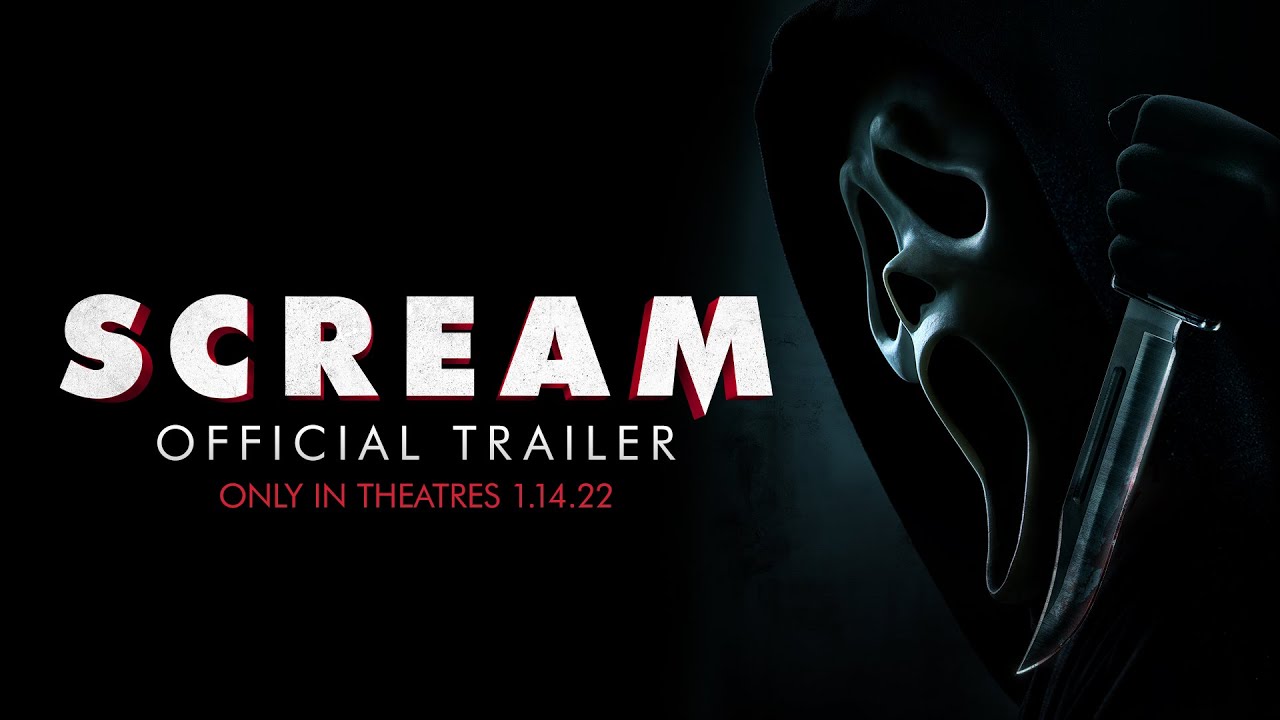 The rest of the trailer is all about the newbies to the Scream franchise. We've got the likes of Jack Quaid, of The Boys fame, Jenna Ortega, Mason Gooding, and Dylan Minnette among the fresh meat cast who learn the hard way being a co-star of Neve Campbell's in one of these films can be very stressful.
Scream 5 plot: what happens in Scream 5?
The actual story of the new Scream movie has been kept vague, but we don't really need to know a whole lot. Another Ghostface has popped up in Woodsboro, and this happens either when Sidney's visiting her downtrodden hometown, or she's dragged back to help deal with all the bloodshed. Gale and Dewey are there because they're the only ones Sidney can truly lean on for understanding about the whole situation.
Meanwhile, there's plenty of fresh-faced college students and what not around for our next Ghostface to prey on. The synopsis says whoever is behind the killing wants to reveal "secrets from the town's deadly past", making it seem like we might get some revelations about the previous films in some shape or form. As is typical of the series, there are some meta elements, with Ghostface telling Sidney that "it's an honour" to meet her, playing into the commentary around how we worship villains and victims alike.
In for a scare: The best Amazon Prime horror movies
The official plot synopsis reads: "25 years after a streak of brutal murders shocked the quiet town of Woodsboro, a new killer has donned the Ghostface mask and begins targeting a group of teenagers to resurrect secrets from the town's deadly past."
Scream 5 cast: who is in Scream 5?
There's quite a large cast in Scream 5, and we know many of the confirmed characters. Of course, you have Campbell, Arquette, and Cox, and then there's Roger L Jackson, the voice of Ghostface in every Scream production thus far. Marley Shelton reprises her role as Judy Hicks, now the sheriff of Woodsboro after appearing as the deputy in the first and fourth movies.
Then we have the new generation of Woodsboro. Minette plays Wes Hicks, Marley's son, and Quaid is playing Richie Kirsch. Ortega and Gooding's characters are named Tara and Chad, which is as much as is known about the rest of the supporting cast.
The confirmed cast for Scream 5 is:
Neve Campbell as Sidney Prescott
Courtney Cox as Gale Weathers
David Arquette as Dewey Riley
Marley Shelton as Judy Hicks
Roger L Jackson as Ghostface (voice)
Dylan Minnette as Wes Hicks
Mikey Madison as Amber
Kyle Gallner as Vince
Jasmin Savoy Brown as Mindy Meeks-Martin
Sonia Ben Ammar as Liv
Jenna Ortega as Tara
Jack Quaid as Richie Kirsch
Melissa Barrera as Sam Carpenter
Mason Gooding as Chad
And that's everything we know about Scream 5. This all said, we understand enough about killers making a comeback to keep one eye over our shoulder, and when we see something suspicious, this guide will be updated with whatever news we find. In the meantime, you can check out the best horror movies of 2021, for more chills to catch up on.