"I want movies to be a buffet. In my mind, every movie should have comedy. Every movie should have a little bit of action, have a little bit of drama. It should be a full buffet."
This is how Chris McKay likes his movies. Renfield, his new vampire movie that hits theatres on April 14, is certainly proof of this. Part Dracula-based tale, part comedic farce, and part feisty action movie, Renfield appeals to all tastes.
Naturally, the horror movie does have its gory sensibilities. (It's Dracula, after all.) But for McKay, who spoke to The Digital Fix about the new movie, Renfield is about a lot more than vampiric fangs chomping down on unsuspecting necks. It's a story of self-understanding, finding happiness, and breaking out of unhealthy relationships.
"What attracted me to this movie is this idea of Dracula being a narcissist, and that it didn't feel too far of a leap for Dracula to be the boss from hell," he says. "That there could be a movie through the lens of his assistant, a movie that could be about codependency. We talk about therapy a lot these days in pop culture, in modern culture — we talk about toxic workplace environments. And we're thinking a lot about that and talking a lot about that and how we treat each other."
"To be able to do a story like that through the lens of a Dracula movie, or tell Dracula's story through the lens of a toxic workplace environment felt really original, it felt fun, but I didn't want it to be just a straight parody," he continues. "I wanted it to be something where you maybe felt something. I like movies that at least have emotional touch points throughout them."
The comedy movie follows the story of Renfield (Nicholas Hoult), who upon stumbling across a meeting group for victims of codependency, realises that he needs to break free from his tyrannical and emotionally manipulative boss, the one and only Dracula (Nicolas Cage).
The heart and soul of the movie lie in Renfield's quest for psychological freedom. Because of this, Hoult carries the emotional weight of the film on his shoulders. A tricky task since Renfield must not only gain the sympathy of the audience, but also do so while being a literal murderer. (Someone's got to get Dracula his supply of human flesh, after all.) But McKay knew from the beginning that if anyone was up to the challenge, it was Hoult.
"I knew that there wasn't anybody else who could play Renfield but Nick Hoult," he confirms. "Nick Hoult is the guy who, you know, is not afraid to be unlikeable. Who's unafraid to flirt with a character who the audience may not agree with what they're doing. He's unafraid to be weird in his performance choices and things like that. He doesn't have walls up as an actor. He's really truly vulnerable, so you see behind his eyes, and I think that's what makes audiences want to root for him. He lets you in."
"There's not a cynicism to him, there's just an innocence to him in his past performances that was crucial to Renfield. And he's also a super funny guy, and he can do the action, and he looks good in a suit. So, you know, he's got everything."
Of course, it's not just Hoult steering the feature. Many will be handing over their money at the theatre for the pure spectacle of seeing Nicolas Cage as Dracula, and with good reason. As explored in our Renfield review, Nicolas Cage is the crowning glory of the movie. He chews on scenery with his frightening vampire fangs and is clearly having the time of his life doing it.
When it came to creating this new iteration of the Universal monster icon, Cage already had some surprising inspiration that he wanted to utilise, according to McKay.
"The thing that he thought he wanted to try was to use his father as inspiration for Dracula," he says. "His father was a very domineering person in his life. He was a literature professor and intellectual. He was a writer. He instilled in his kids a love for art, and filmmaking, and the fine arts and that sort of thing. And at a very early age, he sat Nic Cage down and showed him The Cabinet of Dr Caligari and the Max Schreck/Murnau Nosferatu."
"This is Cage at five years old. He's showing this to a five-year-old kid. When I saw that, I don't remember how old I was, but I certainly wasn't five when I saw that, but I saw it a little bit later in life. You know, it's haunting. When I think about Cage and his relationship to silent movie acting, and how much he seems influenced just in the way he uses every muscle in his face, every muscle in his body, to create these shapes and you look at his history and you see how he's definitely been influenced by silent films and how expressive he is with his body and his face."
So, on one hand, you have Hoult fronting a sensitive and vulnerable performance, and on the other, you have Cage drawing inspiration from personal sources and cinematic history to create a quirky showcase of Dracula. But it's the chemistry between Hoult and Cage that was always going to be the most important part of making this movie work. Luckily, the two already had something of a history.
"The amazing thing is that they acted in a movie many years ago called The Weather Man, where Hoult played Cage's son in that movie… And so they had a prior relationship, obviously, twenty years ago and when Nick Hoult was much younger, in his formative years."
According to McKay, when the two were reunited, the dynamic between Renfield and Dracula came seamlessly.
"Cage was off-book right away. Hoult was off-book. So when we did a camera test, they were reciting lines from the movie, and so they kind of just started this master-servant, mentor-mentee, boss and employee relationship right away," he explains. "Hoult was getting things for Cage. Even in the camera test, like: 'Can I get you this? Because that, oh, you need that, hold on'. Literally, was like, taking care of him. It was really sweet, and it just kind of started right there. And together, they're both unafraid. They're both fearless, and they both go for it."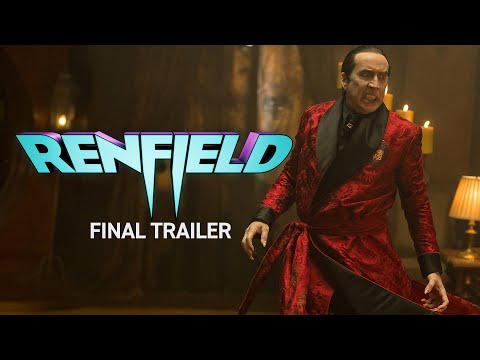 When it comes to McKay's own work, it's hard not to see the through-line. Between The LEGO Batman Movie and Renfield, we had to ask: What's the deal with his affinity for bats? (Or, at least, half-bat, half-man hybrids.)
"I'm not sure if I'm going to be completing a 'bat trilogy' or not, we'll have to see what the next movie is," he jokes. "I think, you know, there's a lot of similarities between Dracula and Batman. You know, in The LEGO Batman Movie, we see life through Batman's point of view, and see how a toxic narcissist treats people and sees his redemption. That's what that movie's about."
"So this is slightly different, in that it sees it from what would be Robin or Joker's point of view, by positioning our point of view through Renfield. I think I'm sort of attracted to these complicated characters, who are a big part of our pop culture, but being seen through a different lens. That's definitely something I'm interested in for sure."
Renfield comes to cinemas on April 14. In the meantime, why not check out our lists of the best zombie movies and best ghost movies to watch now? (Don't forget to take a look at the best movies of all time, too.) Plus, keep in the loop with the Evil Dead Rise release date, and take note of all the other new movies coming out this year.