Spin-offs and origin stories are a risky business, but with American Horror Story super-duo Ryan Murphy and Sarah Paulson at the helm, their One Flew Over The Cuckoo's Nest prequel struck gold. So, we're hoping that the promised Ratched season 2 release date wasn't just a pipe dream.
Ratched delved into the past of one of the best movie villains — the tyrannical Nurse Mildred Ratched — and explored how she became the character people loved to hate. Season 1 boasted some of the best Netflix series ratings to date, and Ratched was its most-viewed series to debut in 2020. So why are we still waiting for season 2?
Ratched season 2 release date speculation
It would be at least 2025 before Ratched returns, if it ever does. There hasn't been any movement on season 2, so it's unlikely to happen.
A combination of things, including the busy schedules of the cast and the end of Ryan Murphy's five-year deal with Netflix, means production on season 2 hasn't started, despite the streamer's initial two-season order.
We wouldn't hold our breath. Murphy is back in business producing for Disney as of June 2023, and Variety reported in August 2022 that Paulson "doesn't know" if a second season is still in the works.
Who would be in the Ratched Season 2 cast?
Sarah Paulson and Cynthia Nixon could return for Ratched season 2, along with Finn Wittrock. There's no official cast list.
We can make an educated guess, though!
A chunk of characters met their untimely demise in season 1, but those who survived would return. However, the two-year time jump at the end of season 1 lends itself to the possibility of some being killed off-screen.
Here's the speculative Ratched season 2 cast list:
Sarah Paulson as Mildred Ratched
Cynthia Nixon as Gwendolyn Briggs
Vincent D'Onofrio as Governor George Willburn
Jermaine Williams as Harold
Finn Wittrock as Edmund Tolleson
Annie Starke as Lily Cartwright
Amanda Plummer as Louise
Brandon Flynn as Henry Osgood
Michael Benjamin Washington as Trevor Briggs
Sophie Okonedo as Charlotte Wells
What would Ratched season 2 be about?
Ratched's endgame is One Flew Over the Cuckoo's Nest. This means season 2 would have the job of showing what happened to cause Ratched to lose her last shreds of humanity.
The end of season 1 was less American Horror Story and more Thelma and Louise, with Nurse Ratched and Briggs (who had been miraculously cured of cancer) having fled to Mexico together, leaving Nurse Bucket to take over Lucia State.
But we know full well this happy ending isn't going to last. Not only is Ratched's brother Edmund on the run and planning to kill her, but as a prequel series, we already know how Ratched's story will end. We suspect that Edmund, Louise, and Charlotte will have something to do with her downfall.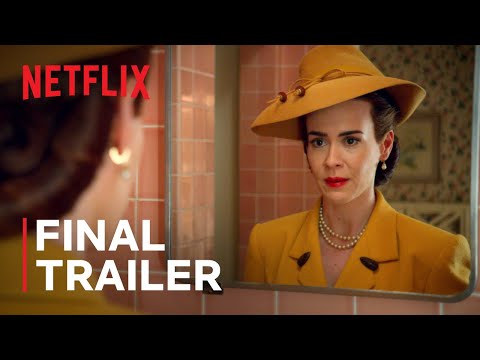 Speaking to The Wrap in September 2020, Paulson seemed to suggest that her character's war with her brother, along with her discovery of his murderous nature, will take center stage — and come at the expense of her soul.
"What you're probably going to see is a Mildred who has now become even harder because the thing that kept her soft was the part of her that was engaged in the love and the protection and the desire for absolution, as it pertained to her brother," she said.
"Now that that's gone, I don't know who she'll become. But further and further away from her heart and her humanity, I can be pretty sure about that."
Is there a Ratched season 2 trailer?
If season 2 happens, we will likely get one in early 2025. But Ratched is in limbo, so there's no trailer yet.
In the meantime, Netflix has released this video looking at the history and the legacy of Nurse Ratched on the big and small screens. It's a useful primer on where the character is going, and why she's special.
Where I can watch Ratched season 2?
Ratched is a Netflix exclusive, so the service will be the only way to watch season 2, if it happens.
The Netflix price comes in a handful of different tiers, so there are different options for you if you want to subscribe.
All episodes of Ratched season 1 are available to stream now on Netflix. While season 2 does look unlikely, there's plenty new on Netflix to watch instead.
If you want to see what Ratched is based on, One Flew Over the Cuckoo's Nest is available to buy or rent on Amazon Prime Video, which you can get a free trial of.
How many episodes will Ratched season 2 have?
Ratched season 2 would likely have 10 episodes.
When Ratched was announced, Netflix stated that "Ratched scored a two-season, 18-episode straight-to-series order." Season 1 had eight episodes, which would leave 10 for season 2.
IMDb also lists Ratched season 2 as having ten episodes. However with so much time in between, the original number probably doesn't hold much water.
While you're waiting for more Ratched, don't forget to check out all the new movies coming out this year, or use our secret Netflix codes or list of the best Netflix movies to find more on one of the best streaming services.
There's also Stranger Things season 5 to look forward to!