Gerard Butler movies tend to have a certain speed; neither particularly fast or noticeably slow. His thriller movies in particular have this mid-paced quality, engineered to be followed by anyone who drops in at any stage. Case in point: Plane, Butler's new movie, which maintains a leisurely pace despite mounting tension.
Butler's a pilot, Brodie Torrance, on an awkwardly timed flight around new year's eve. He's trying to get to Hawaii to see his daughter, and though it'll be tight, he should make the countdown. He hadn't bargained for bad weather, and a strict manager on ground control, which combine to leave the aircraft powerless and descending somewhere in the Philippines.
The island they land on – safely, because this action movie has Gerard Butler at the helm – is notoriously lawless, creating a race against time to locate the passengers before they're killed or worse. Plane is both disaster movie and survival film, where the airline's control room is in crisis mode ala Roland Emmerich, while Brodie will keep his passengers and crew alive at any cost.
The crew are blind-sided by a convict on board, Louis Gaspare, played by Mike Colter, who indicates this is going to be a bottleneck negotiation at 20,000 feet. It's a pity the trailer and promotion gave away where this airplane movie goes, because one can imagine audiences getting wide-eyed at the half-hour mark when the story becomes completely different.
That said, knowing the twist in advance is helpful, if only as a reminder the grey storm cloud effects will eventually give way. The titular craft is barely distinguishable against the murky backdrop, itself looking like a stock Windows screensaver. Were it not for the blood from a bang on the head Butler takes during turbulence, you'd be hard pushed to believe they were in the air at all.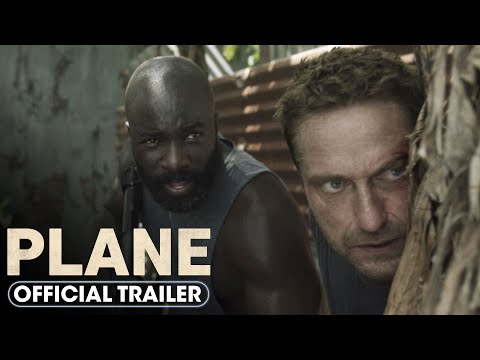 Lush island greenery is kinder on the eyes, and despite limited supplies and no way of communicating to the outside world, Brodie's RAF background kicks in to find help. He finds an ally in Louis, who was part of the French Foreign Legion, and together their skills are an even match for the local militants.
Mercifully, Plane doesn't succumb to over-cutting or refusing to let its stars show some damage. Butler grapples an assailant around a room in a single shot, something that may have involved a dozen cuts if this was Liam Neeson in one of the mind-numbing Taken sequels. He's a sweaty mess by the end, and still has the rest of the film in front of him.
Butler is largely doing what he did in Geostorm, and the Has Fallen trilogy, and however many other films you care to name. The man knows full well he makes a fine hard-working, attractive, notably single dad, and brings that caricature to every rom-com and popcorn studio picture with reliable decency.
There's a schlocky quality to director Jean-François Richet's insistence on showing as much as possible. A jaw is shattered by a sledgehammer from Colter in plain view, leaving us to do the flinching. This is perhaps his biggest English-language production to date, after the 2005 remake of Assault on Precinct 13 and 2016's Blood Father, starring Mel Gibson, and one of his best.
The airline command centre lightens the mood with jabs at the expense of owner Terry Hampton (Paul Ben-Victor) and other middle-management. It's all in good fun, and manages a smooth landing. But then, that's what Gerard Butler does.
Plane review
Gerard Butler leads another worthwhile thriller, Mike Colter as his able co-star