When does JoJo's Bizarre Adventure: Stone Ocean premiere on Netflix? The fifth season of the JoJo's Bizarre Adventure anime series is coming to the streaming service this year. Adapting the sixth and final arc of the manga – before it moves to an alternate timeline – Stone Ocean provides a climax to Jonathan Joestar and Dio Brando's familial rivalry.
The action is close to present day, where Jolyne Cujoh is framed for a murder while drinking-and-driving and finds herself in prison. Out of the blue, her father, Jotaro Kujo, pays her a visit, and explains that she's been targeted by someone in Dio's bloodline because the feud rages on, and gives her a special pendant to unlock some special powers.
We know that sounds like quite a bit to understand, and we're here to explain it all. The plot, cast, trailer titbits, and of course, when you can watch the animated series, can all be found below. What's more, we've got some abridged history from the previous arcs so you'll know who's who of the returning faces in JoJo's climactic strange quest.
What is the JoJo's Bizarre Adventure: Stone Ocean release date?
The new season of JoJo's Bizarre Adventure is now available on Netflix. The episodes were put on the platform in December 1, 2021. This release date was confirmed in a new trailer released for the Netflix Japan event where the platform teased its upcoming slate of anime.
We'd known December was the release window thanks to the previous trailer. That video announced Netflix would be hosting the arc, taking over from Adult Swim, which hosted the first runs of previous seasons in the US.
Netflix putting out Stone Ocean means it will be available around the world on the same day. This is good news in particular for fans in the UK and US, because it means you won't have to contend with any disparity between the two regions for access.
What is the JoJo's Bizarre Adventure: Stone Ocean plot?
JoJo has reached this century, and almost this decade. Stone Ocean takes place in 2011, and follows Jolyne Cujoh right after she's been arrested and sentenced for murder while driving under the influence. She's sent to Green Dolphin Street Prison in Florida for 15 years, a hefty price to pay for a crime she doesn't believe she committed.
Jotaro Kujo, her estranged father, and the protagonist from JoJo's Bizarre Adventure: Starlight Crusaders, its third season, shows up to confirm she is innocent, and tells her of the Jonathan Joestar versus Dio Brando blood feud. He gives her a pendant to activate her Stand, special powers used by certain people in the JoJu universe, giving her the ability to stretch and contort her body like elastic. Once she gets her abilities, supernatural happenings start spilling over from there.
More magic: The best anime movies
Other confirmed characters are Ermes Costello, F.F., Emporio Alnino, Weather Forecast, and Narciso Anastasia, all new arrivals. Stone Ocean adapts the sixth arc of the manga, completing the timeline from the 19th century to now. Expect more familiar faces and callbacks to seasons old, and everything to be tied up more conclusively than before. Just how many callbacks, and how conclusively? We'll have to wait and see.
Is There a Jojo's Bizarre Adventure: Stone Ocean Trailer?
Yes, and you can view it below. The trailer sets up the premise, Jotaro's return, and some of the other wild goings on that'll make up the show. You can also see and hear many of the new characters for the first time.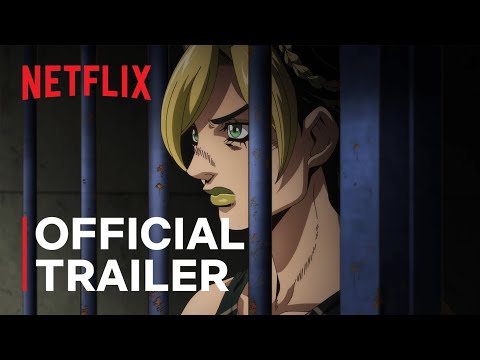 Who is in the JoJo's Bizarre Adventure: Stone Ocean cast?
Being that the characters change every arc, JoJo's Bizarre Adventure attracts new voice talent each time. Stone Ocean is no different, and although Jotaro's voice actor, Daisuke Ono, returns, the rest are fresh faces and voices to the JoJo universe.
Fairouz Ai plays the lead, Jolyne, and commented on getting the role after her casting was announced. "I cannot live without the JoJo's Bizarre Adventure series, and it is also what inspired me to take on voice-acting as a profession," she said in a statement. "So when I heard that I was going to be able to participate in the series, I was lost for words and surprised that 'Even a Stand would be blown to the moon'. I cried so much as it was literally the moment my dream came true, which I have chased over for 12 years."
New key visual of "JoJo's Bizarre Adventure: Stone Ocean" TV anime. #jojo_anime pic.twitter.com/kZzpY1nYpS

— Sugoi LITE (@SugoiLITE) August 6, 2021
The full, confirmed voice cast is as follows:
Fairouz Ai (as Jolyne Kujo)
Daisuke Ono (as Jotaro Kujo)
Mutsumi Tamura (as Ermes Costello)
Mariya Ise (as Foo Fighters)
Yūichirō Umehara (as Weather Report)
Daisuke Namikawa (as Narciso Anasui)
Atsumi Tanezeki (as Emporio Alniño)
That's everything we know about JoJo's Bizarre Adventure: Stone Ocean. While we have you, be sure to check out our guides on how to watch Evangelion in order, and where to watch Pokémon, One Piece, and Dragon Ball.