Indiana Jones and the Star Wars movies have always had a firm relationship, given they share core filmmakers like George Lucas and Harrison Ford. Some of the Star Wars cast actually visited the set of one of the Indiana Jones movies, and although it was a fun day, one actor didn't quite understand who he was hanging out with.
Ku Huy Quan, who was Short Round in Indiana Jones and the Temple of Doom, recalled on the Happy Sad Confused podcast meeting Mark Hamill and Carrie Fisher, but not knowing either. "We shot the majority of the movie in London at Elstree Studios, and one day two grown-ups came to visit us, and I didn't even know who they were at that time," he continued "It was Carrie Fisher and Mark Hamill, and we just spent an entire afternoon together."
Ke Huy explains that he hadn't seen Star Wars yet, but once he did, the penny dropped. "It was not until George Lucas screened Star Wars to me that I realised 'Oh my God, that one afternoon I was having so much fun with Luke Skywalker, Han Solo, and Princess Leia!'," he recalls. Imagine learning you chilled out with Star Wars characters – the dream!
After Indiana Jones, Ke Huy was part of classic '80s movie The Goonies, before falling away from prominence somewhat. That was until last year, when his role in science fiction movie Everything Everywhere All At Once pushed him back into the limelight.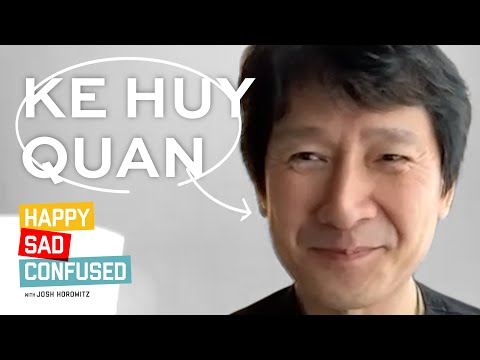 He recently took home the Best Supporting Actor award at the Golden Globes, complementing Michelle Yeoh, who also won Best Actress for the same film. The inventive action movie, directed by the Daniels, features Yeoh as a regular woman who suddenly has to traipse across dimensions to save existence. It was one of the best movies of 2022, and you can check out our Everything Everywhere All At Once review to find out why.
Ke Huy has another new movie coming up, The Electric State by Marvel movie stalwarts the Russo brothers. Have a look at our guide to Indiana Jones 5 for what's next for the intrepid archaeologist.