What is the Heels season 2 release date? The professional wrestling drama series about heroes and villains (aka "heels") in the squared circle is set to return for a rematch, after the first season soared from the top turnbuckle and landed some impressive ratings. The only thing more dramatic than what happens in the wrestling ring is everything that happens outside of it, as anyone familiar with the "Montreal Screwjob" can tell you.
That backstage intrigue is the premise at the heart of drama series Heels, which follows two siblings who are the core characters of a Georgia wrestling company. Created by Marvel series and MCU movie writer Michael Waldron, it's a fascinating world of muscular dudes and the simmering tension of toxic masculinity, helped by leading man Stephen Amell's real backstage experience from his brief run as a WWE guest star. He even has a SummerSlam match in his history.
Thankfully for lovers of wrestling, drama, and the union of the two, Heels is coming back. As we prepare for the Heels season 2 release date, here's everything we've learned about the TV series' return. It's worth checking out before the bell rings.
Heels season 2 release date speculation
As of May 2023, there is no confirmed Heels season 2 release date, but Stephen Amell has told fans to expect it during summer 2023.
The first season of Heels ended in October 2021, and it was just a month later that Starz gave the nod to another run for the central characters. Things have stalled since then, and rumours the series was set for an October 2022 premiere proved to be false.
It's not a production issue, with Amell saying filming was completed by July 2022. On the podcast Inside of You, he said that the process of "untangling" the tag team between Starz and Lionsgate had led to Heels getting trapped in the ropes. Presumably, production being long-done should mean Heels season 2 will remain unaffected by the 2023 Writers Strike.
Heels season 2 cast speculation
Stephen Amell and Alexander Ludwig will return to lead the Heels season 2 cast as the siblings heading up the Duffy Wrestling League (DWL). There's also some potential new faces, so here's the full speculative season 2 cast:
Stephen Amell as Jack Spade
Alexander Ludwig as Ace Spade
Alison Luff as Staci Spade
Kelli Berglund as Crystal Tyler
Mary McCormack as Willie Day
Mike O'Malley as Charlie Gully
Trey Tucker as Bobby Pin
Robby Ramos as Diego Cottonmouth
Allen Maldonado as Rooster Robbins
James Harrison as Apocalypse
Chris Bauer as Wild Bill Hancock
CM Punk as Ricky Rabies
Heels season 2 plot speculation
Heels season 2 will pick up in the wake of Jack Spade losing his championship and Ace Spade forced to embrace his role as a bad guy.
The conclusion of Heels season 1 saw the Spade brothers come to blows for real in the ring, ruining their high-stakes championship match. Heels season 2 will continue to explore the difficult dynamic between the siblings, as well as the threat posed by the bloody shock and awe of rival wrestling company Florida Wrestling Dystopia (FWD) and its owner Gully (Mike O'Malley).
Jack and Ace's chaotic ending left the road clear for Kelli Berglund's Crystal to win the climactic ladder match and emerge as the champion of the DWL, so her continued evolution as a wrestler is definitely set to play a part in Heels season 2.
Is there a Heels season 2 trailer?
There is no full Heels season 2 trailer as of April 2023, but Stephen Amell has released a teaser clip. While we wait for a more detailed look, you can see the Heels season 1 trailer above.
In April 2023, Amell shared a flashback clip on Twitter, showing Jack and Ace in more harmonious days. It suggests that the series is going to delve further into each character's past, as well as dealing with their present-day power struggles and disagreements.
Where can I watch Heels season 2?
You can watch Heels season 2 on Starz.
Just like season 1, the streaming service will be only place you can watch the series.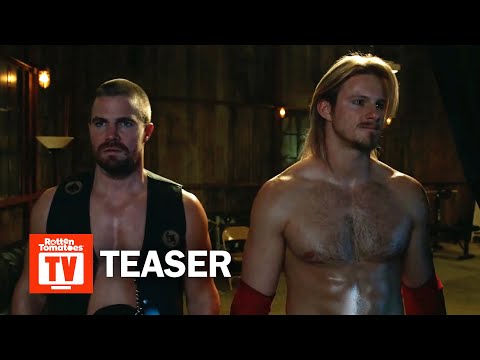 How many episodes does Heels season 2 have?
Heels season 2 is likely to have eight episodes.
While this isn't confirmed, season 1 had eight episodes, so it's likely the second season will follow suit.
That's everything we know about Heels season 2 for now, but return to this guide in the future for more news about the return of the Spade brothers.
In the meantime, check out more great TV with our guides to the best comedy series, the best horror series, the best anime series, and the best thriller series. Or swap to a bigger screen with our lists of the best movies of all time and the new movies coming your way in 2023.