What is the True Detective season 4 release date? Since 2014, True Detective has been one of the most popular shows on HBO. Now, the anthology mystery series is finally returning with a standalone case and new cast taking center-stage for a fourth chapter.
Season 1 of True Detective starred Matthew McConaughey and Woody Harrelson, investigating a string of occultist murders in Louisiana. It quickly became regarded as one of the best TV series ever made. Since then, we've seen seasons come and go with Rachel McAdams, Colin Farrell, and Mahershala Ali all taking their turn at uncovering a crime.
The new season of the thriller series will see Jodie Foster step up as the new lead detective on a disturbing case set in the shadow of an Alaskan town. As we prepare to immerse ourselves into this new world, here's what we know about the True Detective season 4 release date, cast, plot, and more.
True Detective season 4 release date speculation
After months of hoping the new season would land in 2023, HBO have now confirmed on their website that True Detective season 4 will be released in 2024.
This is likely due to the ongoing 2023 Writers Strike and Actors Strike. Production on True Detective season 4 started in November 2022. There's no word on an exact release date just yet, but we'll be sure and keep you updated.
Although Nic Pizzolatto, who served as showrunner for the first three seasons of the show, will not return to the role for season 4, he will retain an executive producer credit. Meanwhile, Issa López is stepping up as showrunner and will also direct a number of episodes.
Who will be in the True Detective season 4 cast?
The True Detective season 4 cast is pretty stacked, with Jodie Foster leading, supported by Kali Reis. The two will play the key detectives, Liz Danvers and Evangeline Navarro respectively.
Honestly, seeing Jodie Foster step back into a haunted detective role like the good old days of Silence of the Lambs is going to be incredible. But that's not all. Like every True Detective season, there's plenty of other crazy Hollywood talent helping proceedings move along.
Here's the full True Detective season 4 cast list:
Jodie Foster as Detective Liz Danvers
Kali Reis as Detective Evangeline Navarro
John Hawkes as Hank Prior
Christopher Eccleston as Ted Corsaro
Fiona Shaw as Rose Aguineau
Finn Bennett as Peter Prior
Anna Lambe as Kayla Malee
Aka Niviâna as Julia
Isabella Star Lablanc as Leah
Joel D. Montgrand as Eddie Qavvik
What's the True Detective season 4 plot?
The True Detective season 4 plot will see two detectives, Liz Danvers and Evangeline Navarro, unraveling the mystery of a mass disappearance in Alaska.
The upcoming season will be subtitled 'Night Country'. Night Country will be set during the Arctic winter in Alaska, during the period of time when the sun never rises — it's dark all day and night. A mass disappearance? An eerie, bitingly cold setting? A crime-fighting duo? Sounds exactly like the gripping set-up for a True Detective storyline that we're used to.
Here's the official plot synopsis:
"When the long winter night falls in Ennis, Alaska, the eight men who operate the Tsalal Arctic Research Station vanish without a trace. To solve the case, detectives Liz Danvers and Evangeline Navarro must confront their pasts and the dark truths lying underneath the Arctic ice."
We expect there to be plenty of unruly suspects, haunted insights into the past of our protagonists, and probably a few twists and turns, too.
Is there a True Detective season 4 trailer?
A teaser trailer for True Detective season 4 was released on April 12 2023, and shared a proper look at the pitch black setting and Jodie Foster's performance.
There's plenty of creepy imagery — handmade grave markers, a snow-clouded street…it's only making us more excited. In a Game of Thrones-style winter warning, we're told that the missing man went to watch "the last sunset before the long night" before he went missing. Check it out for yourself below: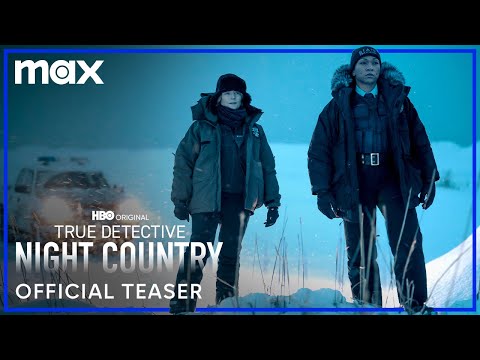 Where can I watch True Detective season 4?
Since it's an HBO original, True Detective season 4 will likely air on HBO and be available to stream on Max.
If you're in the UK, this means that you should be able to watch the series on Sky or Now TV. Currently, the first three seasons of True Detective are available to stream on the Max streaming service.
How many episodes of True Detective season 4 will there be?
The episode count hasn't been confirmed, but it's likely there will be eight episodes of True Detective season 4.
We say this because all prior three seasons have consisted of eight episodes, so why change a good thing?
If you're a fan of solving mysteries, check out our guides to the best detective movies or best thriller movies. You can also take a look at everything new on Max this month. What's more, we've got a list of the best movies of all time (no doubt you'll find Silence of the Lambs on there.)
If you're keeping tabs on all the other great TV soon to come, check out our guides to the Stranger Things season 5 release date and Severance season 2 release date.