In 2020, Netflix quietly dropped one of the best documentaries of the year with The Last Dance. The mini-series focused on Michael Jordan's tenure with the now legendary Chicago Bulls and was a turning point in which even non-basketball aficionados could finally understand the sheer incandescent power and unrivalled talent of the NBA all-star.
Brief mention was given to the Jordan-Nike partnership that would bring the world the highly-coveted Air Jordans, but that story has now become the beating heart of Ben Affleck's new movie, Air.
Directed by Affleck and penned by Alex Convery, Air focuses on the comparatively minute story (at least in the grand scheme of Jordan's rise to success) of how Jordan's now iconic partnership with Nike, then one of the lesser-dominating shoe companies of the time came to be.
Sonny Vaccaro (Matt Damon) is a talent expert within Nike's struggling basketball division, and despite the dissuasion from both the VP of Marketing Rob Strasser (Jason Bateman) and Nike Founder and CEO, AKA: 'Shoe Dog' Phil Knight (Affleck), Sonny makes it his sole mission to sign Jordan, who he believes to be the only talent in the game worth gunning for.
The film then embarks on a snappy cat-and-mouse chase between the spunky team at Nike, Jordan's own interest, and the big suits at the more influential Adidas and Converse.
Air is, by all standards, a strong, buzzy movie based on a true story. Affleck is a confident director here, and the sharpness and sophistication of the movie mimic that of some of his more enjoyable directorial features, such as Argo or The Town. His clear ability and success in adapting Convery's quippy and to-the-point script is another hand pointing to the theory that audiences might have been playing with for a while now; that when Affleck as a director hits the mark, he can strike gold.
The sports movie is consistent with effective jokes, while snappy editing and a hooky pop-laden soundtrack keep the film beating forward at a steady rate. For most of the film, the typically overzealous American sports-isms and motivational rambles are narrowly avoided, never quite venturing into 'corny' territory but coming awfully close during the climactic meeting between Nike and the Jordan family.
Sneakerheads will enjoy the fascinating titbits and tongue-in-cheek comparisons between brands, while sports fans will find a hook in the references to Jordan's success and how it impacted the athletic sponsorship industry as a whole. But the story of Air still works from a restrained scope, knowing it doesn't quite have the need to attack a larger-scale idea and is stronger for having done so.
Air achieves the often neglected task of creating a genuinely feel-good movie, containing all the snap and pop of similar films (see: Moneyball, The Big Short, etc.) but opting to forgo the usual condescension or cynicism that so often comes hand-in-hand with them.
The handling of the setting's era is, refreshingly, done with restraint. Air is a nice combination of mellow realism and the occasional visual punch of '80s obscenity. (Most notably in a running outfit which Phil Knight dons, which seems to emulate the power of the sun in its garishness.) The film doesn't demean itself by making a joke of the decade, which a lesser movie might have done for cheap giggles.
The only time the film obviously dwindles is during the close, in which the audience is subjected to the genre-typical victory lap of subtitles telling us what the characters went on to accomplish after the on-screen story ends. Frustratingly, the ending seems to happen several times over, punctuating each real-life fact with another, then another, until they start to undo the initial eyebrow raises and impressed nods with shifting seats and watch checks due to their sheer volume.
Initially, Air does weigh itself down with the rather bizarre choice not to include any on-screen appearances from Michael Jordan as a character. Instead, the most he is shown is by means of over-the-shoulder shots, real-life archive footage, and through voiceover during a brief phone call. This tactic, at first, might leave something of a bitter taste in the audience's mouths.
But allowing the dust to settle presents an understanding that, of course, Michael Jordan, ironically, cannot be the central focus of the film since the plot itself is created to shine a light on those scrappy Nike underdogs and their genuinely fascinating work. And to that end, Affleck's decision to present Jordan as a mythical figure (since, surely, no other man could emulate his god-like vibrance) certainly helps, though not as much as the inclusion of Michael's parents.
The decision to centralise Deloris Jordan (Viola Davis) and James Jordan Sr (Julius Tennon) as the more involved figures in the process is a smart one because the only thing more prominent in Michael Jordan's life than his talent or legacy is his parents. Davis is obviously pitch-perfect, while Tennon effortlessly presents a playful James Jordan, a role which carries an underlying layer of melancholy for those who are aware of his untimely death in 1993.
Still, one can't help but wonder if the sparsely used stock footage is enough for those who aren't familiar with Michael Jordan's legacy. For those in the know, the hesitation and debate from the characters is enough to encourage an entertaining feeling of all-knowing desperation.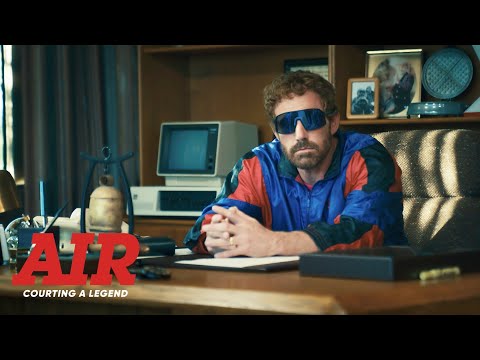 But more unfamiliar audiences might have benefitted from a more striking impact of Jordan's history. In this sense, whether Air is the perfect companion piece to The Last Dance, or is undercut by the documentary's success of purpose, is somewhat unclear.
Damon and Bateman are reliable as always, not striving to differ from their usual on-screen personas but understanding that their usual everyman-ness works well here. The rest of the cast is composed of light-hearted and differentiable performances by Chris Tucker as Howard White, Chris Messina as David Falk, Marlon Wayans as George Raveling, and Matthew Maher as Peter Moore.
But the one element that really makes Air fly? The scenes in which Damon and Affleck are in a room together. Their decades-long friendship results in a chemistry that radiates — a feat which some romantic on-screen pairs could only dream of. With such striking believability and ease to their banter, it would not be an over-exaggeration to say that when Damon and Affleck share the frame, there's magic in the air.
Air hits theatres on April 5. For more stories based on real-life endeavours, check out our Tetris review, our guide on whether Yellowjackets is based on a true story, and take note of all the other new movies coming out this year.
Air review
An easily digestible feel-good movie, Air has enough charm and smarts to hold its own against a busy genre. And with a strong cast and punchy aesthetic, Air is most definitely worth a shot.