Two returns come to the Yellowjackets cast, and one is more welcome than the other. Season 2, episode 4 of the horror series, 'Old Wounds', builds toward some mid-season strife that's going to be nothing short of heartbreaking.
Since 'Digestif', we're out of Lottie's compound. Natalie and Lisa are off on a roadtrip, right as Misty and Walter happen to be getting close. Christina Ricci and Elijah Wood are generating a feeling of such great meetcute, it's almost a shame they're fulfilling their mission so quick.
Tensions are rising in the '90s, as accusations flow among the group. Ben's psychological deterioration continues amid his leadership as the sole adult starting to fray. Bad timing, since a revelation at the end seems prime for a massive falling out.
Ben's not exactly the only one struggling. Tai's visions refuse to stop, and she starts questioning her own reflection. Her adult self decides to seek out the one person who always gave solace amid these challenges – Van.
First Tai's car breaks down, but she manages to get a lift in a truck. The driver recognises her political career, which has been pushed to the periphery in her need for personal safety. This is not the kind of thriller series where that'll go amiss, but for now Tai's on a quest for salvation.
Tawny Cypress has been quietly delivering one of the best performances of the show, giving us a gradual unravelling of someone who used to have everything under control. There's a fragility to Tai, who'd like everyone to think she's stoic and unshakeable, and Cypress nails that without making her seem frail either.
She's complemented by Jasmin Savoy Brown, who employs more adolescent confidence. Whatever's happening, it won't break her, because she's unbreakable. Where they fit in the narrative tapestry has become one of the biggest questions, and why that matters is largely down to their performances.
They're not the only ones haunted, especially not here. Lottie experiences a vivid hallucination of meeting the Yellowjackets at a local shopping mall. True meaning is open to interpretation, but it seems she's seeing just how little of who they were before this trip will remain when they're rescued.
Road trips are a theme, since Natalie joins Lisa for a journey home. Lisa wants her pet goldfish back, but her vindictive mother would rather use the meeting as a chance to chew her out. Natalie tries to interject, but this family affair doesn't want to be disrupted.
In the car afterward, Natalie reveals she stole the fish for Lisa. At a bar after, they bond. Natalie's got a hard outer shell for good reasons, but it can be worth connecting to people. Who knows, maybe you'll find common ground through all the shared hardship.
Over with Shauna, she decides to tell her daughter everything about Adam. The candour and assertiveness with which she handles the situation is another indicator of what the Canadian wilderness made Shauna. She doesn't tolerate ambiguity or bad feelings, preferring to clear the air as soon as she can.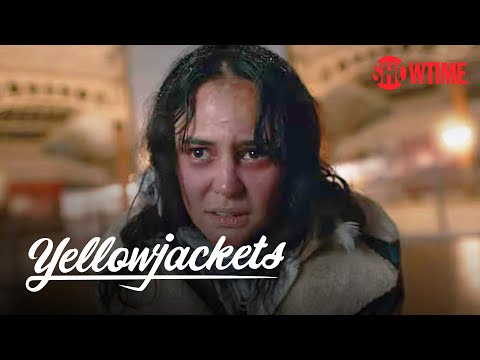 As you might imagine, Jeff's a touch bemused, but they come together as a family in the end. The family that lies together, right?
Another highlight of 'Old Wounds' is Ricci and Wood, whose tag team internet sleuths gradually learn they're extremely alike. They share in sweet conversation, the exact kind that happens when two people complement each other exactly, and a montage of their precise habits when stay in a hotel illustrates just how 'cute' is in this 'meet'.
Of course, they're now right by Lottie's cult, so their romance might be very short once the Yellowjackets reunion starts. Tai meets Van to end the episode, pushing into the vibe of surprising meetings.
That's just part of the big climax, as Javi finally returns in the '90s. He's found by Tai and Van, and remains speechless even when speaking to Travis. Just like those birds that feel from the sky, this doesn't seem like a blessing anyone wants.
Yellowjackets is available on Paramount Plus in the UK, and Showtime in the US. For more great TV, check out our lists of the best Netflix series and the best Disney Plus shows.
Yellowjackets season 2 episode 4 recap
The Yellowjackets cast shines in another character-building episode