Is The Pale Blue Eye based on a true story? When it comes to movies about real-life historical figures, the blend between fact and fiction can be tricky and lead to some confusion.
This is certainly the case in the latest Netflix horror movie, The Pale Blue Eye. In the film, former Harry Potter cast member Harry Melling plays the famous gothic horror writer, Edgar Allen-Poe. Poe plays a big role in the thriller movie, as the young cadet, prior to reaching literary fame, ends up assisting detective Augustus Landor in investigating a grim series of murders at West Point Military Academy in 1830.
But did the events in this detective movie actually transpire in real life? Here's a quick run-down answering the head-scratching question.
Is The Pale Blue Eye based on a true story?
Technically, no. The Pale Blue Eye is not a movie based on a true story. In fact, it is an adaptation of the novel of the same name, which Louis Bayard wrote.
The novel, like the film, is a work of fiction — but real-life details about Edgar Allen Poe's life are littered in the movie. West Point Military Academy is a real place, and Poe actually went there for six months in 1830. Historically, Poe went to the military centre for six months before being dismissed for gross neglect of duty.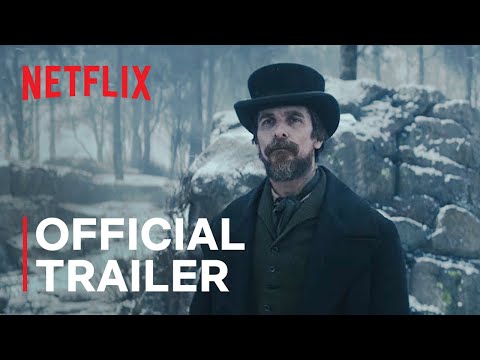 "The only records that exist are the court-martial records," author Bayard told Netflix's Tudum in an interview. "The rest of it just had to be filled in." This historical context arguably drives Melling's portrayal of Poe in the new movie, as he is depicted as not exactly fitting in or having a whale of a time at the Academy, which probably isn't too far from the truth, given how short his stint was there.
Bale's character Landor ends up bonding with Poe over their shared grief of lost loved ones — and while Landor as a person is entirely fictional, it is true that Poe had experienced loss shortly before his stint at West Point. In 1829, his beloved foster mother, Frances Allen died.
Ultimately, while there's no doubt that Poe's time at West Point involved a lot of personal development that might have shaped his writing, it didn't involve solving any murders with Christian Bale. As Bayard puts it to Tudum, "The nice thing about being a historical novelist is you get to make shit up."
The Pale Blue Eye is available to stream on Netflix now. But if you need more convincing, check out our Emma-Jane Betts' The Pale Blue Eye review, and her Harry Melling interview, where she chats to Poe himself (sort of).