Hunger Games fans can rejoice, as the first trailer for the prequel The Ballad of Songbirds and Snakes is here. It stars Tom Blyth as a young Coriolanus Snow, Hunter Schafer as his cousin Tigris Snow, and Rachel Zegler as his love interest Lucy Gray Baird. It is set during the tenth Hunger Games, when Snow is 17-years-old and he becomes a mentor to the District 12 tribute, Lucy Gray.
Just as the original Hunger Games trilogy had prestigious actors amongst the older cast, including Philip Seymour Hoffman and Julianne Moore, the same is true of the prequel movie. Viola Davis plays Dr. Volumnia Gaul and Peter Dinklage (who of course plays best Game of Thrones character Tyrion Lannister) plays Casca Highbottom, the original designer of the games.
Rachel Zegler has had a meteoric rise to fame since being cast as the star of the Steven Spielberg movie West Side Story while she was still in high school. She appeared in Shazam 2 and plays Snow White in the upcoming Disney live-action remake.
In the exciting trailer, Corionalus Snow is told to turn the tributes into "spectacles, not survivors." The prequel has a 1960s, Cold War aesthetic, which is fitting for the dystopia depicted. Jason Schwartzman plays the host of The Hunger Games, Lucky Flickerman, an ancestor of Caesar Flickerman (Stanley Tucci in the original trilogy).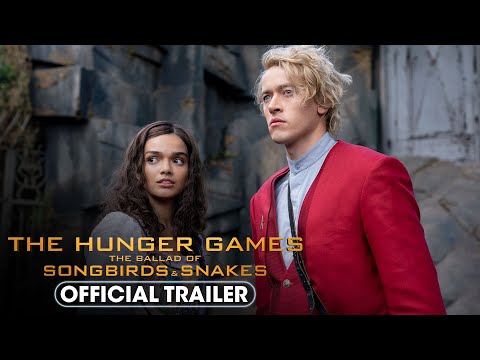 Viola Davis and Hunter Schafer can be seen in the trailer, although we don't see much of Schafer yet. You can see Panem getting gradually more militaristic and fascist as the trailer goes on. The Ballad of Songbirds & Snakes will be released on November 17.
If you're looking forward to the Ballad of Songbirds and Snakes, check out our guide to the best fantasy movies and the best adventure movies.