Directed by Todd Field, TAR is Cate Blanchett's new movie filled with drama, scandals, and the chaotic symphonies of a genius's downfall. With magnetic performances and masterful cinematography, the flick is a damming character study – conducted by one of the brightest stars in Hollywood.
The abuse of power is a tale as old as time, and following the #MeToo movement, figures who were once admired have had their crimes exposed time and time again. Stories centred around these issues are timely, powerful, and when you add some violin strings and Blanchett in a two-piece suit into the mix, you are left with a gut punch of a drama movie.
TAR follows the story of the famed composer and conductor Lydia Tar. Lydia is essentially a rockstar of the classical world, touring, teaching, and appearing on TV. However, when she sets out to perform a live recording of Mahler for Deutsche Grammophon, all the skeletons in her musical closet begin to threaten her career and legacy.
Lydia seemingly has it all. She has a killer career, a steady relationship with her first violinist (Nina Hoss), and a daughter. However, as the film showcases the events leading up to her new recording, we see Lydia is absorbed by her music, is harsh when it comes to others' feelings, and, worst of all, has a history of predatory behaviour with young women.
TAR is a movie that doesn't slap you in the face with its story. Pressure is built up using tiny interactions and small changes in Blanchett's demeanour. However, the subtlety of the thriller movie is also paired with sharp bursts of conflict and violent climaxes, which breaks the established atmosphere. Lydia's relationship strife and interactions with fellow conductors interrupt the stillness of TAR and ultimately shake you to your core.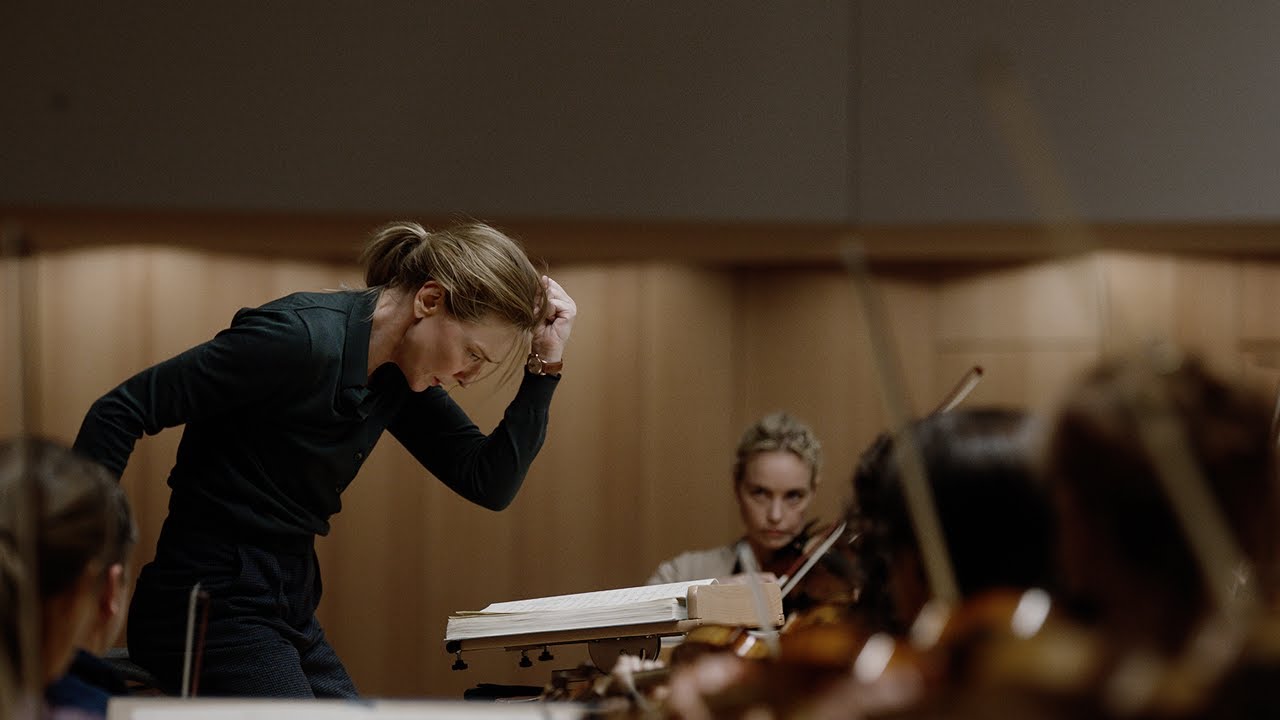 Field has managed to craft a wholly human character-driven narrative, and no matter how much you may come to dislike Lydia, you can't help but be invested in her life or feel a touch of pain at her downfall. Blanchett perfectly captures the part of a justifiably arrogant genius, holding face in public while slowly cracking under pressure.
From her physicality to her immaculate facial expressions, every aspect of Lydia's emotional journey into ruin is laid bare thanks to Blanchett's immense talent. Even during the less emotive story-driven scenes, we see the music overtake Lydia. As her face captures the tension of perfect timing and her arms begin to instruct her orchestra boldly, Blanchett passion and vigour are mesmerising.
Florian Hoffmeister's cinematography is similarly captivating. The muted and all-most still scenery works beautifully in tandem with the script's heavy moments as Lydia realises that her time in the sun may be over. However, while TAR is a filmmaking triumph for the most part, it should be said that the film isn't without its faults.
Pacing is TAR's biggest issue, as scenes tend to be dialogue heavy and drag. Field has proved his talent in visual storytelling, and his past as an actor has obviously benefited in leading Blanchett's stellar performance. Still his expositional dialogue and influx of overly long lunch discussion scenes stick out like a sore thumb. TAR does lag at times, and its ending similarly feels delayed.
Our last moments with Lydia feel thrown together compared to the immaculate storytelling we witnessed in the film's first two acts. To leave the film on a more muted note, in some ways, decreases the overall effect of its themes. But saying that, you will still leave the cinema affected.
TAR is an actor's movie that should be celebrated. It is beautifully put together and performed and, despite its length, is wholly worth a watch.
If you are keen to check out this new movie for yourself, head over to our How to watch TAR guide. Or if you are curious about Blanchett's past roles, you can read our Galadriel explained guide from her time in the Lord of the Rings movies.
TAR review
Cate Blanchett proves once again why she is considered one of the best working actors in Hollywood.