In his own words, Michael J. Fox has never been still. The man himself provides the evidence throughout the new Apple TV Plus documentary, Still: A Michael J. Fox Movie, not just with his words but with the images we're presented with and the story he weaves.
Michael J. Fox was a defining movie star of the mid-to-late '80's, who was catapulted into the Hollywood spotlight through a combination of his sitcom TV work and his blistering performance in one of the best movies of all time (and the time travel movie) Back to the Future. Still reckoning with his status, this is where we find Fox as Still: A Michael J Fox Movie begins, and it's when Fox was diagnosed with Parkinson's.
From then on, the new documentary takes a linear approach to telling Fox's journey from apparent conqueror of the world to retired actor and advocate for research into Parkinson's disease.
Despite a fairly by-the-numbers format, Still: A Michael J. Fox Movie is brought to life, predictably, by Fox's performance. He acts in two roles, playing both the interview subject and narrator in a candid examination of his ascent to the pinnacle of Hollywood.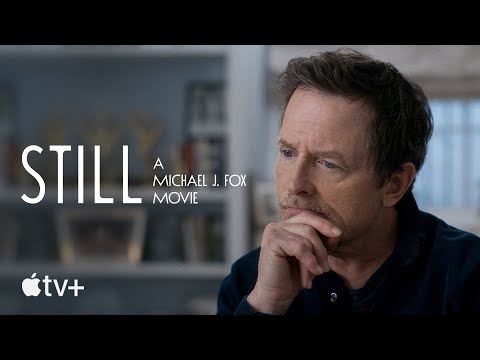 For fans of Fox, it's a must-watch. Imbued with details and glimpses of the past, the documentary provides an insight into the all-consuming stress experienced during the creation of Back to the Future as he juggled jobs, explaining how and why his career pivoted in various unexpected directions.
At the other end of the spectrum – and this is perhaps the way in which Still: A Michael J. Fox Movie works best – the documentary simply recounts the story of an irrepressible, electric personality forced to submit to the limitations of a physical disease. The fact that it's Fox in the interviewee chair adds intrigue, but it really could be anyone: his unending wrestle with Parkinson's is the emotional heart, irrespective of the Hollywood backdrop.
Juxtaposing footage of Fox sprinting, leaping, shifting, and dancing with shots from the present of the retired actor struggling to walk, the documentary touches on the twisted irony of his situation. He has and always will be moving; as if his boundless on-screen energy has now manifested itself within him, permanently and physically.
So as Fox speaks to us, looking directly into the lens, you can discern the heavy toll exacted on him from the past decades. To see that, in contrast with the Michael J. Fox we all have in our mind's eye (forever as the young Marty McFly), is sometimes tough to watch.
Thankfully, Still: A Michael J. Fox Movie makes it abundantly clear that Fox's life is still filled with light. He laughs easily, is wryly self-deprecating and self-aware, is charismatic as ever, and shows an inextinguishable love for his family. When around them, his face (which he otherwise struggles to control) is rarely not etched with a smile.
Like his best movies, Still: A Michael J. Fox Movie is sharp with its emotional lessons and ultimately optimistic. He tells us things can get better, even when your journey doesn't turn out the way you expected.
For more Hollywood magic, check out our guide to all the new movies coming out in 2023. Or, take a look at our picks for the best Netflix documentaries before finding out what's new on Apple TV Plus in May 2023.
Still: A Michael J Fox Movie review
A must-watch for fans of the actor, though not quite as electric as Michael J. Fox himself.