When you make a new movie with the word "exorcist" in the title, you're already stepping on hallowed ground. The Exorcist rightly stands as one of the best horror movies ever made, and walking on to its turf is a little like picking a fight with the spooky equivalent of the Sopranos. But if I were to fight the demonic movie mob, I'd be happier knowing I had Russell Crowe on my side.
The Gladiator Oscar-winner is a self-confessed horror hater, but takes on his first ever scary movie lead in The Pope's Exorcist.
Directed by Crowe's fellow Antipodean Julius Avery – whose last big screen outing was war movie/zombie movie hybrid Overlord – this is a scary movie that emphasises big spectacle and takes itself very seriously, while also maintaining a sense of humour. It's an impressive balancing act.
Crowe is Father Gabriele Amorth, who's an experienced but unorthodox exorcist with some enemies in the Church. Fortunately for him, he's somewhat insulated by the fact his employment comes directly from the Pope (Franco Nero). There are bosses, and then there's being able to say you report directly to the head of a church with more than a billion members. Quite the flex.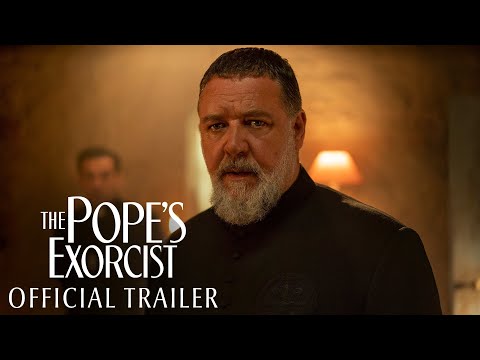 In 1987, the Pope sends Amorth to Spain to take on a pretty gnarly case of possession. An American family has come into the ownership of a decrepit old abbey, and Julia (Alex Essoe) plans to renovate it. Her two kids would rather be anywhere else than this dusty deathtrap, especially when adorable little lad Henry (Peter DeSouza-Feighoney) starts getting violent and talking with the voice of Ralph Ineson. Nothing's scarier than a bloke from Yorkshire.
This sets the stage for plenty of titanic confrontations between Amorth and the demonic entity – scenes to which Crowe brings the appropriate gravitas. These things only work if they're played arrow-straight, which perfectly suits an actor with the undeniable presence (both physical and psychological) of Crowe at his gruffest and most impressively bearded.
But that doesn't mean there isn't room for mischief, with Crowe giving Amorth an impish side when he's not head-to-head with the forces of Satan.
His interactions with Spanish priest and exorcism novice Father Esquibel (Daniel Zovatto) provide Crowe with a straight man in these scenes, as he showcases the gallows humour necessary to maintain humanity in the face of such a dark profession. The script by Michael Petroni and Evan Spiliotopoulos is surprisingly nimble in finding the light as well as the shade.
It's in the spectacle where Avery really flies, though. The story gets rather lost in the weeds of a thriller movie conspiracy stretching back through Catholic history that, frankly, isn't engrossing at all. But a series of hidden catacombs provide a suitably grandiose setting for Crowe to face-off in the third act against a demonic tormentor with a clear penchant for ostentatious CGI fire.
Avery has shown himself to be an ace director of action ever since his debut with Ewan McGregor movie Son of a Gun back in 2014. He brings that sensibility to The Pope's Exorcist, while also dipping his hand into the horror cliché lucky dip for snapping bones, splattering blood, and ghostly apparitions.
The abbey becomes a ghost train ride by the third act, and it's a joy to experience. There's nothing you haven't seen before, but Avery puts it together with so much aplomb that you can't help but have a good time.
And that's the overriding feeling about The Pope's Exorcist. It's a competent, well-acted sojourn into horror for Russell Crowe with some ultra-theatrical set piece silliness in the final third, but there's nothing here that will shock anybody who knows their way around an exorcism movie or two. Friedkin, it ain't.
But in a world of generic things-going-bang horror in which the supernatural has become a snooze, this ghost train ride with an A-list actor is worth its weight in gold. Even though Crowe's probably too scared to watch it.
If you're thirsty for more of the best movies to spook you silly this year, we've got you covered on the Renfield movie release date, the Insidious 5 release date, and the Evil Dead Rise release date.
We've also got the best ghost movies, the best body horror movies, the best slasher movies, and the best vampire movies ever made.
The Pope's Exorcist review
Russell Crowe does solid work in his first ever horror movie lead, but we've seen enough actors waving crucifixes by now to know exactly where this is going.