For Outlander's Sophie Skelton and Richard Rankin, the TV series, above anything else, is about how "love conquers all". The throughline of its epic historical battles, 18th-century politics, and brutality is that Jamie and Claire Fraser, along with their daughter Brianna (Skelton) and son-in-law Roger (Rankin), are the thread that binds its history book together.
In the drama series, Brianna grows up in the 50s before finding out her real parentage: her father was Jamie, a Scottish soldier her mother fell in love with when she traveled back in time. Along with the love of her life, Roger, Brianna meets her dad and begins a new life in the 1700s, a choice that would bring joy and tragedy in equal parts into her life.
Brianna is an intense, strong-willed character, and Roger is the softer, more empathic side of the coin. The Digital Fix spoke to Sophie Skelton and Richard Rankin ahead of the new season of Outlander about Brianna and Roger's partnership, the end of the series, and the hardships their characters have endured.
With the Outlander season 7 release date around the corner at the time of writing, Skelton lights up when considering what the latest installment has in store for us, "We really throw the fans in at the deep end and rattle the cage pretty quickly."
She's not wrong. The penultimate chapter kicks off with season 6's cliffhanger ending; Claire is being tried for a murder she didn't commit, and Jamie is on the hunt to retrieve her. "It's been such a long 'droughtlander'. And we know that you guys can't wait to watch it." Teasing the impact of the American Revolutionary War brewing, she says "You're going to feel homey and all safe. And then all of a sudden, we're just going to shake it all up… It gets intense."
Season 7 is split into two parts, with the first eight episodes airing weekly beginning June 16, and the rest to follow. It's a large order, but Rankin hints the writers needed that room, "We've got so many great characters… old characters coming back, we've got some new faces, and they all have some pretty amazing stories to tell. It feels like a huge epic ensemble of 16 episodes."
STARZ seems to want to give the series a big final hurrah, after all, season 8 will end Outlander. But Rankin and Skelton are practicing mental avoidance when it comes to that, with Rankin jokingly stating, "I try not to think about it, makes me really upset."
"It doesn't feel like we're saying goodbye any time soon," Skelton says, "it's a long season, so much happens. The characters by the end of it aren't the people that you know now." Skelton is perhaps referring to Brianna and Roger's new bundle of joy.
Brianna is heavily pregnant and the pair are due to become parents for a second time, a lovely but occasionally alarming element of the new chapter that brings up the ever-present question: why stay in an era where there's no access to modern medicine and awful things happen to the vulnerable?
There's a moment early in season 7 where Brianna gets activated in a conversation with Roger about the bystander effect, reminding the audience of the rape she suffered, a fate, unfortunately, bestowed on many of Outlander's female characters.
When asked how this experience permeates Brianna's life, the seriousness of the topic is visible on Skelton's face, who clearly cares much for the character she's been inhabiting for years, "Brianna has handled it in an admirable way. For a long time, she didn't want to talk about what had happened."
"There are definitely triggers for her. She's always been a protective person. And now having been through something, that just makes her a little bit more annoyed if others don't [intervene]. I think sometimes Brianna would handle things differently. Roger's maybe teaching her to be, not so much more forgiving, but [to] handle things in a different way — whether that's right or wrong. Brianna definitely will be the first to champion standing up for people in pain. Brianna will go mama bear on you and Roger will pray for you. So between the two of us, the protective team, we've got you."
Distilling their time in their character's shoes, Rankin playfully gazes at Skelton and says "Love conquers all." After some giggles to dispel the heavy air from discussing the show's darker aspects, Skelton says she thinks that's true.
"I'm proud of Roger and Bri for that, because they could have just gone into dark holes or handled things badly, and I'm not saying they haven't at times, but they've come out of it as a stronger team. I don't think there's anything that you could throw at them now that they couldn't deal with. I hope that fans can take something from that too because I've definitely learned a lot from Brianna."
Outlander has an intense fanbase in large part due to the intense burning romance between Claire and Jamie. Brianna and Roger appear the more accessible pair, and Skelton and Rankin have a refreshing perspective on why they portray their sizzle in a softer manner, "even when things are a bit bumbling and awkward, they kind of make the best out of situations. And it shows a whole new dynamic of a relationship, which isn't often shown on TV. Everything is usually quite smooth and sexy. And what I love about these guys is that it's often not."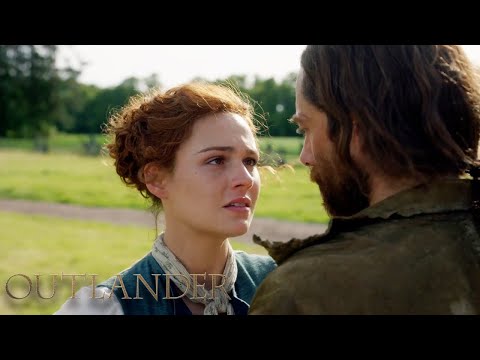 "We've brought in a kind of new generation of fans, and we're not ignorant to that. I personally feel protective over that", she continues, "You can have the hard conversations and stuff can be a bit awkward. And that's okay."
Their trust in each other comes across on-screen in the series, and Rankin agrees, recalling an intimate scene set in a tent from previous seasons, "When you do things like the sex scenes, you need to trust your partner. We're always good at talking about what we're trying to achieve in any given scene or where we want to take this relationship."
Outlander season 7 releases June 16, 2023, on STARZ in the US and on Lionsgate+ in the UK. For more, read our Outlander season 7 review and find out how to watch Outlander season 7.