What is the Kingsman 3 release date? It's been six years since Eggsy graced the big screen with his spy-filled action movie antics, and if you've found yourself wondering just when will the conclusion to the Kingsman threequel finally be released… well, you're in the right place.
Provisionally titled Kingsman: The Blue Blood, the Kingsman franchise is set to conclude once and for all. But, the question of when is front and center for spy movie fans wanting more brutal fight scenes and fallout from impending global threats. While the new movie has suffered development delays and work scheduling conflicts, there's good news ahead if you're desperate to see how it all wraps up for Eggsy (Taron Egerton) and Harry (Colin Firth).
No fancy spy equipment needed here as we've gathered all the intel for you when it comes to the Kingsman 3 release date, cast list, plot, and more. Here's everything we know so far.
Kingsman 3 release date speculation
There's no official release date for Kingsman 3 just yet, but we do know it's definitely coming and suspect it will hit the big screen in 2024.
Before pandemic-related delays, Kingsman 3 was meant to be filmed back-to-back with the franchise prequel, The King's Man, which was released in 2021. Unfortunately, that didn't quite go to plan.
Then director Matthew Vaughn said Kingsman 3 would start filming in September 2022. Unfortunately, again, filming is yet to commence. A few months out of supposed filming, though, Taron Egerton spoke on the Jess Cagle Podcast with Julia Cunningham to say, "My understanding is that we are to be shooting the third installment in my saga, I believe, next year. But, you know, don't listen to what I say because I don't really know. You know, they're grown-up decisions."
If there's truth to his words, though, that would mean Kingsman 3 is set to start filming this year, potentially lining Kingsman 3 up for a 2024 release date, but this could most definitely stretch into 2025.
Either way, there'll be more news when the cast and crew get to filming, and we'll update you when we know.
Kingsman 3 cast speculation
It seems very unlikely that the Kingsman threequel will end without concluding the iconic Eggsy and Harry Hart relationship. So, we expect both Taron Egerton and Colin Firth to reprise their roles.
Aside from that, other cast members currently remain unclear. We know that there was a high kill count for Kingsman: The Golden Circle, taking out lots of big names. Merlin (Mark Strong) made the ultimate sacrifice, Agent Whiskey (Pedro Pascal), Poppy Adams (Julianne Moore), and Charlie Hesketh (Edward Holcroft) were all dispatched, and Roxy Morton (Sophie Cookson) was presumed dead.
So, it seems very unlikely that any of them will be returning. Of course, we can't forget that when it comes to Kingsman, anything can happen… Take Harry Hart's return from the dead, enough said.
Here's the potential Kingsman 3 cast list:
Taron Egerton as Gary "Eggsy"
Colin Firth as Harry Hart
Halle Berry as Ginger
Channing Tatum as Agent Tequila
Jeff Bridges as Champagne "Champ"
It also seems pretty unlikely that any of the cast of The King's Man will be joining the threequel, given its prequel status placing it in the timeline years before even The Secret Service. But, the Statesman were introduced during The Golden Circle, which included Agent Tequila (Channing Tatum), Agent Ginger (Halle Berry), and Champ (Jeff Bridges). All of which we could potentially see in Kingsman 3.
What will Kingsman 3 be about?
There's no official plot for Kingsman 3 yet, but there is a lot of talking from both Matthew Vaughn and Taron Egerton. Given how The Golden Circle ended and how long it's been, we could be looking at a jump ahead.
During a 2021 interview with Collider, Matthew Vaughn suggested a conclusion for fans on the spy duo, "Eggsy and Harry [will be in it], obviously. But it's the gang coming back together, and it's one of those moments that… when we wrote the screenplay, it was very much about, okay, I saw how people loved the relationship of Eggsy and Harry."
"So, we just came up with this thing; what could be the ultimate reasons for them to either fall in love or to hate each other forever?" He continued. "So, that's what this movie is all about is will they or won't they, let's just say."
Taron also spoke to Collider more recently to reveal his thoughts on where Kingsman 3 could take the franchise. "I have my own idea that I would like to pitch to Matthew, and I think that will be happening soon, but he has the wheels in motion on a big idea of his own," he said. "So who knows, you know? Who knows where it will land?"
What his big idea actually is was left unclear. But, during an interview with the Radio Times, he did tease that he'd love to see what Eggsy would be as an older Kingsman.
"If we go back and visit Eggsy, which might happen apparently, I think I want to know what being in that world for ten years does to your head, and I want to see him change… What it is like to be a 35-year-old Kingsman because I'm not the kid anymore." So, perhaps we'll see a whole new realm of Kingsman altogether.
Kingsman: The Golden Circle also lined Kingsman 3 up nicely for a twist in the tale with the introduction of the Statesman and the obliteration of the Kingsman organization by Poppy Adams (Julianne Moore), meaning further teaming up could be necessary to regroup.
As with earlier Kingsman movies, though, the plot remains under wraps. We'll speculate for now and update later when we hear more.
Is there a Kingsman 3 trailer?
With no sign of filming commencing just yet, there's also no trailer to watch. It's most likely that we'll get a Kingsman 3 trailer in 2024 or 2025.
Once we get official word of production, we'll be able to make a more educated guess. For now, we can only look to the past, speculating on the fact that a Kingsman trailer has usually emerged in the months leading up to each movie's release.
So, until we know of production, we won't know of a trailer. While this isn't the best news, fans can watch the trailer for Kingsman: The Golden Circle below to keep you going in the meantime!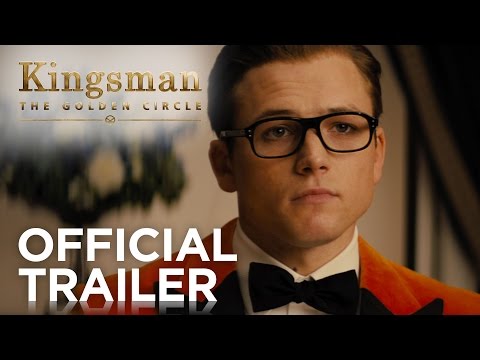 Where can I watch Kingsman 3?
Kingsman 3 will most likely be released in cinemas before streaming on Disney Plus at a later date.
In the meantime, Kingsman: The Secret Service and Kingsman: The Golden Circle, as well as the prequel, The King's Man, can all be found on Disney Plus.
All three were theater releases before coming, months later, to the streaming platform, and we'd expect Kingsman 3 to follow suit. For example, The King's Man hit cinemas in December 2021 and started streaming on Disney Plus in February 2022.
We'd also expect Blu-Ray and DVD releases for fans to secure physical copies. To watch the previous titles, click the button down below for Disney Plus.
In the meantime, you wouldn't go far wrong checking out our best movies, best comedy movies, and best action movies guides for some well-thought-through compendiums of movie greatness.