There are legacy sequels and franchise revivals, and then there's Evil Dead Rise. Carrying the tonality and MO of Sam Raimi's bloody trilogy, director Lee Cronin wrote a new chapter into the Necronomicon. One that's just as gory and madcap and unpredicatable and darkly funny as before, but without the hallmarks of Bruce Campbell as Ash Williams or a besotted cabin in the woods.
Instead, there are two sisters, some kids, and a slightly rundown apartment complex in Los Angeles. Not that Deadites mind, and Evil Dead Rise establishes itself as one of the best horror movies of the year before the book of the damned is even opened (on-screen, anyway).
Alyssa Sutherland plays one of the older siblings, Ellie, a mother to three children, Danny (Morgan Davies), Bridget (Gabrielle Echols), and Kassie (Nell Fisher). She becomes the antagonist of the new movie once the Necronomicon is discovered in their building's basement. After a storming theatrical run drawing over $146 million, Evil Dead Rise has arrived on home media, and the actor almost struggles to explain just how incredible the success feels.
"I don't know if it could have gone better," Sutherland laughs to The Digital Fix. "You don't ever want to expect that, or even hope for it, I think because you don't want to be let down. So it's been a really lovely roller-coaster ride."
The opposing force to Sutherland's monstrosity is her sister, Beth, played by Lily Sullivan, a touring roadie who was visiting in the right place at the wrong time. Even though Sullivan gets to be this iteration's Ash, Sutherland definitely gets the wackier dialog and more audacious scenes, spewing bile and carving up neighbors and making a big mess everywhere. She may not be the hero, but Sutherland understood the assignment in being the central threat of a monster movie.
"I did feel pressure just as a horror movie monster, because I feel like, with both my role and with Lily's, if the scary thing isn't scary, the film doesn't work," she explains. "And then I think for Lily in her performance, if she's not truthfully scared, the film doesn't work."
She gives credit to Sullivan for staying keyed into fear and adrenaline for the hour-and-a-half, whereas Sutherland got to operate at several different speeds – including outright dead. "I was really grateful to have the monster role and not the final girl," she says. "It's a lot more fun. I don't have to be jacked and my nervous system doesn't go through what Lily's did. And physically I escaped a lot of the blood. I mean, I still got some but you know, I didn't didn't have to be in that elevator."
Right her first read of the script, Sutherland knew Ellie was going to be fun. This "psychotic character" who presented an invigorating kind of challenge. You can see why, given all the murder and shouting and crawling up the walls. Being a Deadite might mean your role is short-lived, but what a thrill those moments will be.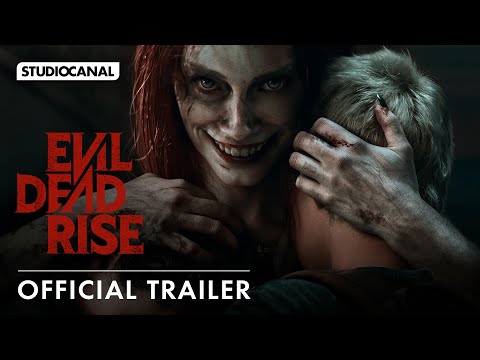 But like any great horror film, the terror comes from genuine humanity. Evil Dead Rise centers on a small family, and it's their closeness that makes you want them to survive. Luckily, everyone was well cast for that sort of connection.
"We all really liked one another. We had two weeks of prep, and had family rehearsals and family boot camp," Sutherland states, revealing she's often guarded around people until she knows them, but had none of that around her onscreen sibling. "Lily is so warm and open. When I first met her, she was like, 'Oh, my God, can you believe what we're doing?' And just ran at me and hugged me, and I was like, 'Oh, OK!', and I was pretty disarmed. I just, I adored her."
Evil Dead Rise might upend some aspects, but the cartoony bedlam remains very much intact. Cheese graters and chainsaws are used, and someone literally eats glass. One particularly gigglesome scene has Sutherland's Deadite roaring around the hallway outside her apartment, killing anyone she sees. For a novel perspective, Cronin shot it through the front door's peephole, giving us a limited view of what goes on.
Production had limited resources for the effects-heavy moments – everything was filmed chronologically to avoid cleaning up blood stained carpets – so they only got a couple of runs at making something work, adding pressure to all the zaniness. "The part where Gabe pops up, and I come and I have to rip his throat open, well, we only had two of those rigs, so I had to do two takes to get it," she reveals. "And after I rip his throat and push him to the side, then all of a sudden Mr. Bond is there and he shoots me."
The whole thing was fine-tuned like a dance routine, according to Sutherland, who mentions that Cronin kept a tight hand on everything. There's a real knack to making something seem outlandish and out of control, that behind the scenes comes from a place of consistency and pure understanding, and Cronin did it exquisitely.
Even when Covid-19 arrived, and production suddenly had to disband, right when they were doing the final act, and the nasty Marauder. A rat's nest of Deadites, the creature's a sight to behold, and a few different versions were being used to get it on celluloid before filming had to be rethought due to lockdowns.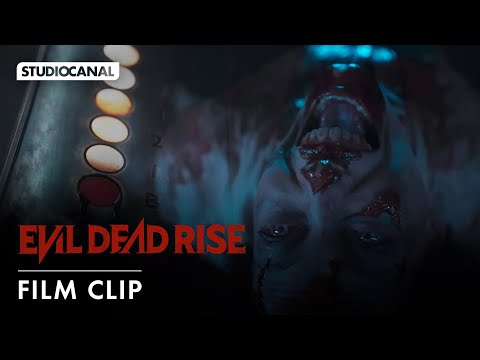 "We started filming that sequence, we had a 70-pound prosthetic backpack that I would put on, and Gabby and Morgan would sort of squeeze in beside me, and we would film it with the three of us that way," she recalled. "We had a rig that two stunt doubles would use, and they made a prosthetic hand of mine, and the head was like puppeted, that was for the wides where they had to do that awful spider movement."
Then, once isolation was needed, everyone filmed separately, so Sutherland filmed her protion, to be combined with Echols and Davies in post. Tricky, and it wasn't until much later that anyone saw the masterful edit.
"I didn't get to see a full cut until I was in ADR, I was blown away by what they managed to do, because it was all kind of a mystery to me of how it was going to happen," she says. Cronin's talent became even clearer, even when she was starting to wonder what could be done.
"It was like, 'Good Luck, Lee, I don't know how you're doing this'," she laughs. "But he really did. And I think he delivered. I mean, the proof is in the pudding." Or in this case, the pile of blood and guts left at the end.
Evil Dead Rise is available on digital and Blu-ray now. Check out our guides on the Evil Dead movies in order, the Evil Dead Rise 2 release date, and the best zombie movies for more groovy filmmaking.