Xolo Maridueña has swapped cobras for beetles, as a first look at the Cobra Kai star's role as Blue Beetle was finally unveiled in a trailer for the upcoming DC movie. For the most part, it looks like the superhero movie will follow the Jaime Reyes origin story established in 2006's Infinite Crisis comic, as we see the down-on-his-luck college graduate's life change after coming into contact with the Scarab.
In the trailer, the part-alien-part-AI relic looks like — you guessed it — a blue beetle, and chooses Reyes as his symbiotic host. As Reyes gets used to his new powers, which include advanced technology, a durable suit of armour, and incredible strength, we get glimpses of both Susan Saradon and Raoul Trujillo as DC villains Victoria Kord and Carapax the Indestructible Man.
We also see the Scarab continuing its unpredictable and violent comic-book tradition as Jaime realises in horror that he "ripped a bus in half."
Still, Reyes's friends and family encourage him to embrace his powers, with his uncle Rudy saying, "the universe has sent you a gift; you have to decide what to do with it." But they're less impressed when Reyes then compares himself to fellow DC hero Batman, with someone quipping, "Batman's a fascist."
A cross between Spider-Man villain Venom and MCU character Iron Man, Blue Beetle will arrive in theatres on August 18, 2023. The full synopsis for the new movie is as follows: "Recent college grad Jaime Reyes returns home full of aspirations for his future, only to find that home is not quite as he left it. As he searches to find his purpose in the world, fate intervenes when Jaime unexpectedly finds himself in possession of an ancient relic of alien biotechnology: the Scarab."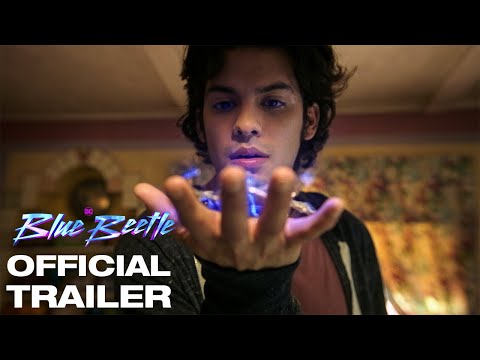 "When the Scarab suddenly chooses Jaime to be its symbiotic host, he is bestowed with an incredible suit of armor capable of extraordinary and unpredictable powers, forever changing his destiny as he becomes the Super Hero Blue Beetle."
If you want to know more about upcoming DC movies, check out our guides on The Flash release date, Aquaman 2 release date, and James Gunn and Peter Safran's new DCU slate subtitled Chapter 1 Gods and Monsters.