Before Brendan Fraser was an Oscars 2023 nominee for his performance in The Whale, the star was making waves in Hollywood as early as the '90s. One film in particular put Fraser in the spotlight, the 1992 thriller movie School Ties, which saw the star work alongside Matt Damon, Ben Affleck, and Chris O'Donnell.
In the '90s movie, Fraser plays a Jewish high school student who is awarded an athletic scholarship. His identity leads to conflict, and recalling his time working on the film, Fraser breaks down one scene between himself and Damon that really stuck with him. During an interview on The Howard Stern Show, Fraser discussed the infamous scene where he and Damon's character engage in an "ugly" shower fight.
The scene in question comes about after Dillon (Damon) reveals that David (Fraser) is Jewish to the football team after a game. The discussion leads to the pair exchanging blows in their birthday suits.
"I appreciated that this isn't really for wow or a scintillating factor of going, 'Hey, look at that. Naked people,'" Fraser explained. "The point of it was that when Damon's character says what he says about David, he just reveals who he is. His anti-Semitism and his prejudice is stripped down naked and it's ugly. "
"And the door is locked, and they fight over it like shaved apes that need to be pulled apart because they've run out of things to say to one another, and it just turns into an ugly knuckle-dusting fit," the actor continued.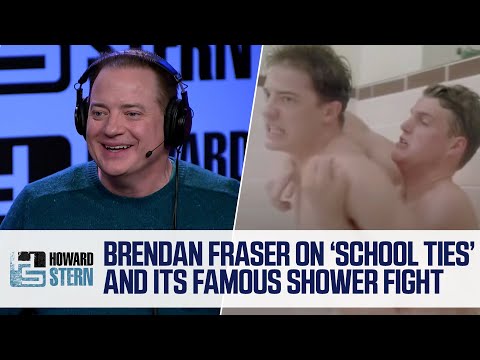 "When you're an actor, and you're starting off, you're ambitious and game for pretty much anything. They say jump, you say how high?​​​​​​ Chris O'Donnell — he kicked out the set photographer who was hiding in one of the bathroom stalls."
While his early career is now behind the acclaimed actor, Fraser shared how School Ties was during a stage in his working life where he wasn't used to on-screen performance. In fact, the star recalled how he used Damon as a cue for his own acting.
"I just remember thinking, 'He's [Damon] already got the job, and this is my shot here. OK, don't mess this up, bring things down a size,'" he said. "I was used to being on stage at that point in my life and playing to the back row, and I knew that I needed to match pitch with Matt, so I felt like I was his wingman or something, and I think that's why I got hired."
As we all know, Fraser is talented in his own right, and the days of matching Damon are long behind him. Have a look at our list of the best Brendan Fraser movies for more of his hits. To find out more about his new movie, you can read our The Whale review. You can also learn more about this year's Academy Awards with our list of Oscars 2023 predictions.