Movies about corporations are all the rage at the moment, as long as they're tinged with some feel-good nostalgia, of course. We've had Ben Affleck movie Air (about Nike Air Jordans), Tetris (starring Taron Egerton), and Pinball (starring West Side Story breakout star Mike Faist). There's even Eva Longoria's Flamin' Hot coming out in June, which is the Flamin' Hot Cheetos movie – we are deadly serious.
These mostly rose-tinted and romanticised views on corporations seem somewhat sinister, given the rise of anti-capitalism, almost as if it's a way to present businesses and products as a force for good. They are all underdog stories that have us rooting for the little guy to…make a whole lotta money. It's very much the American Dream distilled into easily packaged and swallowed feel good movies, without too much critique.
Matt Johnson's BlackBerry is a slightly more critical look at a corporation's rise and fall, more in the mode of David Fincher's The Social Network (2010) or Danny Boyle's Steve Jobs (2015).
The early part of BlackBerry almost seems like it might be commenting on the nostalgia of some of these other movies. The film begins in 1996, but the first section of the film is filled with constant 70s and 80s references – to The Breakfast Club, Dune, Star Wars and Indiana Jones – mostly via Johnson's character of Doug, who permanently wears a red John McEnroe headband and owns a TMNT wallet. Doug is always one step behind, with him wearing T-shirts making decade-old references.
The only real 90s nod is the opening credits sequence set to Elastica's Connection, with clips from teen TV series Saved by the Bell, and 90s movies Clueless and Hackers – both released in 1995. Around 50 minutes into the movie, there's a time jump to 2003, which is ushered in by The Strokes' Someday. It's only after this time jump that we get a track from 1996 (Return of the Mack), very much suggesting that these guys are always behind the times, and hinting at what would befall the company after the launch of the iPhone – which occurs in the third, fatal time jump to 2007.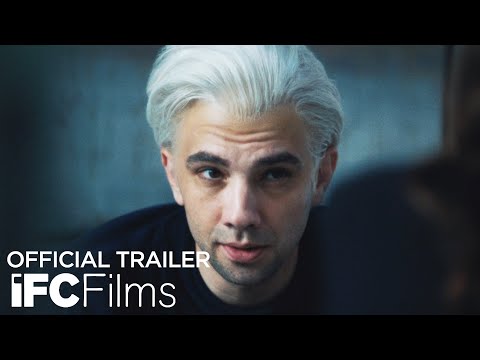 In '96, Doug is seen wearing a T-shirt with the poster for John Carpenter's horror science fiction movie classic They Live (1998) on it, and in 2003 – this same movie is featured at the company's movie night. "I've come here to chew bubblegum and kick ass, and I'm all out of bubblegum" could very much be the mantra of Glen Howerton's high-powered businessman Jim Balsillie.
Johnson is keen to emphasise the extreme geek vibes of the company, run by Jay Baruchel's tech genius Mike, in the first act of the movie. It very much has a low-tech start-up feel, as depicted in one of the best TV series – Halt and Catch Fire. The company consists entirely of a bunch of nerds arguing over Star Trek. That is until Howerton's Jim swoops in and immediately starts screaming at everyone to buck their ideas up, like a character straight out of Wall Street or (one of Doug's many references) Glengarry Glen Ross.
The whole movie is very much about the disheveled scientists and engineers versus the corporate business and finance suits. However cartoonish Howerton is – with his gleaming white veneers and shiny bald pate – he does make some points. When they hit the big time with the BlackBerry (the first phone that allowed email) in 2003, the computer dorks still want to continue with their movie nights and generally slacking off.
A militaristic COO (played by Michael Ironside) is brought in to "babysit the dorks" and be the demon headmaster – the bad cop to Mike's extremely Canadian timid nice guy. Mike has the genius ideas and technical know-how, but zero business or marketing sense. However, the more money the company makes, the more dodgy dealings and less-than-legal risks Jim starts to make.
Mike and Jim represent the two sides of the Canadian psyche – this is the country whose national obsession is ice hockey, after all, an absolutely ruthless game. Mike is the meek and mild Canadian, whereas Jim is not afraid to borrow tactics straight from the rinks of the country's number one sport. He's so obsessed with hockey in fact, that he starts dabbling in trying to acquire teams and stadiums.
Glenn Howerton is of course best-known for Always Sunny in Philadelphia, and has only appeared in a few movies, such as 2020's The Hunt (which interestingly was also a commentary on capitalism). Like his friend Rob McElhenney, who famously transformed his body for the dance sequence in Always Sunny, Howerton is almost unrecognisable as Jim Balsillie.
Howerton perfects an absolutely cold-hard stare that turns its laser focus on his next victim, sending chills down the spine. BlackBerry is a strong indication that he would make a great horror movie villain. It's an impressive performance and one where he demonstrates a range beyond the walls of Philly's favourite Irish bar.
The camerawork is in the documentary style we're now familiar with from comedy series The Office and Parks & Rec. It's unclear why it's filmed as if a covert camera crew are hiding in the offices of Research in Motion (the company that would later change its name to BlackBerry Limited), often with staplers and other objects getting in the way of the frame. This is the mock documentary style that director Johnson has worked in previously, so he's clearly comfortable with the form, even if it's a little baffling as to why it's being used here.
Characters are also frequently filmed through windows (with reflections distorting the image) and via other barriers or frames. Thankfully, the actors never acknowledge the camera, and there's mercifully no Jim-Halpert-style looks to camera. It's jarring to begin with, but you notice it less as the film goes on, although the whip pans and crash zooms can get a little tiring.
There are some nice cameos and small supporting roles in BlackBerry which are filled by good character actors. There's Cary Elwes – as a permanently laughing sleazy businessman. There's also Frasier's Saul Rubinek, as a Verizon board member who appears in all three segments, and Mad Men's Richard Sommer as one of Google's head engineers who Jim poaches for the promise of $10 million.
Unlike Air and Tetris, which both end on a high, at least BlackBerry does include a third act which very much depicts the downfall and demise of a company desperately grappling to remain relevant. If businesses don't constantly innovate and give customers a reason to upgrade to the next shiny new toy, they are left behind in the dust. So, at least there is some cynicism and criticism of capitalism present here, which is largely absent from others within this weird new trend.
BlackBerry is also very funny and entertaining, especially watching Howerton's Jim absolutely losing his tiny mind when surrounded by a bunch of man-babies who want to continue treating the company like an extra nerdy after-school club. No one is left unscathed though, as Jim is certainly reprehensible – but we'll leave you to guess just how much any of these billionaires are actually faced with any consequences or comeuppance. Hey, that's capitalism, baby.
BlackBerry review (2023)
BlackBerry is a funny and entertaining entry in the new wave of corporate capitalism movies, and Always Sunny's Glenn Howerton gives a brilliant performance which demonstrates his range. The mockumentary style is somewhat baffling, but this is a compelling look at the massive rise and fall of a very Canadian business.