If you were a '90s kid, chances are that you grew up with (and love) Sam Raimi's 2000s Spider-Man movies, which featured Tobey Maguire in the titular role. Since Maguire, we have seen plenty of Spider-Man actors hit the big screen. However, nostalgia hit hard for fans and Raimi himself in 2021 when Maguire reprised the role in the superhero movie Spider-Man: No Way Home.
Spider-Man: No Way Home saw Tom Holland's web crawler meet up with Spider-Men of the past as Andrew Garfield from The Amazing Spider-Man movies and Maguire from Raimi's famed trilogy joined him on the screen. Along with Maguire, old Spider-Man villains joined the fight, such as Sandman, Doc Ock, and the Green Goblin. In short, the 2021 movie was a blast from Raimi's past, and the director had the cutest response to seeing his old friends once again.
During a special screening of Raimi's new movie, Doctor Strange in the Multiverse of Madness, the director was filmed giving his reaction to seeing Maguire in No Way Home. Shared via Twitter user @RaimiGroovy, the clip sees Raimi getting all sentimental about his time working with Maguire on the hit 2000s movies as Peter Parker.
"When I saw Tobey Maguire, my heart went out, and I thought there's my old hero, my old friend," he said.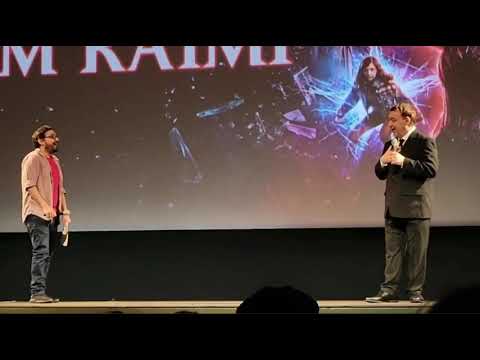 Raimi's first Spider-Man movie with Maguire was released in 2002, and was one of the first mainstream comic book movies that gripped the public – paving the way for the global phenomenon that are Marvel movies and DC movies today.
Currently, Raimi has no upcoming superhero movies in the works after his 2022 Doctor Strange 2 outing. So, don't expect to see a Raimi Spider-Man reboot anytime soon. Raimi is keeping busy though, producing the new horror movie Evil Dead Rise.
Evil Dead Rise hits theatres on April 21, 2023. For more superhero fun, here is our guide to Marvel Phase 5.