The third Fantastic Beasts movie has been officially titled The Secrets of Dumbledore. The Harry Potter movie spin-off also now has a magical release date, April 15, which is Easter 2022. At the time of writing little is known about the plot of the next instalment in Newt Scamander's (Eddie Redmayne) story, but judging by that title it sounds like the fantasy movie will be delving into the life of the mysterious Hogwarts headmaster Dumbledore (Jude Law).
It's been reported that the movie will be set several years after the events of Fantastic Beasts: The Crimes of Grindelwald, and will be set in both Rio de Janeiro, Brazil, and Berlin, Germany in the lead up to the Wizarding World's involvement in World War II.
David Yates is set to return as the director on the eleventh film in the Harry Potter universe. He'll be using a screenplay written by J. K. Rowling and Steve Kloves. In front of the camera, Redmayne and Law are returning as Newt and Dumbledore, respectively, and they'll be joined by Katherine Waterston, Dan Fogler, Alison Sudol, as well as Ezra Miller.
Fantastic Beasts 3 release date: When is Fantastic Beasts 3 coming out?
Fantastic Beasts: The Secrets of Dumbledore is finally making its way to the big screen this year. It was initially planned to shoot in early 2020, but production was shifted to the autumn in the wake of the COVID-19 pandemic.
Principal photography came to an end in February 2021, with the mammoth task of adding extra magic – and, of course, those titular critters – in post-production able to begin in earnest.
The film is due to arrive in UK cinemas from April 8, with American viewers able to catch the movie a week later on April 15. In the States, the movie is due to arrive on the HBO Max streaming platform 45 days after the cinema release.
Fantastic Beasts 3 trailer: Does Fantastic Beasts 3 have a trailer?
In order to keep us going until then, Warner Bros has unveiled a trailer for the movie, which reintroduces audiences to all of the recurring characters in the crowded ensemble. The exception is Katherine Waterstone's Tina Goldstein, who is conspicuous by her absence from all of the marketing material thus far. It suggests her character's journey may be even more secret than that of the others.
We got another trailer on February 28, 2022, that teased a return to Hogwarts, more wizard duels, and that "things are not what they appear".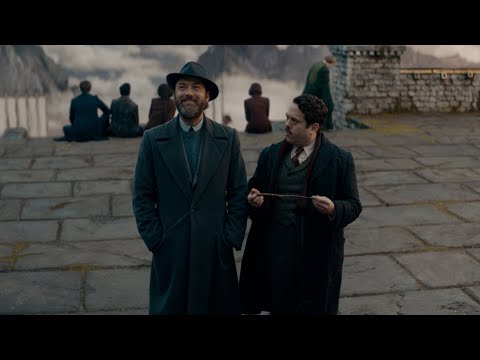 Fantastic Beasts 3 plot: What happens in Fantastic Beasts 3?
It's fair to say that The Crimes of Grindelwald left us on quite the cliffhanger. Things finished in the late 1920s after Grindelwald had delivered a rally, amassing followers by evoking the future war Muggles would inflict upon themselves.
Among those who chose to follow him was Ezra Miller's powerful Credence Barebone, still struggling to manage the incredible power of the parasitic Obscurus force inside him. For those in need of a reminder, an Obscurus is an untamed and potentially deadly force created when a young witch or wizard – subsequently known as an Obscurial – suppresses their magic in the wake of abuse.
Point Me! Harry Potter cast where are they now?
In the closing moments of the last film, Grindelwald revealed to Credence that he was not a member of the Lestrange family as he assumed, but was in fact Aurelius Dumbledore – long-lost brother of Albus.
Dumbledore's family life could play an even more incendiary part in the story, with his late sister Ariana Dumbledore almost certainly another example of an Obscurial, having suppressed her magic in the wake of a vile attack by Muggle bullies. Albus's brother Aberforth features in the trailer for the new movie, so it seems certain that we'll be delving into the troubled history of the Dumbledore clan.
Those mysteries will obviously sit at the centre of Beasts 3 – they are secrets of Dumbledore, after all – but there's plenty going on elsewhere. Dumbledore has chosen to remain on the sidelines of the conflict with Grindelwald while he tries to work out how to break the magic of the blood pact he made, vowing never to duel his friend.
Dumbledore sends Newt Scamander and his friends on a mission to try to tackle the threat posed by Grindelwald, which takes them on a globe-trotting journey – Brazil, Bhutan, Germany and China have been mentioned as new locations – into the orbit of numerous magic beasts, not to mention the dark wizard himself and his followers.
Deadly duels: Best action movies
The trailer teases some silly set-pieces with magical creatures – remember when that's what this franchise was all about? – but also unveils some intriguing ideas. Notably, Muggle baker Jacob Kowalski receives a wand from Newt, though it's not clear whether he'll be able to use it at all.
There's also the rather troubling fact that this is all happening in the 1930s, with the involvement of wizards in the Second World War just around the corner. It's a difficult and sensitive time period for the franchise to cover, so it will be fascinating to see how this movie handles it.
Fantastic Beasts 3 cast: Who's in Fantastic Beasts 3?
Well, for starters, there's an elephant in the room. Gellert Grindelwald has a new face because Johnny Depp has stepped away from the franchise amid legal troubles surrounding allegations of domestic violence. He has been replaced by Hannibal star Mads Mikkelsen.
Mikkelsen told Collider his performance will differ greatly from Depp's but will clearly be the same character, saying: "We need a bridge between what he did and what I'm gonna do, so those bridges you have to find together, whether it's a certain look, whether it's a certain attitude in certain situations, but you have to make it your own. Anything else would be plainly just creatively stupid."
Expelliarmus! Best thriller movies
Elsewhere, things are pretty much as they were. Returning cast members include Eddie Redmayne (Newt Scamander), Jude Law (Albus Dumbledore), Katherine Waterston (Tina Goldstein), Dan Fogler (Jacob Kowalski), Ezra Miller (Credence Barebone), Alison Sudol (Queenie Goldstein), Callum Turner (Theseus Scamander) and William Nadylam (Yusuf Kama).
New additions, meanwhile, include Jessica Williams as Professor Eulalie Hicks – charms professor at the American magic school Ilvermorny – and Richard Coyle as the aforementioned Aberforth Dumbledore. There are sure to be other new characters, of course, which we don't yet know about. Rumours have even suggested that there could be a relative of the Malfoy family among the cast.
That's everything we know about Fantastic Beasts: The Secrets of Dumbledore, with Warner Bros largely maintaining a veil of narrative secrecy around the latest film in the Wizarding World Cinematic Universe. WizWoCU, perhaps? It rolls off the tongue nicely.
Whatever happens, it'll be a delight to dive back into the rich magical world of the extended Potter-verse once again. Rumours of Fantastic Beasts' death, it seems, were greatly exaggerated.