The Ineffable Husbands are back in the Good Omens season 2 trailer, and fans couldn't be more pleased. The Amazon Prime series, which stars Michael Sheen and David Tennant, has garnered a powerful fandom since it launched in 2019.
The fantasy series follows the uptight Angel Aziraphale (Sheen) and the rebellious Demon Crowley (Tennant) as the pair form an unlikely partnership in order to stop Earth's impending Armageddon.
But much like Johnlock and Destiel, the comedy series' fandom is hoping for a romantic spark between the pair — and the Good Omens season 2 trailer looks like it's going to deliver just that.
Set a number of years after season 1, the season 2 trailer shows Aziraphale and Crowley reuniting after the latter wakes up from a four-year 'nap,' while the unexpected arrival of Gabriel throws a further spanner in the works. But over on Twitter, Aziracrow shippers couldn't help but notice all the subtext between the pair.
One user noted that Aziraphale's reaction to Crowley waking up "screams old married couple." At the same time, another predicted that "we are getting the aftermath of Aziraphale realizing he is in love with Crowley."
The scene in the trailer which seemed to spark the most excitement was the arrival of Gabriel, with Aziraphale looking a little jealous in the background as Crowley passes him a drink.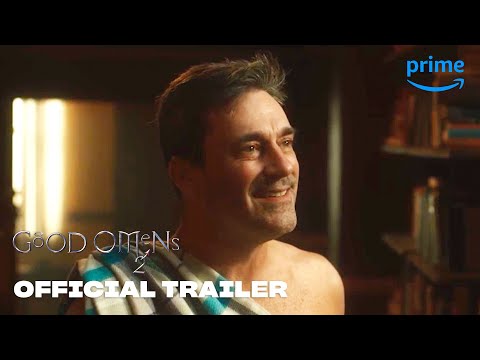 Asking him why he sought them out, Gabriel describes how "you know what it's like when you don't know anything at all, but you feel like everything will be better if you're near that one particular person." Cue a cut to Aziraphale and Crowley clinking glasses in a restaurant before Aziraphale stutters, "No, certainly not."
"Season one was a Demon pinning hard for an Angel but now we get an Angel pinning hard for a demon for season two," a third fan account speculated. "He [Aziraphale] is so in love," another added. Meanwhile, several other fandom members excitedly predicted that the restaurant scene between Aziraphale and Crowley was a "date."
Given Sheen previously admitted he played Aziraphale as being "in love" with Crowley, these predictions may not be too far off the mark. You can see for yourself when the Good Omens season 2 release date of July 28 comes around. In the meantime, make the most of the series' streaming service by catching up on the best Amazon Prime movies.