Our favorite foul-mouthed freaky little fiend is going to be back tormenting our screens soon, as the Chucky season 3 release date has been announced. The first episode will air on the USA and SYFY networks on October 4, and then will stream on Peacock the following day. Chucky himself has made a little teaser trailer for the latest season of the best horror series, in which he fields questions from some very brave reporters.
The episodes will be shown weekly on Wednesdays on USA/SYFY, and weekly on Thursdays on streaming service Peacock. We don't know much about the plot as yet, but will expect familiar faces such as Jennifer Tilly to return. As for Devon Sawa? Chucky responded; "who?" in the press conference. We do know that this time, Chucky is terrorizing Washington D.C.
One ballsy reporter asked whether there are too many evil doll movies, in a thinly-veiled reference to Chucky's feud with rival tween robot M3gan. Chucky responded; "I'd say this is not a movie. I already did seven movies. This is a TV show. What kind of a shitty question is that?" Shots fired, M3gan!
Season 2 ended with Lexy's young sister Caroline now fully under Chucky's influence, and it's likely that in Season 3 Jake, Devon and Lexy will attempt to save her. There's also the rivalry between Nica (Fiona Dourif) and Tiffany (Tilly), which is sure to come to a head.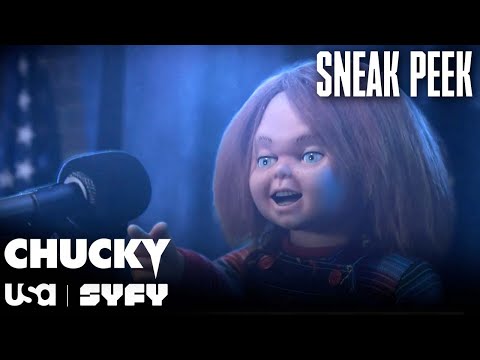 It may still technically be the summer, but for some people – they spend a minimum of three months gearing up for spooky season. Soon our diets will be 90% pumpkin-spiced, and we'll be on the search for decorative gourds. In order to fully forearm yourself, check out our guides to the best slasher movies.
For all of your creepy, kooky needs, we also have our guides to the the best ghost movies, and the best zombie movies. Oh and don't forget, we also are experts in the best werewolf movies, the best vampire movies, and the best monster movies too.