In an alternate universe, we're all still BlackBerry users, tip-tapping away on the original smart phone. For a time, the company seemed unstoppable, before internal strife and the iPhone led to an unceremonious downfall. Why and how that happened is befitting Matt Johnson's new movie, an entertaining tour through the anatomy of a partnership soured by corporate interests.
Mike Lazaridis and Douglas Fregin, portrayed by Jay Baruchel and Johnson respectively, are a pair of Canadian software engineers in the early '90s trying to pitch a phone that can handle email as well as take calls. They're confident, but not exactly business savvy, yet one meeting's enough to leave an impression on investor Jim Balsillie (Glenn Howerton), who offers them his services.
The catch? He becomes co-CEO of their company, Research In Motion. They take the controversial deal, and the rest of the movie based on a true story lays out how this was a turning point that stretched way beyond their crowded but homely office.
Known for his drama movie mockumentaries The Dirties and Operation Avalanche, as well as anarchic improv comedy series Nirvanna the Bad the Show, Johnson retains that energy amid sleeker production, drawing from Losing the Signal by Jacquie McNish and Sean Silcoff. In between bouts of intense conversation between Jim, Mike, and Douglas, RIM hosts intense LAN sessions and watch parties, staff exchanging jabs over Command and Conquer and Indiana Jones movies.
They weren't making much money – they were getting actively screwed by another deal – but they were having a lot of fun. Days were spent playing classic RTS games and getting into intense debates over Star Trek series on messageboards, the nascent internet then mostly inhabited by computer-savvy nerds.
Johnson's off-the-cuff quality brings forth the friendship and camaraderie, where phones were strapped to their ears to make headsets and pizza was considered a main food group. The '90s was an innovative decade, and a remarkable amount of that came from geeks who were just trying to make cool stuff together.
This was not Jim's world, and that becomes increasingly clear as he continually shouts and berates the team. But while he has no time for 134-page long threads on what Star Trek movie is better, he can attract good investment, selling Mike's basic idea for the BlackBerry, quickly built out of a Game Boy in a New York City lobby.
Just as it was Jim's leadership that spearheaded RIM's growth into becoming one of the primo phone supplies across the US and elsewhere, Howerton's stern performance anchors the thriller movie. Inseparable from Dennis on It's Always Sunny In Philadelphia, Howerton garners laughs through being unflappably straight-faced to Johnson's exuberance and Baruchel's awkwardness.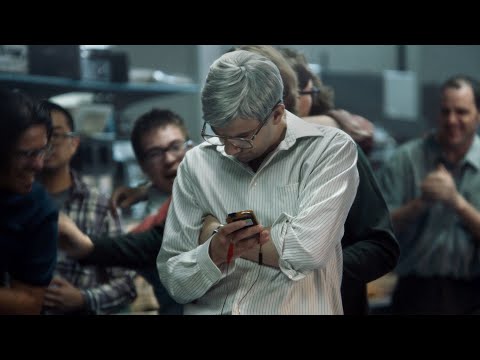 A quick, well-timed zoom or centre shot is often all it takes, right on Jim's disgruntled or beleaguered brow, to produce genuine belly laughs. Confused looks from Douglas and his colleagues compound the hilarity, soaking in cringe like The Office or Succession.
The film moves through several periods, bridged together by montages of advertising and cultural touchstones. By the time we get to the new millennium, RIM is very different – a multi-storey building covered in swish branding.
Douglas still hosts movie nights, but despite his dedication to using a Walkman and wearing Mortal Kombat and Doom t-shirts, the '90s are over. BlackBerry's become a massive, market-leading operation, and all it cost was the continued deterioration of everyone's soul.
At this point, the movie takes on a Social Network-like feel, more concerned about Jim poaching engineers and throwing money around. Google is rising from the dot com bubble, and Microsoft continues to grow.
In just a few years, BlackBerry joined those ranks, even if some funky business around stocks is needed to generate the exorbitant paychecks being thrown around. For a few years more, the company would retain its foothold, with less fringe benefits and humour, or any real semblance of what RIM used to be.
The film becomes less fun as the workplace culture succumbs to targets and ego. Johnson and co-writer Matt Miller's screenplay compacts this period into more succinct bridge-notes, focusing on the degradation of personal principles in the name of winning.
Once Steve Jobs makes that legendary reveal in 2007, it's all over, but the writing was on the wall well before then. The BlackBerry was a revolution, and behind that were just a few dudes who'd a concept they needed to sell. Getting to know about the phone is fascinating, but the real charm of this film is understanding its makers, and what drove them apart.
This film was seen as part of Glasgow Film Festival 2023. To stay retro, check out out our list of the best '90s movies, and for more shady characters, have a look at our list of the best thriller series.
BlackBerry review
Matt Johnson and Matt Miller create plenty of laughs by turning oft-forgotten tech history into a strong, personable satire.