Band of Brothers changed the game. It almost single-handedly created the concept of prestige TV, with a mega-budget and the influence of Steven Spielberg and Tom Hanks. And, Band of Brothers also introduced the world to a whole new generation of the best actors, with the likes of Damian Lewis in the lead, and Simon Pegg, James McAvoy, Andrew Scott, Michael Fassbender, and Tom Hardy all in minor roles.
Now, 20 years later, these are all household names. Re-visiting Band of Brothers, one of the best TV series ever made, it's almost jarring to see the likes of Tom Hardy in such small, blink-and-you'll-miss-it parts. But, even with the smallest of roles, there was still a huge pressure on the actors to live up to the names of their characters.
Speaking to IGN in 2002, Hardy explained how it felt. "Band of Brothers was my first job so I was virtually out of the frying pan and into the fire, really. I'd not had previous experience with working in front of the camera, so there was dealing with that."
He continued, "Also, I had the research material — not that I'd need it. I mean, I was in two episodes and had twelve lines. That was the sum total of work [I] had to do. But nonetheless, I would work just as hard trying to portray someone whose relatives are still around. Obviously, nobody wants to go out there and say, 'This is my big moment.' And I'm playing John Janovec, who is dead. He died for freedom."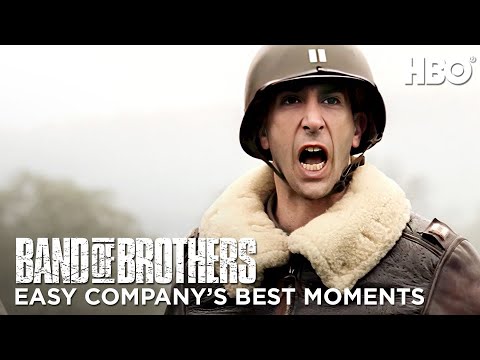 Hardy's dedication to the role is a stark reminder that Band of Brothers, unlike Saving Private Ryan, is firmly based on fact, and it characters aren't works of fiction: they're real World War 2 veterans who told their stories, and allowed them to be brought to the screen.
The interstitial segments in Band of Brothers of interviews with the veterans are some of the most touching, grounding the events of the series, and reminding the audience that what's being seen on the screen is the real experience of real people. Tom Hardy clearly understood and respected that, even if he was barely in the show.
For more on Band of Brothers, you can find out the scene that made Damian Lewis hypothermic, and why he was drunk during a crucial meeting with Tom Hanks. Or, see why the tank scenes have been called nonsense, and learn about the moving speech that Hanks gave the cast.
You can also take a look at our picks for the best drama series, and best war movies. If it's Hanks and Spielberg you're after, find out why Hanks regrets not making one movie with the director, before seeing what's new on Max.